Vanatoo's Transparent One Powered Compact Loudspeaker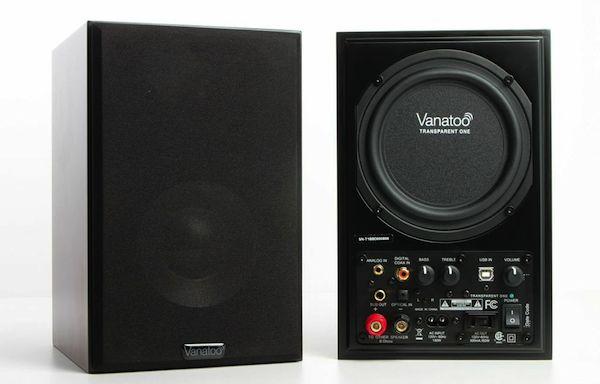 While analogplanet doesn't regularly review loudspeakers, the recent Vanatoo Transparent One speaker giveaway prompted us to have a listen.
Back in the 1990's NHT's compact SuperZero loudspeaker produced what I'd call near miraculous sound given their compact size and reasonable price ($230/pr. or about $350 today). But to produce sound from the SuperZeros you needed to connect them to an amplifier.
Fast forward to 2015 (really 2012 or so when the Vanatoo Transparent One was first introduced) and what you get here for $499 was not only not available in the 1990s, I don't even think it had been imagined and if it had been, not at all clearly. You can read about the design team here.
What you get for the $500 are a pair of nicely finished (in black; add $50 for Cherry) compact (6 1/2"x10x8 1/8") two-way speakers of ¾" MDF, each equipped with a 1" silk dome tweeter, a 5 ¼" aluminum cone woofer and a same size rear-mounted passive radiator.
One of the speakers is passive, but the other is active—you could say hyper-active. Inside the active speaker is a 60 watt per channel D2 Audio Class D amplifier, and an integrated DSP processor. The active speaker's rear mounted control panel includes RCA coax, TOSLINK optical and USB digital inputs as well as a miniplug analog input and a subwoofer "out" RCA jack. Also on the panel is a set of 5 way binding posts to tether the passive speaker to the powered one. There are also volume and bass and treble pots, that based on the design must operate in the digital domain. Finally, there's an A.C. socket an "on/off" switch and an A.C. jack for low current draw accessories.
The active DSP circuit is designed to produce remarkably flat overall response from 48Hz to 20kHz ±3dB at over 90dB from tiny boxes. In addition, when you plug in a digital source (up to 96k/24 bit) it remains in the digital domain from the DSP to the Class D pulse width modulated amp drivers after which it's filtered and converted to analog. In other words, it's a very direct signal path. Vanatoo explains it in excellent detail here.
Set-up in Two Locations
I listened first near field, placing the speakers on the supplied ($99.99/pr.) IsoAcoustics L8R155 Stands on either side of my 27" iMac. I experimented with toe-in, toe-out and straight ahead, which I preferred because it produced the biggest stage and slightly off-axis was better for harsh-sounding source material (much of what's on the Internet).
One thing I discovered quickly was that you do not want to use an analog source if it can at all be avoided. The sound quality is seriously degraded but that shouldn't be an issue for most users (analogplanet.com readers excluded). Some Apple laptop users don't realize that the headphone jack is also an optical digital output jack so if all of your USB jacks are occupied you can get a mini-plug to TOSLINK cable and use that.
I also set up the speakers in my main listening room putting the stands and speakers atop the darTZeel NHB 458 amplifiers adjacent to the Wilson XLFs.
In the near field the Vanatoo Transparent Ones produced an overall tonal balance that would be the envy of any speaker regardless of price. The subjective picture was particularly smooth and uncolored from the mid-bass up, with a bit of an upper mid-band "push" that could be irritating but which can be corrected to a great degree by slightly upping the treble, which is not a bad idea anyway, because the top end is not the last word in "air", delicacy and inner detail resolution, but hell we're talking about $500 and I much prefer the tweeter's smooth "beam-free" dispersion to one that had the missing air (etc.) but which filled the air with grain and etch, which this tweeter does not. Do not be afraid of playing with the tone controls!
The passive radiator loaded bass was well-controlled and you might be surprised how low 48Hz really is and how many bass instruments give you their "most" from a speaker limited to that response. The designers avoid the mistake of trying to fool you into thinking there's more bass than there really is by bumping up the midbass. If they are doing so, it's very subtle. These speakers excel at what Stereophile calls "rhythm'n'pacing". That is, they are rhythmically fast and "snappy".
I recently got a subscription to Tidal, which streams CD "quality" FLAC files (using the Chrome browser only). Streamed sound is finally enjoyable. It's easy enough to set the system for lower bitrate sound and through these speakers the loss is striking. I listened straight through D'Angelo's new Black Messiah album, which was recorded and mixed on analog tape (almost 200 reels of it!). When the vinyl is issued later this year it will be reviewed. Meanwhile I'm making arrangements to interview the recording engineer Russell Elevado. The sound produced by the Vanatoos on this FLAC stream was rich, full and warm.
SPL delivery in the nearfield was beyond anything you might demand unless your goal is to lose your hearing. You can play these speakers as loud as you wish with no audible compression or distress (other than your own).
Image solidity, stability overall staging and especially the production of depth were all quite good. I could go on here but what's the point? You can try them at home with a money back guaranty. As an all-in-one nearfield desktop monitor the Vanatoo is a no-brainer. It's easy to recommend. The review sample will not be going back (I will buy them). Speaking of which, the sweepstakes winner has been sent his pair and if he's open to it we'll publish the happy winner with his speakers.
In the big room, even with limited placement possibilities, the sound was still impressive, though my well-damped room soaked up much of the off axis treble energy along with some of the stage width and height and while the SPLs were reasonably good, the Vanatoos are best off in a smaller space, and if in a larger one, one that is not treated. Don't expect prodigious bass in a large room or room shaking SPLs but with the addition of a subwoofer you can up the bass response (I didn't try that).
That is why the pair in a hotel room at The New York Audio Show sounded so amazing: the room didn't soak up the off axis energy and in that untreated hotel space the presentation filled the room far better than the physical appearance suggested.
The Vanatoo Transparent Ones are not the main solution for analogplanet readers who want to keep their music strictly in the AAA domain but if you are looking for computer speakers or want to equip your college bound kid with a great dorm system, the Vanatoo Transparent Ones are a great way to go. If you get a chance to hear them, I think their sonic performance will impress you.
Keep in mind that this is not my 'beat' and I've not had a great deal of experience with other similar products. Nonetheless, the Vanatoo Transparent One's remarkably wide, subjectively flat bandwidth, low coloration and impressive build quality combined with its flexible feature-set and reasonable price that includes a 3 year warranty makes it easy to recommend.
<!- ------------------------------------>