AXPONA 2015 NOT WELCOME IN CHICAGO!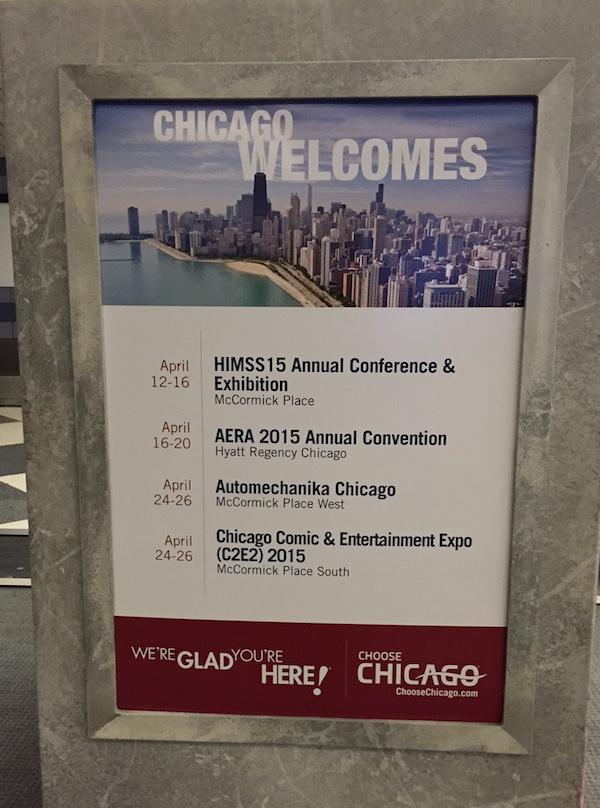 AXPONA Audio Con is NOT WELCOME in Chicago and the city is
not
glad the show is here. What other conclusion can one draw upon landing at O'Hare and waiting to pick up one's luggage only to be confronted by the sign you see at the top of this story?
HIMSS15 Annual Conference & Exhibition gets a welcome, whatever that is, so does AERA 2015, whatever the hell that is. So does Automechanika Chicago. Does that have something to do with autoerotica? Not sure, but whatever it is, it too is welcome in Chicago, as is of course, Chicago Comic & Entertainment Expo (C2E2) 2015—which tells you that comics can't be all that entertaining. If they were, why did they have to add the "& Entertainment"?
There's room there for "AXPONA Audio Con" but obviously the show is not welcome in Chicago. When I brought this up to a show spokesperson upon arriving at the O'Hare Westin, where I was welcome, she told me that the group "Choose Chicago" "was tough".

Yeah? Well you know what? We can be tough too.

If you go to the website's list of "This Week In Chicago" you'll find the Chicago Improv Festival, the Chicago Latino Film Festival, and the Chicago Palestine Film Festival, but no Chicago AXPONA Audio Con.

I tried posting this message on a blog site associated with the "Choose Chicago" site: "Why no welcome or mention of AXPONA Audio Con this weekend? HIFI IS ALIVE AND WELL. VINYL RULES. Show is at O'Hare Westin". The message after I posted it said ""Hold on, this is waiting to be approved by Chicago Like a Local".

It never was.

So why not go to that blog site and "get tough"?
<!- ------------------------------------>