KLAUDiO KD-CLN-LP200 Ultrasonic Record Cleaning Machine Reviewed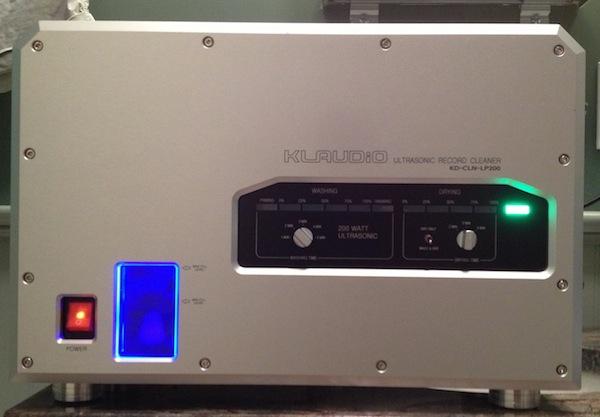 The success of the Audio Desk Systems' ultrasonic record cleaning machine made it inevitable that others would follow. A few have since been marketed that use existing technology and hardware such as David Ratcliff's V-8, a stainless steel vat that can clean but not dry eight records simultaneously (or you can clean just one). It uses available hardware adapted by Mr. Ratcliff along with his motor driven rotating spit-like contrivance.
It's an attractive option if you're willing to let the records dry in a dish rack. For some of us though, I think instant gratification (of five or six minutes) trumps a large vat of fluid, a rotisserie-like gadget, a dish rack and the long wait—which is not to say there's anything wrong with going the V-8 route.
The first serious, well-designed and manufactured ultrasonic cleaning machine intended to compete with the Audio Desk is KLAUDiO'snew $4000 KD-CLN-LP200. It's designed in America and built in South Korea to a very high standard.
Conceptually similar to the Audio Desk, the CLN-LP200 uses a tank of fluid that's pumped into a dry chamber after a record is placed vertically in a narrow slot. Once the fluid has filled the chamber the record begins to rotate and the ultrasonic energizer begins producing cavitation bubbles via high frequency sound waves that agitate the fluid (the ultrasonic frequencies used for cavitation bubble production can be as low as 20kHz or as high as 400kHz. The KLAUDiO, like the V-8 uses 40kHz transducers (for which the company has applied for a patent). Once the cycle has been completed, the fluid drains back into the tank and a powerful fan starts the drying process.
The advantages over the old school vacuum type systems used by VPI and many others is that there's no static electricity inducing rubbing and no chance of gunk and "schmutz" being deposited onto the velvet 'lips' only to contaminate the next bunch of records to be cleaned. Plus based on my experience with the Audio Desk, no other cleaning system comes close to the results produced by the ultrasonic cleaning method. It's nothing short of miraculous.
KLAUDiO CLN-LP200 Specifics
The CLN-200 differs from the Audio Desk in a number of ways. First of all it begins its cycle automatically upon record insertion. The Audio Desk requires the push of a button. No big deal.
Secondly the CLN-LP200 allows you to adjust and monitor via a series of (overly bright LEDs) washing time from one to five minutes and drying time from two to three to four minutes or to select "dry only". That's a useful option if the just cleaned record retains a few fluid droplets, which occasionally happens with both of these machines.
Of greater significance are the slot construction differences between the two machines. The Audio Desk's slot is wider in the center, and narrower on the right side, where a set of soft, thin rubber-like lips support the record, which makes easier record insertion. Even if the record is dirty, one wet record rotation is sufficient to clean the "lips".
The KLAUDiO machine's beveled slot is narrower and "lipless" and of POM acetal, which the manufacture describes as a "soft thermoplastic." It's not a problem as long as you carefully lower and raise the centered-in-the-slot record perfectly perpendicular to the slot surface, but if you're not careful you will hear that unpleasant sound of grooves rubbing against a relatively surface. I heard it a few times but didn't see any visible damage so perhaps it is as the manufacturer claims, softer than it appears and feels.
Another difference is the KLAUDiO's lack of (or freedom from) soft fabric rollers. The Audio Desk unit has two sets of soft white replaceable vertical rollers that rotate in opposite directions from on another to help distribute the fluid on the record surface a-la a car wash. They barely contact the record surface and so don't rub.
They do need replacing but only after hundreds of records have been cleaned and even then, in my experience, they manage to stay remarkably white after all of that time and they can be rinsed in distilled or RO water and cleaned. Still, if you see that as possibly spreading dirt on the record surface, you'll find advantageous the KLAUDiO's non-roller system.
The major operational difference is that the Audio Desk uses a cleaning fluid concentrate, which you dilute with 1.2 gallons of distilled, or reverse osmosis water. Regular cleaning fluids should not be used because the cavitation bubbles have been shown to create unmanageable sudsing action. The supplied Audio Desk fluid contains surfactants that help flow and an unspecified minor amount of what I assume is a detergent. The cost for a six-pack of concentrate is about $100. Each bottle is good for 100 records. This works out to about 16 cents per record.
If you're spending $4000 on a record cleaning machine, chances are you're not concerned about spending 16 cents per record. If really dirty records are pre-cleaned (I use Premiér aerosol, which costs $30 a can that is good for a seemingly endless number of records) you can get away with cleaning more than 100 per bottle but how many more I can't tell you.
The KLAUDiO warranty is void if you use anything other than water (distilled or RO recommended).
Some people will not use either of these machines because they are convinced that unless you follow up on another machine with a pure water rinse, you will be leaving on the record dirt and/or chemical residue. Those folks would probably be more comfortable with KLAUDiO's system because there's no possibility of leaving a chemical residue.
My experience first with the Audio Desk and then with the KLAUDiO machine tells me that these folks are crazy. Were they to try either of these machines they would find that their records look cleaner than ever and sound quieter than ever. What's more, the degree of clean seems to actually produce wider and deeper soundstages, perhaps because the stylus rides more perfectly in the incredibly clean grooves, thereby generating less interchannel crosstalk. This phenomenon has been noted by more than a few Audio Desk owners and can also be heard on KLAUDiO machine cleaned records.
The Audio Desk unit (and the V-8) includes a cleanable filter through which the fluid flows with each cycle. The KLAUDiO machine does not. That and the lack of any kind of cleaning fluid does concern me.
When I emptied the KLAUDiO's tank, the pulverized dirt particles removed from the records were in suspension, which means each record cleaned after the first few will inevitably be "cleaned" with dirty water. I can imagine a scenario where the pulverized dirt particles in suspension are within cavitated bubbles hurled at great force against the vinyl. No doubt that can happen in the Audio Desk too if you don't change the water frequently enough, yet the sonic results with both machines were consistently superior to vacuum cleaning and often times miraculous as chronically noisy records were rendered quiet.
Like the additive used with the $79 Spin Clean machine that has a "dirt clumping" ability, the Audio Desk fluid appears to do the same since the fluid drained from the Audio Desk after a hundred or so record cleaning cycles has far less suspended dirt than the fluid drained from the KLAUDiO machine after the same number of cycles.
On the other hand since it's just water, you can drain and replace free or for next to nothing after every few records or after every record if you're completely nuts. If you're worried about dirty water being used to clean your vinyl, just change it often.
My other possible concern is this: if you watch the video you will see at the end where I wipe out from the stainless tank a grey powdery residue that I assume to be dirt. Is it? Or is it fine vinyl shavings removed from overly aggressive cavitation? I don't know. You can't gain access to the Audio Desk's tank so I can't ascertain if it too has a similar sooty coating removable only by wiping. However, I could hear only sonic improvements, not degradation using either machine so my vote is for dirt not vinyl shavings.
From its heavy metal chassis to its carrying handles and its large rear chamber access opening and compression fit drain system, the KLAUDiO's build quality is "high grade industrial". The Audio Desk is not quite as heavy duty looking or feeling but my experience with it over a long period of time during which I've cleaning many hundred if not a thousand suggests it is built to endure. The Audio Desk's drain system isn't quite as well thought out as the KLAUdiO's but that's not a reason to choose one over the other. Both machines are quiet and function reliably and consistently.
The Audio Desk importer sent along this cautionary note after reading my coverage of the above-mentioned V-8. Coming from a competitor, you might want to take it with a large dose of salt.
"I thought I should pass along a caution regarding the use on LP's of ultrasonic cleaning devices designed for use with metals. It is not difficult to apply ultrasonic cleaning to LP's; the challenge is applying it safely, ie. in a manner that will not soften or otherwise deform the (relatively soft) vinyl.
Ultrasonic can be very powerful. Reiner Glass (the Audio Desk inventor) spent 4 years of trial and error in the development of a safe ultrasonic cleaning technique for the Audio Desk Systeme machine. When pressed for the Audio Desk's ultrasonic frequency the designer offered this: "During the cleaning cycle the...ultrasonic transducer runs through multiple frequencies for varying durations. The actual frequencies and other details are proprietary information, and not available for release". He has verified the safe operation by comparing the condition of LP's under the microscope following 100 consecutive cleanings with the Vinyl Cleaner to another copy of the uncleaned LP.
I dread to think about what an 8-10 minute ultrasonic bath in a machine designed to clean metal tools and gun parts will do to a user's precious LP's. Hopefully the "black dirt in the bottom corner of the tank" after cleaning, as described on one marketer's website, is not your high frequencies!"
I liked the KLAUDiO's rugged build quality, its quiet operation, its wash and dry time adjustability, its superior drainage system including its convenient tank access for complete cleaning and its full fit cover.
I was less enthused by its roller-less operation (though you might find that attractive) combined with its proscription on adding any kind of cleaning solution including surfactants (though for those concerned about leaving on the vinyl chemical residues, this will be a welcome feature). For me, the pulverized, fine particles of dirt suspending in the drained water lead me to believe that with each cleaning cycle they are bombarding the vinyl with great force. Again though, you can easily and often change that water and if you buy the KLAUDiO unit I strongly suggest doing so!
Conclusion
The KLAUDiO KD-CLN-LP2000 is a credible Audio Desk competitor built to a very high standard that includes some well-designed and useful convenience features that enhance its cleaning operation, while the hard edged slot means greater care need be taken when inserting and removing records.
In my world competition is a good thing! It can only lead to better products from all concerned. Clearly no one who owns an Audio Desk (and that include me) need replace it with the KLAUDiO unit, but if you are in the market for such a machine you now have two worthwhile choices worthy of your consideration. And if you want to spend about 1/4 as much and have room for the tank and time to wait for drying, the V-8 is a viable alternative. I know a few folks who own both an Audio Desk and a V-8.
<!- ------------------------------------>