The Morrow Audio High-end Interconnects with SSI Technology Sweepstakes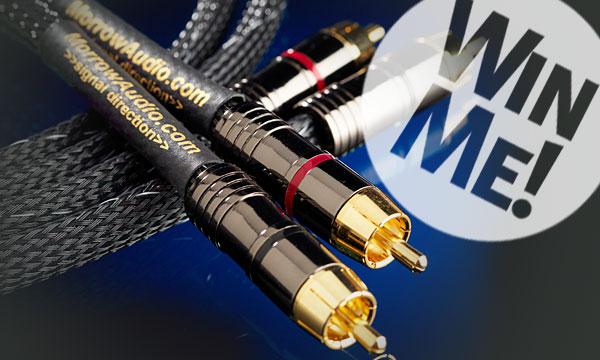 Register to win a set of Morrow Audio High-end Interconnects with SSI Technology (MSRP $49.00) we are giving away.
According to the company:
RCA version shown in the photo. XLR balanced also available on the Morrow Audio website. The MA3 interconnects consist of 12 runs of solid core, small gauge and individually insulated, silver coated copper wire (renowned SSI Technology) which is then silver soldered to the termination of choice. Silver coated copper wire was chosen for the excellent balance of sound that it provides. The cable has an attractive appearance and possesses excellent RFI and noise rejection. That cable is flexible, durable and easy to manage. Cables are the same price up to 1 meter. Length, termination and break-in service are selected in the shopping cart. Custom lengths are available.

"When I connected your cables to my system, I noticed significant differences immediately. From the start, the MA3's are much better cables than the Nordost Red Dawns and Audience Maestros I had been using. My tube generated soundstage came alive like never before. The tone remained the same, but everything else improved. I thought I had discovered something that no one else knows about. By the way, I sold both the Nordost and Audience interconnects on E-Bay and I kind of felt bad, because these people really had no idea, or were aware that there were better alternatives to what they were pursuing. In the past, I was one of those. Anyway, have you considered contacting one of those Stereophile or Absolute Sound editors or one of the foreign magazines to review your cables? Or gone to one of the big name hi-end retailers to demonstrate your product? I believe that they would be a hit in the audio "mainstream." – Rodolfo B. from Florida

Readers can also register now to win a $1,000 Morrow Audio Shopping Spree and an iPOD Touch (64GB) at morrowaudio.com/free-perks/cable-giveaway-contest. Customers also get an immediate 45% off purchases in our Trade Up To Morrow program and more!
To enter the sweepstakes, all you need is an account on this website. If you don't already have one, click on the link labeled "register" at the bottom of this announcement or "LOG IN/JOIN" in the nav bar at the right. Then, enter a username and a valid e-mail address, and click on the "Create new account" button. A message will be automatically sent to the e-mail address you specified, which will include a link to activate the account.
The final step (and only step for those who already have an account) is to log in and leave a comment right here on this announcement—any comment will do, as long as it's not profane or spam. Then, when the sweepstakes closes, a lucky commenter will be chosen at random to receive the prize. So post a comment, and good luck!
For complete sweepstakes rules, click here.
[This Sweepstakes is now closed.]
<!- ------------------------------------>