Cleanervinyl.com's Reasonably Priced multi-LP Cavitation-Based Record Cleaning System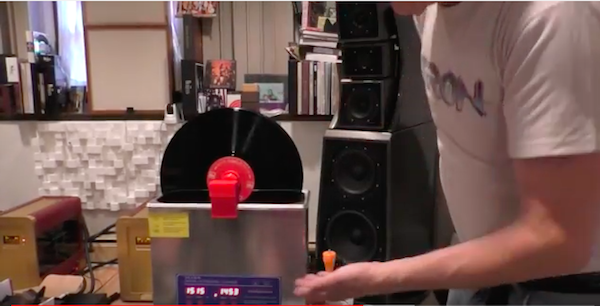 Cleanervinyl.com's
cavitation-based record cleaning system consists of the One single LP powered cleaning device ($189), the Pro ($389), which allows you to simultaneously clean up to a dozen records, and the $129 Dry, fan-based record dryer. You also need to get a PS-30A Ultrasonic Cleaner, which sells on EBay for around $150 or $169 through Cleanervinyl.com.
In other words, for under $700 you can have a cavitation-based record cleaning system capable of simultaneously cleaning up to a dozen records. This is the least expensive cavitation-based record cleaning solution we know of and it really works well.
I recommend reverse osmosis water. If you don't have an R/0 at home try Aquafina which is super-reverse osmosis treated tap water with no minerals added back (which is why you don't want to use Dasani). You can experiment with surfactants like Kodak Fotoflo to break up the water's surface tension or invent your own formula. One commenter said he used the Audio Desk additive in his own "home brew" machine. So there are many options.
<!- ------------------------------------>