Blue Note's Bi-Annual Blue Note Review Box Set Reviewed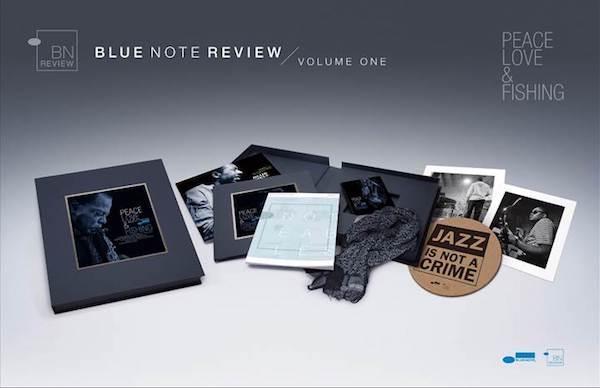 Don Was, community organizer. Who would have thought? There's long been a Blue Note "community" but it's a loose knit, worldwide group of like-minded label enthusiasts that have kept the Blue Note flame glowing. The fans remained true even as the company changed hands, lost artistic focus, engaged in self-exploitation and occasionally tried to re-invent itself into something it was not.
Label founders Alfred Lion and Francis Wolff (with financial backing by Max Margulis) had a "trad jazz" musical vision in the late 1930s that after World War II changed to reflect the music's hard bop direction. At around the same time the 12"long playing LP replaced the 78 single, the label began assembling a remarkable artist roster, created a distinctive graphic look with Reid Miles's now iconic artwork for the new, large canvas cover (often making use of Francis Wolff's equally iconic photography) and solidified a Blue Note "sound" with most LP era recordings engineered by the legendary optometrist/recording engineer Rudy Van Gelder, who began his career by turning his parents' Hackensack, NJ living room into a recording studio. RVG recorded for other labels, including Prestige, but the Blue Notes all had a sound as unique and identifiable as the music and the graphics.
With the music, the sound and the cover art well-established, the label itself began attracting fans world-wide who were loyal to the brand as few labels have managed. Eventually Blue Note faltered and was sold more than a few times, which led to reissue exploitation and no new vision for the brand (including outright dormancy for almost a decade) until the late Bruce Lundvall successfully revitalized the label in a 26 year run that began in 1984 and ended in 2010 when his battle with Parkinson's Disease forced him to step down.
By then, helped by successful new talent signing like Norah Jones and Cassandra Wilson, and the re-signing of former Blue Note artists like Jimmy Smith and Freddie Hubbard, and it should also be said, the revived vinyl record market and the label's willingness to license titles to specialty labels like Analogue Productions and Music Matters, Blue Note was again ascendant.
It must have been particularly satisfying for Lundvall, who fresh out of college in 1957 tried to begin his record business career by applying for a job at Blue Note Records. Lundvall was told by what he described as a "very nice man" he encountered in the office, "Well we don't have any staff here at all". That man was label co-founder Alfred Lion!
In 2012, two years after Lundvall stepped down and three years before he passed away, musician/producer Don Was was named Blue Note president. This Blue Note Review box set is Was's attempt to solidify the label's identity with a new, young generation of label and vinyl enthusiasts who, in a seemingly infinite world of consumable music (much of it free), welcome the concept of "curated products" in both the virtual and physical worlds.
Subscribers to the limited edition, $200 per box series, detailed in Blue Note's press release and available on the Blue Note Review website, get a beautifully packaged hard clothbound box (even the cardboard shipping box is something buyers will want to retain) in which is packed a variety of Don Was chosen music and accessorized goodies (or as many including Mr. Was might call "tsotchkes"), some better than others, but all serving the purpose of solidifying the brand's identity for the next generation of Blue Note enthusiasts.
So, what's inside the clearly deluxe clothbound box? It begins with a hand written (printed) note from Mr. Was, who begins with "The Scene Changes....Again!" Honestly, I can't think of a more apropos opening—and I'm not writing that to butter him up, for Blue Note has long been a "scene"—even when the label was dormant. Prices for original Blue Notes often reach into the $1000 and beyond realm, even when it can easily be demonstrated that the Music Matters and Analogue Productions reissues often look and sound better! Now that's a "scene".
The overall presentation as buyers remove the "goodies" will, for the most part, have them thinking "This was definitely worth the money". Next, buyers will find an approximately 8"x10" fold-out, printed on very sturdy paper stock that opens to an approximately 4 foot x 3 foot sheet (caution: I'm spatially challenged but I think that's close enough and I'm not getting up to measure) filled with "content": eclectic content that will not disappoint.
There's a Wayne Shorter interview conducted by "Curb Your Enthusiasm"'s Jeff Garlin, who is there as much (if not more) for his jazz-knowledge as for his celebrity (who knew?). Charles Lloyd remembers drummer Billy Higgins, Ram Dass offers a Blue Note invocation, Bobby Hutcherson tells a story of Stanley Turrentine illustrated by Keith Henry Brown, Michael Cuscuna provides historical context for the two archival quality photos of Wayne Shorter and Stanley Turrentine, also in the box, as well-packaged and reproduced as the rest. There's a note from Mr. Was along with illustrated instructions on how to wear the enclosed John Varvatos Blue Note scarf (Was is a scarfing enthusiast) that only a fool would leave wrapped in the box to preserve future box value and a masthead for the project that includes credits and an "In Memory of" Alfred Lion and Bruce Lundvall. Nice.
I know you are waiting for the musical shoe to drop so here goes: there's a clothbound, hard-covered gatefold jacket the likes of which I haven't seen seen (ironically) since I picked up at a garage sale organized by the son of a Columbia Records executive in Ridgewood, NJ, a Bruce Lundvall tribute LP box set produced by that label to commemorate his departure. It wan't for public consumption. I was lucky to get it.
On the cover within a gold leaf border is a wonderful shot of Charles Lloyd next to which are the new but familiar looking graphics for the set, which is titled "Peace Love & Fishing". Open the gatefold and on the left side is a well-considered essay by veteran Blue Note publicist Cem Kurosman that provides some label history and perspective as well as the reasoning behind the musical choices both on the two LP set, which consists of unreleased material from the label's current roster and the album reissue of trumpeter Blue Mitchell's long out of print Step Lightly (ST-84142) featuring Joe Henderson, Herbie Hancock and a rhythm section with whom Mitchell had played as part of Horace Silver's Quintet. The album's initial release was long-delayed, after which it went out of print altogether.
First the double LP of unreleased contemporary material curated by Was. It opens with Charles Lloyd and The Marvels' live performance at U.C.L.A's Royce Hall of Gabor Szabo's "Lady Gabor". This is Lloyd's guitar band featuring Bill Frisell and Greg Leisz, whose double LP I Long to See You is definitely worth having (here's a somewhat outdated but still worthwhile Lloyd discography originally published in The Tracking Angle).
I'm not going to go track-by-track other than to write that Was has curated a great set that will not disappoint buyers of this box. There's a funky Dr. Lonnie Smith cover of Wayne Shorter's familiar "Footprints", a live Gregory Porter performance backed by the Blue Not All-Stars and five others that have been as expertly tracked as they were chosen in the first place. My favorite is Terrance Blanchard's solemnly stunning "Memory of a Flame" though after a few plays I was well into The Wayne Shorter Quartet's "Zero Gravity #913" recorded live in The Netherlands featuring Brian Blade on drums, John Patitucci on bass and Danilo Perez on keyboards. It's the most difficult track and smartly placed on side 4.
These are mostly if not all digital recordings that truly sound fantastic on vinyl because they are so well-recorded in the first place and Bernie Grundman cut the lacquers. Why can vinyl from digital sound better than the files themselves? Do I really have to answer that here? I won't but I can. For those whose Blue Note collection stops in 1970 something or other, this set will be an ear-opener into the label's energized musical present. Both records are very well-pressed at RTI on 180 gram vinyl.
One of the box's highlights is of course the long out of print Blue Mitchell record, which was the trumpeter's first Blue Note session recorded in 1963 but not released until 1980, though in 1963 it was assigned a catalog number. Why the 18 year gap? Michael Cuscuna's liner notes written for the 1980 vinyl-only release offer some reasons. One was provided by Joe Henderson himself, called in to identify all of the players because the documentation was sketchy. He surmised that perhaps Alfred Lion's perfectionist tendencies caused him to hold the release because alto sax player Leo Wright was slightly off proper tuning on a few tracks, but that was rejected in favor of the history: Mitchell had been a member of Horace Silver's Quintet from fall of 1958 through March, 1964, recording this Blue Note date during time away from Silver. Seven months later the Silver band broke up and Mitchell quickly formed a new band with Chick Corea, Gene Taylor, saxophonist Junior Cook and drummer Al Foster that recorded a new album for Blue Note. That made this grouping obsolete, reasoned Cuscuna in the notes, so the record was not at the time released.
It certainly deserved its 1963 night in the moon ("day in the sun" doesn't work with Blue Note). The title tune is especially in the early '60s Blue Note "pocket" and you'll recognize RVG's instrument placement and "mix" but not the bright, hard, bass-deficient tonal balance. The mastering credits say "Mastered by Ron McMaster at Capitol Mastering, Hollywood, CA" but there's a separate credit for "Vinyl Mastering by Ian Sefchick". That usually means the lacquers were cut from a digital source and not (as advertised) from the analog tape.
This unfortunately does not sound at all like a Music Matters or Analogue Productions Blue Note reissue nor does it sound like a Blue Note original of that era. Instead it's somewhat hard on top—too hard to turn up the level to where you'd like it to be—and at any level the bass has gone missing. I've never heard so little bass on a Blue Note of that era. Damn disappointing. In addition, while the jacket is paper on cardboard, it's not of Stoughton Press quality nor is it laminated. In fairness to the project, consider that a Music Matters Blue Note is at least $50 and here for $200 you get two other well-pressed and well-mastered records in a gorgeous package, plus all of the rest (you also get the double LP on two CDs if you're so declined).
So this first Blue Note Review outing gets an overall A for everything (could do without the thick cork record mat too), especially for the great curated musical choices and for the pressing quality. The only disappointment is the sound quality of the Blue Mitchell LP. For 30 somethings, welcome to "the scene". For grizzled Blue Note veterans, this set should provide sufficient reassurance that the label thrives in the new Was regime in the new vinyl era. I wish I had a coffee table upon which I could exhibit this gem but I don't. It will be seen on other people's tables and hopefully on their 'tables as well!
(A personal note: I remember buying my first Blue Note in 1964. It was Cannonball Adderley's Something Else, which cost a dollar more than the rock records I normally bought. I bought it at Masters, a department store on Union Turnpike in Lake, Success, Long Island. Do I remember the first play? And how! I listened on headphones (Koss Pro4A) to not wake my parents. When Miles whispered in my ear "Is that what you wanted, Alfred?" I almost let loose in my P.J.s!
Twenty two years later I moved back to the New York area from Los Angeles, to Hackensack, New Jersey. The apartment's address was 100 Prospect Avenue. A few days after moving while walking down the block I spotted soot left over from a sign that had been removed from above the large front window of 25 Prospect Avenue, which looked as if no one had lived there for quite some time. It spelled out "Van Gelder" in what had probably been a sign of wrought iron. Could that be the house where all of those old Blue Notes were recorded? As I walked past I had the answer: on the side of the house, leading into what was obviously the living room were two double doors and a ramp. This was that house I remember saying to myself. "I'll have to come back with my camera and snap some photos."
Had I a phone with a built in camera I'd have those pictures. By the time I got around to trying to take the photos the building had been torn down to be replaced by a medical building. Very sad. The wall or the room or the ramp and double doors or some part of the structure should have been saved and donated to The Smithsonian don't you think?
Later I moved to Glen Rock, NJ where Bruce Lundvall grew up and in the 1950's ran a "jazz salon" called Duke's Club in the family attic. In 1999 we moved to Wyckoff, NJ. where Lundvall lived. I jogged past his home for more than 15 years not knowing it was his. By the time I found out, his Parkinson's had seriously progressed. I was able to get his phone number from Michael Cuscuna and I called to say "hello" and see if I might interview him. Cuscuna had warned me that he might not be up for it, or perhaps not even answer the phone, but he picked up and said "yes, call me back next week". When called back he picked up but was obviously in some distress and said he was unable to talk. After a series of falls he was moved to an assisted living center nearby and passed away at The Valley Hospital in Ridgewood, NJ on or around May 20th, 2015).
<!- ------------------------------------>