Wilson Audiophile Recordings Series Reissues From Analogue Productions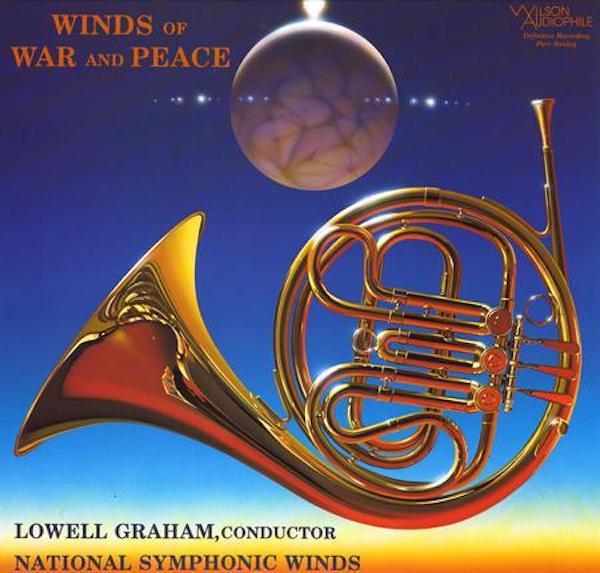 Beginning in the late '70s, continuing throughout the 1980s and once in 1994 Wilson Audio Specialties founder Dave Wilson released a series of records that he co-produced with wife Sheryl Lee, many of which he also engineered. They were minimally miked—often a spaced pair of Schoeps was all—and mastered by an all-star lineup of disc cutters including Bruce Leek (who also shared engineering credit on some), Stan Ricker and Doug Sax (Google if any of the names are unfamiliar). The tape machine for all but the very early organ record
Recital
(Wilson W-278) was an Ultramaster™ by John Curl, a highly modified Studer 1/2" deck running at 30 IPS.
The post Recital music was mostly either sublime chamber or bombastic military band. That may sound odd, but to paraphrase Donald Rumsfeld, "when you go to record, you go with the artists you have, not the artists you wish you had"—which is not to write anything bad about who Dave Wilson recorded because the chamber artists have world-spanning distinguished careers and conductor Lowell Graham and The National Symphonic—essentially a pick-up band composed members of the country's best military bands along with players from the Virginia Symphony, are equally well-credentialed. Those were the musicians to which Wilson had access.
The venues were always concert halls, not recording studios. The chamber music recordings were produced at Oakland, California's Mills College, while the National Symphonic Winds were recorded at Hampton University in Hampton, Virginia in a historic hall. The two albums resulting from that session were both recorded the same day: September 17th, 1988.
In addition to chamber and military, the label released at least two other records, both interesting. One released in 1980 was The Apocalypse Now Sessions (Wilson Audiophile Recordings W-8521) with The Rhythm Devils. The members were Mickey Hart, Billy Kreutzmann, Airto Moriera, Phil Lesh and others. You could say it was essentially The Grateful Dead minus Jerry Garcia and Bob Weir. This one was produced by Mickey Hart and engineered by names familiar to any Deadhead: Betty Cantor-Jackson, Dan Healy and John Cutler among them, with cover art by Stanley Mouse. Believe me, the contrast between chamber and military is nothing compared to between Dave Wilson and Stanley Mouse—at least in terms of the character of their respective creative output since I've never met Mr. Mouse.
Apparently some contract lawyers argued the Grateful Dead angle and got an injunction stopping sale of The Apocalypse Now Sessions. Copies are scarce and pricey. Analogue Productions has a $215 copy for sale on its Wilson Audio page where you can find the currently available Wilson Audiophile Records reissues mastered from the original analog tapes by Kevin Gray at Cohearant and of course pressed on 200g vinyl by Quality Record Pressing.
The other one was called Test 1—Digital: How Accurate? I had forgotten all about it and that I owned it or perhaps I'd not have planned to issue a similar record using "Symphonic Dances", an episode many of you will remember. The music was two ragtime piano pieces played by Mark Wetch and one jazz selection by The Eddie Graham Trio. The recording was mastered twice: once cut directly from the analog master tape and once digitized and converted back to analog using the Soundstream PCM system that sampled at 50kHz with 16 bit depth.
The liner notes reprint a Fanfare magazine article by Neil Levinson (another name perhaps familiar to a few readers) that quotes an August 1983 Billboard Magazine exchange between Doug Sax, who needs no introduction and Peter Burkowitz who was then a consultant to PolyGram technical management. Sax said "Although digital storage is not my cup of tea, I nevertheless have a great respect for how well a professional digital recorder performs....no such respect for the CD, however." Sax went on to say "CD is the worst presentation of that (digital) technology....because all of the music will have these digital colorations...".
Burkowitz responded "Since Doug Sax seems to be rather short on facts, let me offer him one: skillfully adjusted and controlled 16-bit uniform quantization digital recording and reproduction including the CD, does not, and cannot add or subtract audible sensations of any kind. Period."
Choose your own reaction, but mine was "what a dick", which was the same reaction I had listening to Harman's Sean Olive on a "fake news" anti-vinyl NPR program he rigged a few years ago. In any case, if this tape still exists, maybe I'll pay to reissue it.
But I'm not here to talk about that one, but rather the others that have been reissued. The one I've chosen to highlight is the Winds of War and Peace (APC-8823) because it's a sonic spectacular and while perhaps you are skeptical about this, it makes for damn entertaining listening. No doubt the RCA Symphony Orchestra's reading of the Richard Rodgers score for the NBC television series "Victory At Sea" is more steady and sophisticated, under the baton of Robert Russell Bennett (who actually wrote the score based on themes provided by Rodgers), than the 9 minutes of excerpts here, but this reading by I suppose mostly young people who it turns out were handed the sheet music for the first time and told to "play" knowing it was being recorded, has its own built in drama of a different sort.
The album opens with John Williams' "Liberty Fanfare", written for the 1986 Statue of Liberty centennial celebration, which might remind you somewhat of the music for NBC's "Nightly News", which Williams also composed.. This track has some insanely deep and powerful giant bass drum "thwacks" hit with what conductor Lowell Graham describes as the "MOD" as in "Mallet of Death". My darTzeel NHB-458 monobllock amplifiers have instant peak wattage meters on their fronts that register but a few watts until the "Mallet of Death" first strikes at which time they register close to 500 scary watts!
The drum sound is positively frightening and even dangerous. AT The International Consumer Electronics Show a few years ago I brought on a USB stick a vinyl transfer of this track at 96/24 resolution. It played fine in a bunch of rooms and everyone enjoyed the sound and especially the "thwack", but in one room the first MOD hit literally vaporized a midrange ceramic cone, leaving the poor voice coil to "blow in the wind"!
If your system is capable of wide dynamic swings and deep bass, you'll definitely enjoy cranking up this record! The original, cut by Doug Sax, did the damage so is obviously no "slouch", but this Kevin Gray mastered reissue is even better overall. The bottom remains solid and dynamic while the midrange is far more transparent, having lost a "milky" quality that made it sound as if it had been recorded in an airplane hangar.
If chamber is more your style and/or more suited to your system I'd recommend Sonatas For Violin and Piano (Analogue Productions APC-8722) performed by David Abel (violin) and Julie Steinberg (piano). Incidentally, Wilson's catalogue numbers begin with the release year, so this one was issued in 1987. These chamber music recordings were designed to create the sensation of the performers playing in your room as opposed to you being in a venue. Abel plays a silky-warm sounding Guarnerius built in 1719, while Steinberg's instrument of choice is a Steinway Hamburg Model D concert grand. Given the minimal miking technique, recording to 30IPS 1/2" tape and the care taken in record production you can be sure that these records—all of them—will let you know how well your system performs. The QRP pressings produce pitch black backgrounds with which the originals cannot begin to compete. Plus the music is sublime and/or bombastic!

<!- ------------------------------------>