Andover Audio's Compact, Full Featured Spinbase Perfect For Dorm Room or Office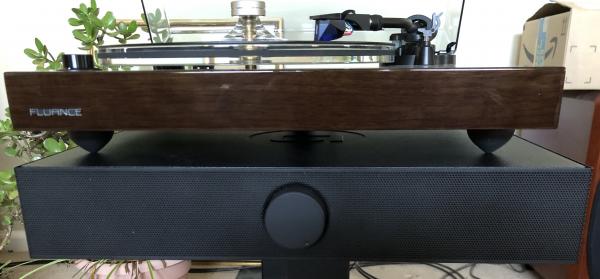 Spinbase is a compact (18"Wx13.5"Dx8"H) all-in-one audio system (available in either black or white) that incorporates a two-way vented stereo speaker system featuring a pair of Class "D" powered soft dome tweeters and active woofers using sophisticated DSP processing to produce a box-escaping 270 degree sound field.
What's more, built-in low-latency Bluetooth 5.0 allows you to stream through your phone Spotify, Tidal, Qobuz or whatever your choice of streaming services. But wait! There's more! Andover invented what it calls "Isogroove" acoustical Feedback Eliminating Technology that allows you to place on top of it a turntable without your having to worry about "mud" producing feedback. At least that's the claim.
Andover includes a MM and ceramic cartridge compatible phono preamp. Ceramic cartridges have very high output and don't require RIAA equalization but benefit from minor EQ "tweaks" that Andover also provides.
If your turntable has a built-in phono preamp you can try that one by using the Spinbase's "line input". So there's plenty of flexibility. Andover even supplies a short length of RCA to RCA cable to neaten the installation (assuming your turntable has removable cables).
The rear panel include the two inputs, bass and treble potentiometers and a switch for the "line in" input to go between "flat" and ceramic cartridge EQ (I assume the designers are thinking of the huge Crosley population).
Easy Set Up
Step one is to make sure to place the Spinbase on a level surface especially if your turntable doesn't have leveling feet. It's also best (but not essential) if you can place the Spinbase where it's close to ear-level to maximize high frequency output. Place your turntable upon the Spinbase, plug it into the appropriate RCA jacks and you are ready to play records. Keep in mind that the closer you place Spinbase (or any speaker) to a side or backwall or both, the greater will be the bass output. Better or worse is a matter of taste, but having bass and treble controls make placement that much easier.
It's easy to pair to the Spinbase your phone or other Bluetooth device assuming you even know this is possible because for some weird reason the Quick Setup Guide one-sheet does not mention Bluetooth other than in the "SHORTING PLUG" paragraph where the word appears in relation to noise generated if you don't use the shorting plugs in the "magnetic phono input" (if you're not using the input). Now that's weird! Come on Andover guys!
Using Spinbase and Sonics
The recently reviewed Fluance RT85 proved ideal for this review. Costing $500, add the Spinbase's $300 and for $800 you have a complete and super-compact audio system for both vinyl playback and streaming using your favorite service.
Switching between Bluetooth and turntable playback is automatic, only the volume needs adjusting because the built-in phono preamp's output is less than the Bluetooth's, though you could equalize the two with your phone's output.
I set the Spinbase upon a sturdy speaker stand in my large living room and sat about 8 feet away. First I streamed from qobuz, Tidal and Spotify, including tracks from Angel Olson's string-drenched All Mirrors and Giles Martin's Abbey Road remix. The soundstage spreads beyond the compact Soundbase's chassis and produces a stereo spread considerably wider than the closely placed L/R speakers but more impressive was that the sound did not "stick" at all to the box. Rather, it hovered in space across the room. The timbral balance was smooth, with a bottom end that was not that much deeper than expected given the size of the box but it was very well-controlled and "fast", which is preferable to bloomy or out of control.
You want to know about vinyl playback I'm sure, so I brought upstairs some Blue Note 75th anniversary reissues and The Freewheelin' Bob Dylan a 2017 "We Are Vinyl" series reissue no doubt cut from a digital source, well-mastered and well-pressed in Germany, as well as a few double 45 AAA Analogue Productions reissues including The Oscar Peterson Trio's West Side Story (Analogue Productions AVRJ MG-V6-8485).
The system playing vinyl did not play particularly loud, though it was sufficiently loud to be fully enjoyable. The "West Side Story" maxed out at about 76dB, which was fine. Ray Brown's bass was cleanly rendered and quite nimble as low as it went, which was not all that low, but low enough to carry the trio and the perceived L-R spread was surprisingly natural and not at all attached to the speakers. Here, listen for yourself! I recorded the playback using Sonic Presence that turns the user into a "dummy head" by placing two tiny microphones near your temples and records at CD resolution. What you'll hear actually has more bass than does the system but it gives you a good idea how fine is the performance of this compact, inexpensive system.
The Freewheelin' Bob Dylan was remarkably smooth and transparent and when I played Foo Fighter's Concrete and Gold it got way louder than necessary and I had to get up and turn it down (volume control is manual). Efficient headphones are kind of tricky in that the volume control taper makes the SPLs too high just beyond "off" so be careful!
Conclusion
For your kids' dorm or bedroom or for your home office desktop, just add a decent turntable like the Fluance or something from Pro-Ject (or whatever) and you can spin your records and get satisfyingly smooth, feedback-free sound and musical pleasure well beyond the Spinbase's $300 price point. I loved it!
<!- ------------------------------------>