The Records You Didn't Know You Needed- - - #5:Charlie Byrd at The Village Vanguard—Offbeat 93008, Riverside 9452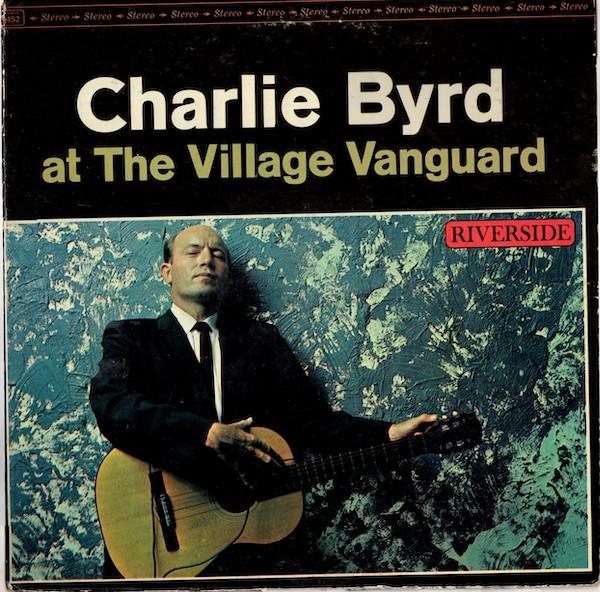 In June 2020, Analog Planet published
my article
on the great audio engineer, David Jones'
Living Legends
Riverside recordings of Black Traditional Jazz in New Orleans during the last week of January 1961. While researching the article, by checking records in my collection I compiled a list of Riverside albums for which Jones had been credited or co-credited as engineer.
When I pulled out this album, I immediately thought, "I remember this one. It's a great Jones recording" and was ready to put it on the list, until I found that the record didn't include an engineering credit. After listening I became even more convinced that Jones had recorded it.
Reference works list the recording date as January 15, 1961. Jones was hired, probably at the end of 1960, to do the Living Legends recordings and he left New York for New Orleans on January 20, 1961. It does not seem unreasonable to me to surmise that Riverside in January, 1961 either hired him for two projects or they needed someone to record Byrd at The Vanguard and their staff engineer, Ray Fowler, was unavailable, so they gave the job to Jones, who was.
On June 25, 1961, Jones recorded the jazz and audiophile classic Bill Evans Trio LPs; Sunday At The Vanguard and . The Charlie Byrd Trio recording at the Vanguard, five months earlier, while wonderful in its own right, I think, served Jones as a practice run through. When it came time to record Evans, Jones was familiar with the room and knew how to record in it a quiet trio. In 1984, Orrin Keepnews, co-owner of Riverside, wrote of the Evans recordings, "…our staff engineer, Ray Fowler, was not on hand, perhaps on vacation. (His replacement was Dave Jones, one of the best at 'live' location recordings in that two-track era…)" It's purely speculation, but maybe Fowler wasn't on vacation at all and Keepnews or his partner Bill Grauer, who was an admirer of Jones' work, decided based on the Byrd Vanguard recordings, that Jones was the ideal choice for the job.
Charlie Byrd (1925-1999) was nearly unique among jazz guitarists in that he played a classical guitar, fingerstyle. For jazz in 1961, his music was unusual and eclectic, little touched by be-bop, but heavily influenced by his classical guitar studies with Segovia, the folk, country and blues music he heard growing up in Virginia, swing era jazz and the music of Django Reinhardt.
In January 1961, Byrd was trying to establish a career outside his home base of Washington D.C. where he had recorded for a local label and this was his second appearance at the Vanguard and his first recording for the Riverside subsidiary, Offbeat. The following year in 1962, he achieved enormous commercial success when he convinced Stan Getz to collaborate on the LP Jazz Samba which introduced Bossa Nova to the U.S. and made #1 on the Billboard Pop Chart.
The music Byrd and his trio (Keter Betts, bass and Buddy Deppenschmidt drums) played at the Vanguard was not in 1961at the forefront of developments in jazz the way John Coltrane's own Live At The Village Vanguard session, recorded nine months later with Eric Dolphy was in its incorporation of modal and free playing. Byrd's music however was innovative in broadening jazz by incorporating non-jazz influences.
On Side1, Byrd beautifully plays three standard tunes, displaying his stunning classical technique, while almost totally avoiding the bebop styled harmonic improvisation that Wes Montgomery and Kenny Burrell had brought to jazz guitar. Instead, Byrd improvises melodically using classical figures, hints of Flamenco, folk and blues melodies and some Django chords.
Hard swinging is not his forte and his playing has some of the stiffer rhythmic feel of country music. Playing jazz standards makes for inevitable comparison and it's clear that Byrd is his own type of jazz guitarist, playing with a fresh, pretty, folk-tinged melodic sense that can make "Why Was I Born?", a Jerome Kern melody, sound a bit like Django playing a mountain ballad.
On Side 2, "Fantasia On Which Side Are You On?" is over twenty minutes long and takes up the whole side. Although the liner notes claim that "Which Side Are You On" is a folk tune, actually, it was a union organizing song, written in 1931 by the wife of a union activist and first recorded by Pete Seeger and The Almanac Singers. Byrd's "Fantasia…" takes the simple, minor key melody, places it over a root and the fifth bass figure, and he and the trio improvise and make out of such basic materials, a performance of complexity and changing moods. Byrd's playing begins dark toned, ominous and, for him, unusually aggressive rhythmically, playing some hard charging chords over Betts' superb bass playing. About halfway through his solo, he begins picking at and below the bridge, producing the effect of a plaintive, chiming melody against the still hard grooving bass and drums. Betts plays a beautiful, melodic solo with an appropriate in context, near quote of the gospel tune "Eyes On the Prize" and then there's a drum solo that hints at Indian rhythms with brushes and cowbell before they take it out with Byrd's playing, now mournful with dramatic Flamenco flourishes.
The piece has an open, spacey, hypnotic quality that was very unusual for jazz or any other music in 1961, but in 1968, wouldn't have seemed out of place at a Grateful Dead Fillmore West show. The "Fantasia"'s improvisatory mixture of folk, jazz, Indian music, classical and blues was innovative and influential. Soon after, the sadly little recorded Sandy Bull and then many others, including Oregon, Bill Frisell, Pat Metheny and countless jam bands began playing music in a similar freewheeling, anything goes in the pot style.
Sonically, this is a great recording. In the David Jones article, I detailed at some length, his techniques and "sound". The soundstage perspective is from the first or second row of tables so that the music is happening in front of us and the instruments "breathe" in the room. Byrd's guitar notes sound individually picked, clearly coming from the sound hole of a wooden instrument with the overtones hanging above it in the air. The bass is deep and full, the leading edge of the notes emphasized when Betts starts swinging harder. The drums are magnificently recorded. The cymbals are easily distinguishable from each other and the overtones musically ring out. The bass drum is not only deep but sounds dynamic and percussive. Imaging is ultra-sharp. At the beginning of the record, Byrd introduces "Squeeze Me" and he counts it off, snapping his fingers and the snaps move through space as he lowers his hand to the guitar. The familiar sound of the Vanguard is fully present, and a few coughs and talkers can be heard that will draw your special "dirty look".
At The Vanguard was originally issued on Offbeat in 1961 and reissued on parent label, Riverside in 1963 after Byrd and Getz hit #1 on the Pop chart. It's been reissued many times since on LP and CD. I haven't heard the Offbeat pressing. The 1963 Riverside press sounds magnificent and clean copies can be purchased for very reasonable prices (I fully concur with Mr. Washek's sonic assessment of this wonderful album_ed).
<!- ------------------------------------>