Vinyl Review Explosion: The Doors, The Mars Volta, Outkast, & Wu-Tang Clan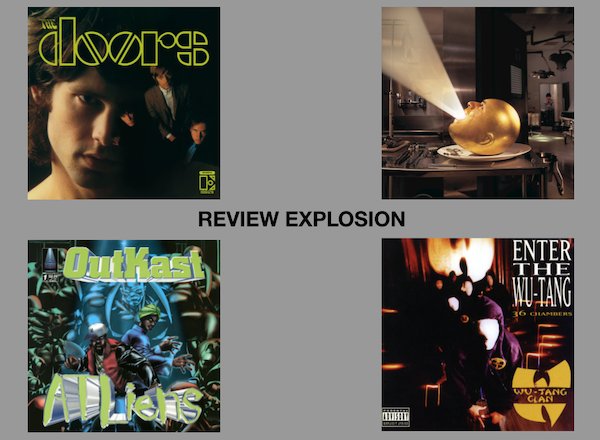 (Review Explosion is a recurring AnalogPlanet feature covering recent releases for which we either don't have sufficient time to fully explore, or that are not worthy of it. Curated by AnalogPlanet contributing editor Malachi Lui, Review Explosion focuses on the previous few months' new releases. This particular Review Explosion discusses four Vinyl Me, Please releases from June-September 2021.)
The Doors - The Doors
Elektra/Rhino/VMP Essentials RCV1 653797/081227891176 green and gold galaxy colored vinyl 180g mono LP + clear vinyl 7" EP
Produced by: Paul A. Rothchild
Engineered by: Bruce Botnick
Mixed by: Bruce Botnick
Mastered by: Bruce Botnick (digital), Bernie Grundman (vinyl)
Music: 7
Sound: 7
Yet another reissue of The Doors? Yes. There's not much more to say about the music, aside from that while I find The Doors overrated, this first album is for fair reason highly acclaimed and historically significant. Michael Fremer's 2012 review says it well: "The album holds up incredibly well, which is why it's revered both by boomers and their children and their (gasp!) grandchildren. The raw power contained in Jim Morrison's voice, combined with uncommon precision still dominates but appreciating everyone else's contributions becomes easier with the passage of a lot of time and especially with the improvement in one's audio system."
In June, VMP Essentials reissued the original mono mix on 180g green and gold galaxy colored vinyl with a clear vinyl 7" of the "Light My Fire" French EP. Bruce Botnick newly digitized the original mono masters at 384kHz/32bit digital using the Plangent restoration process (which eliminates unwanted tape playback artifacts—Botnick says these transfers are "so close to analog it's imperceptible"), and Bernie Grundman cut the vinyl on his tube system. This 2021 mono remaster differs from Rhino's 2017 Botnick/Grundman mono pressing in that the latter isn't Plangent-processed, though both reissues replicate the original speed issues and have the censored "Break On Through" (Botnick plans to eventually release a speed-corrected mono/stereo vinyl "twofer"). How does the VMP pressing sound? I don't have any other copies to compare, but despite the inherent distortion this mono pressing is pleasingly transparent and punchy. I'm sure this VMP edition improves upon the 2017 reissue, though whether it's enough to justify the $40 cost, I can't say. The clear vinyl 7" featuring "Light My Fire," "Take It As It Comes," and "The Crystal Ship" sounds the same as the LP, with more inner groove distortion.
In the packaging department, VMP's reissue excels. The glossy tip-on jacket feels luxurious, Jeff Weiss' liner notes booklet is informatively well-written, and Kii Arens' illustration print is one of VMP's better art inserts. The 180g green and gold galaxy vinyl pressed at GZ is noisy (as good as it looks, the galaxy combination of green and gold vinyl seems designed to maximize surface noise), though the 7" is quiet. While I find the 7" to be package filler, its glossy flipback sleeve is nice (even though the odd identification tab is susceptible to creases). Is VMP's mono The Doors reissue worth your money? If you're a diehard Doors collector and prefer this album's mono mix, yes. If you're a casual listener or prefer the stereo mix, then you can skip this one.
The Mars Volta - De-Loused In The Comatorium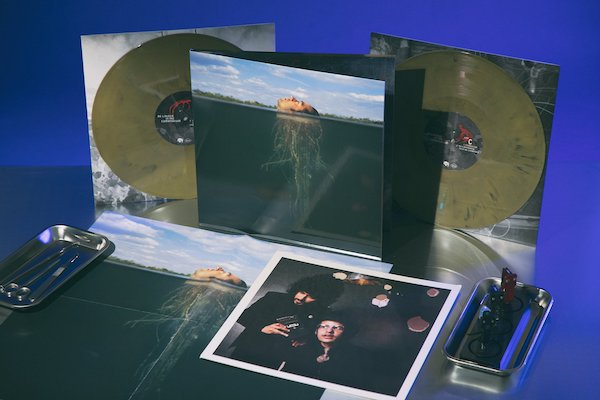 Clouds Hill/Rodríguez-López Productions/VMP Essentials CH 182 gold and black marble colored vinyl 2LP
Produced by: Rick Rubin and Omar Rodríguez-López
Engineered by: Dave Schiffman and Andrew Scheps
Mixed by: Rich Costey at Cello Studios
Mastered by: Chris Von Aautenkaanz and Florian Siller at Soundgarden Mastering/Clouds Hill Studios
Music: 7
Sound: 7
Following their previous hardcore band At The Drive-In's dissolution, vocalist/lyricist Cedric Bixler-Zavala and guitarist/producer Omar Rodríguez-López formed The Mars Volta, a progressive rock group. Their 2003 debut album, De-Loused In The Comatorium, is a dizzying concept record about Cerpin Taxt, a character who following a morphine- and rat poison-induced coma dies by suicide (the story alludes to Bixler-Zavala's friend, the late Julio Venegas.) For an entire hour, The Mars Volta Group, here comprised of Rodríguez-López, Bixler-Zavala, Flea, keyboardist Isaiah "Ikey" Owens, drummer Jon Theodore, and soundscape specialist Jeremy Michael Ward (who fatally overdosed on heroin a month before the album's release), takes listeners through a whirlwind of frenetic drums and spacy guitars, layered into sophisticated, virtuosic compositions. While Bixler-Zavala's verbose lyrical narrative is difficult to understand (there are no printed lyrics), the music impresses and commands listener attention. For all its complexity, near-incoherence, and abrupt dynamic shifts, there's no question that De-Loused In The Comatorium advanced prog rock into the 21st century.
Long sought after on vinyl, Clouds Hill (which now controls the Mars Volta catalog) recently dropped several De-Loused reissues: one is their own black vinyl pressed at Optimal, another is a standard weight gold and black marble colored vinyl VMP Essentials reissue, pressed at GZ (a limited-to-1000-copies dark green and gold third variant appears sold out). Both pressings use Chris Von Aautenkaanz and Florian Siller's vinyl-oriented remaster, though Optimal and GZ did their own plating. While the Clouds Hill De-Loused remaster clearly beats the Vlado Meller-mastered digital versions, the mix is already very compressed. Macrodynamics are impressive, but microdynamic details are lost. Further, VMP's gold and black marble vinyl appears engineered for maximum surface noise; while the cut is loud enough to obscure most of it, it's still annoying. (Due to many customer complaints, VMP ordered a repress. However, the nature of this colorway means that, no matter what, there will be abundant surface noise.) The spot-varnished tip-on gatefold jacket (which rearranges Storm Thorgerson's outer jacket artwork) and printed inner sleeves are nice, though I find the album art poster and photo print unnecessary. As nice as this De-Loused In The Comatorium reissue looks, I can't recommend the noise-riddled VMP colored vinyl over the (admittedly more expensive) Clouds Hill standard pressing.
Outkast - ATLiens
LaFace Records/Sony/VMP Hip-Hop 19439881721 neon green and blue galaxy colored vinyl half-speed mastered 2LP
Produced by: Organized Noize and Outkast
Engineered by: Various
Mixed by: Various
Mastered by: Barry Grint at Alchemy Mastering at AIR
Music: 8
Sound: 8
At a time when the East and West Coast scenes ruled hip-hop, Atlanta duo Outkast edged their way into public consciousness: "The South got somethin' to say." On their 1996 sophomore LP ATLiens, Andre 3000 (Andre Benjamin) and Big Boi (Antwan Patton) built upon their debut album Southernplayalisticadillacmuzik's ideas. Gone (but only for this album) are the obnoxious skits, though here to stay are infectious hooks, incredibly smooth beats, and skillful verses. Produced by Outkast and Organized Noize, ATLiens demonstrates a fully realized vision, with the duo's introspective lyrics about success ("Elevators [Me & You]"), religion, their upbringings ("Babylon"), aging ("13th Floor/Growing Old"), and more complemented by the immersive, otherworldly sonic palette. While their following work further explored this record's R&B embellishments and space-themed atmospheres, ATLiens is Outkast's clearest and most concise album—it gets across the point without wasting any time.
For ATLiens' 25th anniversary, Sony released several vinyl reissues: one is their own 4LP set with instrumental tracks, another is Get On Down's similar 4LP set with a bonus 7", and the other is VMP's August Hip-Hop Record Of The Month edition, featuring just the core 2LP album. (I can't speak on the 4LP editions, though I wouldn't trust the Get On Down pressing.) VMP's edition, pressed on standard weight neon green and blue galaxy colored vinyl at GZ, is half-speed mastered by Barry Grint at Alchemy Mastering at AIR. While the recording isn't particularly hi-fi, the mastering is immaculate, with clear bass definition and a somewhat glossy, extended top end. Vocal presence is excellent, and the instrumentals are spaciously rendered. Unfortunately, VMP insists on using green vinyl, which results in quite a bit of low-level surface noise. The otherwise well-pressed LPs come in a thick, embossed widespine jacket with a not particularly interesting 8-page "Listening Notes" booklet. It would've been nice to have the 4LP editions' extra artwork, but sound quality is most important; in that regard, the VMP Hip-Hop pressing succeeds. If you can obtain the currently sold-out half-speed ATLiens for a reasonable price (and aren't fazed by surface noise), confidently buy it.
Wu-Tang Clan - Enter The Wu-Tang (36 Chambers)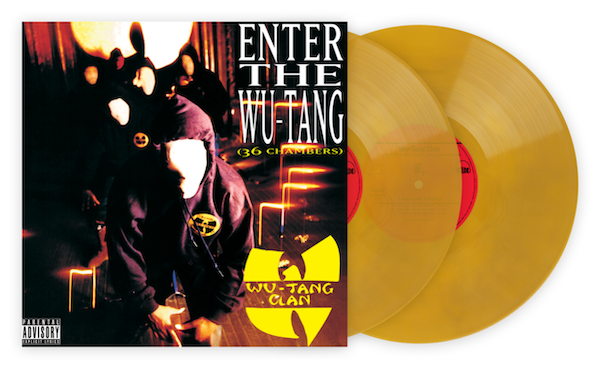 Loud/RCA/Sony/VMP Essentials 19439893981 gold galaxy colored vinyl 2LP
Produced by: RZA (co-production by Ol' Dirty Bastard and Method Man)
Engineered by: Ethan Ryman and Carlos Bess at Firehouse Studio, NY
Mixed by: RZA at Firehouse Studio, NY
Mastered by: Barry Grint at Alchemy Mastering at AIR
Music: 8
Sound: 8
Before it became a name-driven entity that sold a $2 million CD to pharma-bro Martin Shkreli, Wu-Tang Clan was a nine-member Staten Island rap crew scrounging for recording money. Recorded in an inexpensive basement studio, their 1993 debut Enter The Wu-Tang (36 Chambers) is an undeniable hip-hop cornerstone. Atop RZA's rough-edged yet subtly melodic production, the lineup of him, Method Man, U-God, Inspectah Deck, Raekwon, Ghostface Killah, Ol' Dirty Bastard, Masta Killa, and GZA/Genius exchange energetic performances of descriptive verses. There's nothing that others haven't already written about this record, though I'll add that Enter The Wu-Tang is one of few early 90s hip-hop "classics" worthy of such high praise; it's a revolutionary LP that beneath the bombastic, raw aesthetic carries immense precision and intent.
Enter The Wu-Tang (36 Chambers) isn't a traditional "audiophile recording;" it was recorded to reel-to-reel analog tape and DAT then mixed down to a TASCAM Portastudio. All previous vinyl pressings cram a rearranged tracklist onto a single LP; VMP's new 2LP pressing fixes those issues. Cut by Barry Grint at Alchemy Mastering at AIR from an unspecified source (probably hi-res digital), this is the best you'll ever hear Enter The Wu-Tang. The sonic transparency truly transports you into Firehouse Studio, and RZA's production envelops you. Unfortunately, VMP's seemingly endless obsession with gold vinyl, here in a galaxy colorway pressed at GZ, renders the discs noisy. For a loud cut of this music it's not particularly distracting, but it symbolizes a larger VMP problem. The set comes in a foil-stamped widespine jacket, with a "Listening Notes" booklet and underwhelming VMP-designed art print. Overall, this is an excellent package deviating from the typical audiophile reissue material, though VMP needs to rethink their color choices.
(Malachi Lui is an AnalogPlanet contributing editor, music obsessive, avid record collector, and art enthusiast. Follow him on Twitter: @MalachiLui and Instagram: @malachi__lui)
<!- ------------------------------------>