Pro-Ject Debuts The Fully Automatic $499 AUTOMAT A1 Turntable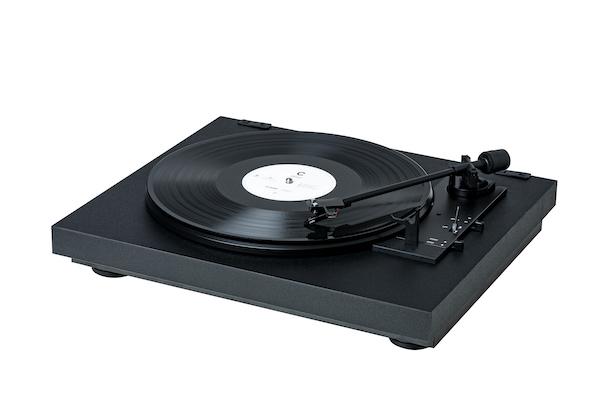 Pro-Ject
today introduced the $499.00 AUTOMAT A1 its first fully automatic turntable.
The new AUTOMAT A1, handmade in Germany by a company Pro-Ject says has a 'wealth of experience in making automatic turntables", has fully automatic start/stop and during play the automatic mechanism completely disengages. Because the mechanism is fully mechanical no additional electronics are required, which helps keep down the cost.
The AUTOMAT A1 features an 8.3" low mass aluminum tone arm fitted with an Ortofon OM10, perfectly suited to the low mass arm. Tracking force and anti-skate are factory pre-set, making this a "plug and play" turntable. The arm features a new carbon fiber reinforced polymer head shell designed specifically for the A1.
The aluminum platter, 100% made in Germany, is first stamped, bent and perforated then sent to a second supplier for phosphatic and de-oiling after which is added an inner damping ring to increase mass and reduce resonances. Next the platter is turned and precision balanced and finally it's painted black (you devil).
The AUTOMAT A1 features a built-in switchable MM phono preamp and comes with Pro-Ject's Premium semi-symmetrical "Connect E" phono cables. It sits on four silicon damped feet and includes a dust cover.
Think about what this means! Now even old people, many of whom have never even heard of vinyls, and who are too fumbly to handle a tone arm, and who when they hear "AUTOMAT" think of a place to get bad food pushed through a glass door, can enjoy records!
Specs:
Speed: 33, 45 (electronic speed change)
Drive principle: belt drive, fully automatic
Platter: damped aluminum platter
Wow & flutter: 33: +/-0.27%; 45: +/-0.25%
Speed drift: 33: +/-0.75%; 45: +/-0.65%
Signal to noise: 65dB
Tonearm: ultra-light-mass 8.3" aluminum tonearm
Effective arm length: 211mm
Overhang: 19.5mm
Included accessories: 15V DC / 0.8A power supply, dust cover, 7″ single adapter, felt mat, phono cable
Power consumption: 1.5W
Dimensions: 430 x 130 x 365 mm (WxHxD)
Weight: 5.6 kg net

<!- ------------------------------------>