The Dire Straits Money For Nothing Sweepstakes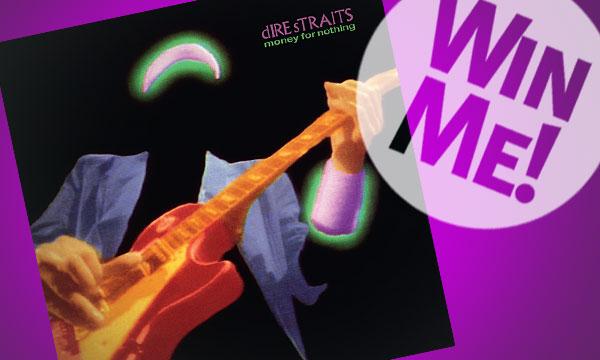 Register to win a Dire Straits
Money For Nothing
Vinyl LP (Total value $37.49 ea) we are giving away.
About the prize:
On June 17, Rhino will reissue Money For Nothing, the first Dire Straits greatest hits collection (featuring songs from the band's first five albums), which was originally released in October 1988. Newly remastered by Bob Ludwig, Money For Nothing will be made available in digital and double vinyl formats in early 2023.
Fully remastered by Bob Ludwig, and cut by Bernie Grundman, the Money For Nothing double vinyl reissue includes "Telegraph Road (Live Remix)," which was previously only available on the original CD format, and a previously unreleased alternative live version of "Portobello Belle (Live)." The album is cut over four sides for the first time and is pressed on 180-gram vinyl with original artwork.
Dire Straits straddled the globe with their sophisticated rootsy guitar rock wedded to literate story-telling lyrics. Emerging from the club and pub circuit in 1977, Dire Straits was led by charismatic Geordie singer-songwriter, record producer, and composer Mark Knopfler.
Knopfler is one of the most successful musicians the UK has ever produced and is often cited as one of the greatest guitarists of all time. Dire Straits' sound defined the late 70s/early 80s with monster global hits such as "Sultans Of Swing," "Romeo And Juliet," "Money For Nothing" and "Walk Of Life" (all included on this release). Dire Straits' 1985 album Brothers In Arms, a global No 1 and double Grammy® Award winner, is one of the best-selling albums of all time. After releasing their final album, On Every Street, in 1991, Knopfler set off on a new path as a solo artist.
Click here for more info about the release.
---
To enter the sweepstakes, all you need is an account on this website. If you don't already have one, click on the link labeled "register" at the bottom of this announcement or "LOG IN/JOIN" in the nav bar at the right. Then, enter a username and a valid e-mail address, and click on the "Create new account" button. A message will be automatically sent to the e-mail address you specified, which will include a link to activate the account.
The final step (and only step for those who already have an account) is to log in and leave a comment right here on this announcement—any comment will do, as long as it's not profane or spam (feel free to tell us the name of your favorite record store/vinyl shop, where it is located, and why you love shopping for vinyl there!). Then, when the sweepstakes closes, a lucky commenter will be chosen at random to receive the prize. So post a comment, and good luck!
For complete sweepstakes rules, click here.
[This Sweepstakes is now closed.]
<!- ------------------------------------>