Seen at High End Munich 2023: Rega Planar 3 50th Anniversary Edition Turntable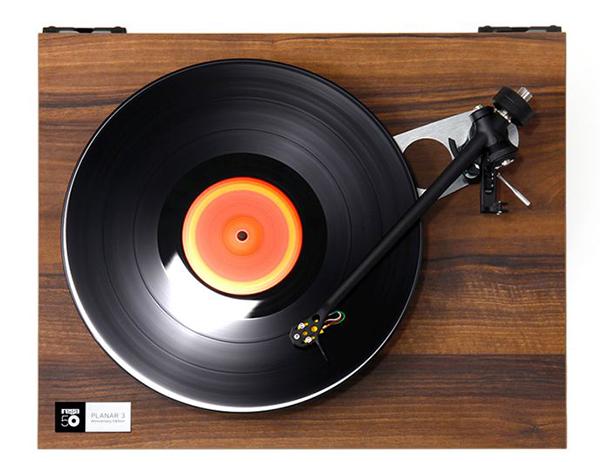 With High End Munich 2023 officially in the books, we now commence our highlighting of some of the coolest gear seen and heard at the big show. First, we'd like to take a moment and commend Rega in recognition of the company's 50th anniversary this year — especially considering how this venerable high-end British manufacturer was celebrating that golden milestone in style at their booth in Munich by showcasing the 50th anniversary edition of their legendary Planar 3 turntable, replete with walnut finish.
The stats are these. Rega's Planar 3 50th anniversary edition turntable comes with a hand-tuned Neo MK2 PSU and a handmade, factory-fitted Rega Exact moving magnet (MM) cartridge. The drive system utilizes the company's Reference EBLT drive belt, and a 24V motor fitted with a custom-CNC'ed aluminium drive pulley. The golden anniversary edition of the Planar 3 also comes with an exclusive "Rega 50" lid badge and aluminium plinth.
T
The included RB330 tonearm was designed using the latest 3D CAD/CAM technology, sporting a brand-new bearing housing and the company's latest tonearm tube, which is said to be designed "using intelligent redistribution of mass to ensure this arm will exhibit fewer points of possible resonance" (their words).
Meanwhile, the aforementioned walnut, laminated double-brace plinth sports both a 3mm phenolic bottom brace and a metalized skin phenolic top brace. Mounted specifically where increased rigidity is required — i.e., between the tonearm mounting and the main hub bearing — this double-brace concept forms what the company calls a "structurally sound stressed beam assembly." The use of braces instead of the complete skin enables double thickness phenolic resin in these areas while providing further weight reduction to the plinth, which is further said to directly address the issue of mass absorption and unwanted energy transmission.
The Planar 3 50th anniversary edition's 24V low-noise, low-voltage precision motor and PCB assembly is fitted with a custom CNC-machined aluminium pulley. The Rega-designed patented brass main hub central bearing is intended to improve fit and construction by reducing stress on the bearing itself. Finally, the Neo MK2 PSU power supply provides user-controllable fine-speed adjustment, an advanced anti-vibration motor circuit, and electronic speed change. The Neo MK2 is said to reduce motor noise, as well as improve both speed stability and rotational speed accuracy.
The SRP for Rega's Planar 3 50th anniversary edition turntable is $1,695. The limited-availability shipping window for this modern/classic turntable is set to be between August and December 2023.
For more about Rega, go here.
To find Rega's authorized global distributors, go here.
(If you're on the North American side of the Pond, scroll directly down to the North America section.)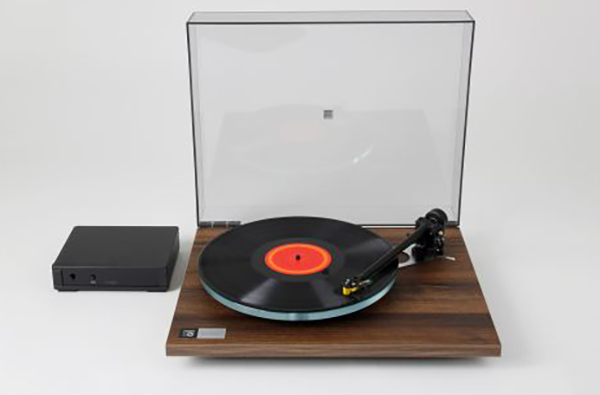 REGA PLANAR 3
50TH ANNIVERSARY EDITION TURNTABLE
($1,695)
Features & Specs
12mm float glass opti-white polished platter
Smoked dust cover (supplied)
24V low-noise motor
12mm glass polished edge platter
Connectivity: RCA (phono)
Power: via mini-DIN from Neo MK2 PSU
Power Consumption: 7.2W
Speed control (step size): 0.01rpm
Turntable dimensions (w/h/d, lid closed): 447 x 117 x 360mm
Turntable weight: 6.0kg Neo MK2 PSU dimensions (w/h/d): 180 x 50 x 150mm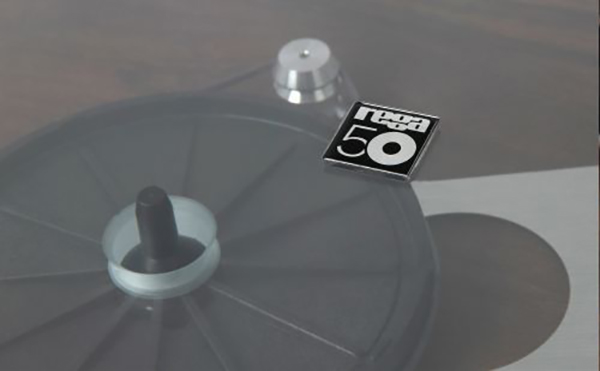 <!- ------------------------------------>