Andover Audio's SpinBase MAX Turntable System Looks to Up the Performance Ante on Its Predecessor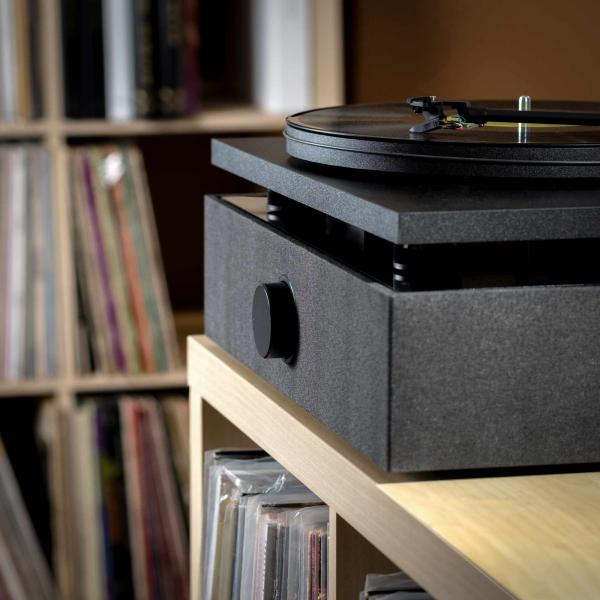 Considering how well the original Andover Audio SpinBase all-in-one turntable system fared
in our hands-on review
, we figured the company's updated SpinBase MAX was worthy of bringing to your attention.
The compact SpinBase MAX all-in-one audio system incorporates a two-way vented stereo speaker system featuring a pair of Class D-powered 20mm soft-dome tweeters and active 3.5-inch round woofers using sophisticated DSP processing to produce a 270-degree soundfield. The unit comes in a black or white finish for seamless integration with Andover's own Spin collection, is set for mid-=November availability, and sports an SRP of $499 — whereas the original SpinBase went for $300 — but the revised feature set explains why.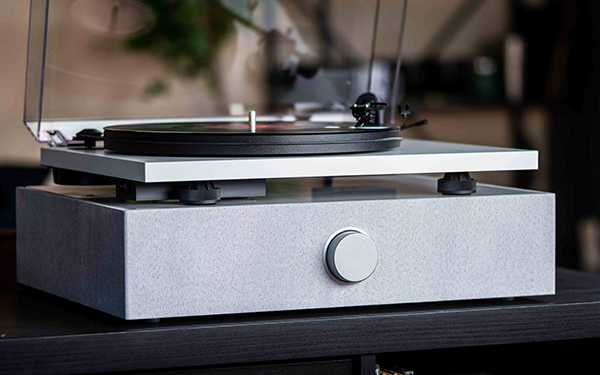 Actually, we'll also let Bob Hazelwood, director of engineering for Andover Audio, do some of the explaining. According to Hazelwood, the SpinBase MAX adds "larger woofers and more power to increase bass output and overall loudness. We also added Bluetooth transmission so listeners can use their wireless headphones or earbuds, and a switchable high-pass filter that lets the SpinBase MAX play even louder when used with a SpinSub."
Thanks to Andover Audio's patent-pending IsoGroove technology, the SpinBase MAX can be placed directly below a turntable. That IsoGroove tech is said to be a proprietary means of preventing feedback, resonances, and/or other audio-disruptive noises that typically occur when a turntable is placed next to a speaker (or speakers, plural).
Design-wise, the SpinBase MAX offers a clean, classic design with a heathered fabric wrap and glass-like acrylic top. The main control is a single large knob on the front panel that can be used to turn the unit on or off, as well as for volume adjustment. Meanwhile, bass and treble controls for EQ adjustments and a selectable high-pass filter for use with a subwoofer are on the rear panel.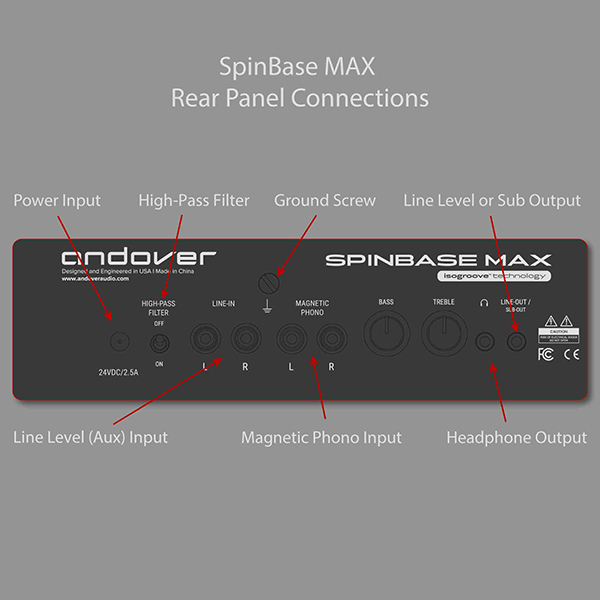 The SpinBase MAX has a line input and built-in preamp, the latter of which is intended to work with turntables that lack a preamp of their own — such as Andover's own SpinDeck belt-drive 'table, which we recently reported on here.
Much like the original SpinBase, the SpinBase MAX receives Bluetooth music signals from a phone — but now, users can also transmit their 'table-based music to external speakers or headphones. The SpinBase MAX enables users to wirelessly stream music via Bluetooth, and a headphone output offers quiet listening. Its wide variety of inputs make it easy to connect another sources, if so desired.
The SpinBase MAX can be pre-ordered here and at participating dealers. A full array of SpinBase MAX features and specs appears below.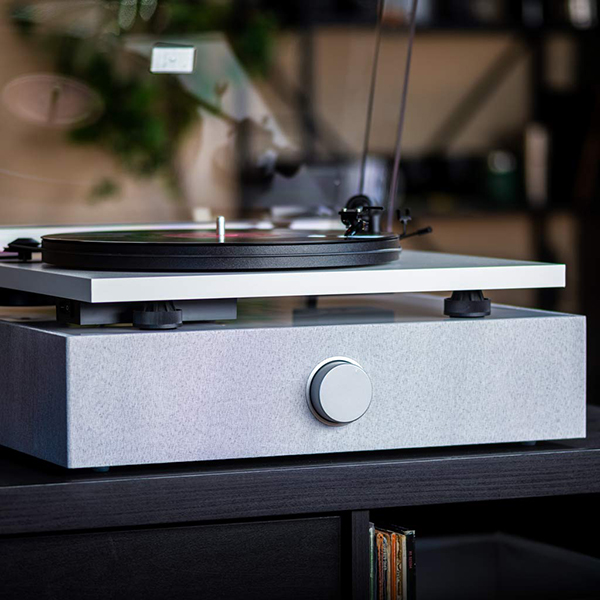 ANDOVER AUDIO
SPINBASE MAX
($499)
Features
connects to any turntable
built-in phono preamp
Bluetooth pairing (to your phone)
Bluetooth transmission (to wireless speakers/headphones)
larger-diameter woofers
illuminating touch-capacitive controls
bass and treble EQ controls
selectable 100Hz high-pass filter
IsoGroove noise-free technology
heathered speaker fabric (matches Andover Audio SpinSub)
RCA cable with ground connector
Specs
bass and treble EQ controls
high-pass (100Hz) filter switch
Class D amplification
30w rms per channel
Frequency range: 48Hz to 20kHz
Dimensions: 18 x 3.25 x 13.5 inches (w x h x d)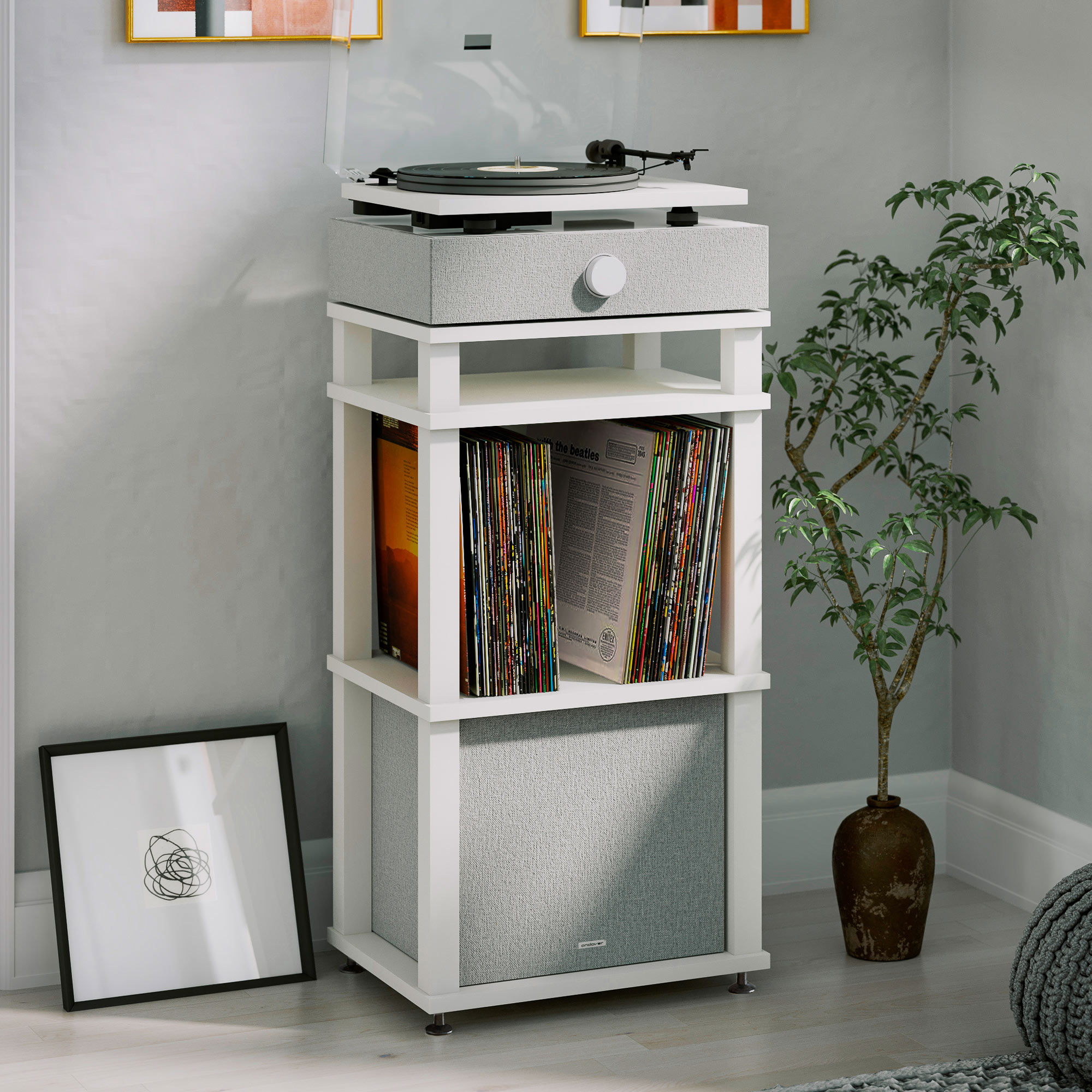 <!- ------------------------------------>