Andover Audio's Super-Versatile, High Performance Model-One Turntable Music System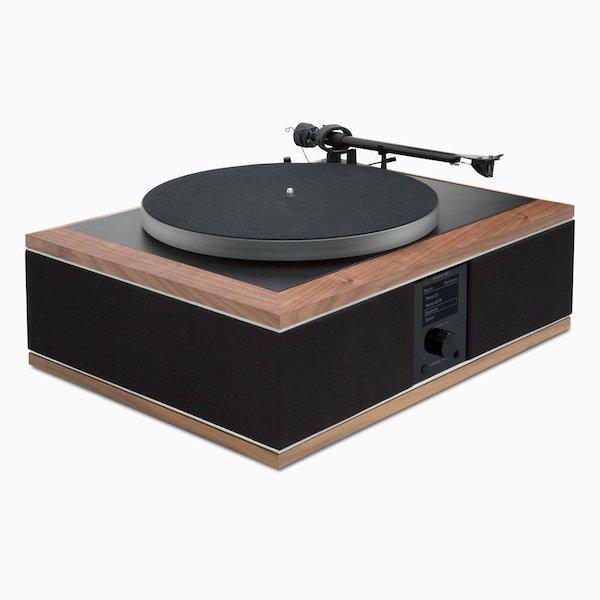 Let's head off at the pass what will surely be in the comments section under this review of a remarkably compact, full-featured, remote-controllable music playback system that includes
in a single box
, a high quality Pro-Ject Debut Carbon Esprit 3 speed turntable with dustcover fitted with an Ortofon 2M "Silver" cartridge (incorrectly identified as OM2 on the Andover website—it's similar to the Ortofon 2M Red but with fewer winds of the same silver-plated copper wire found in Ortofon's 2M Bronze and 2M Black) that alone sells for $599 and includes an acrylic platter and 8.6" carbon fiber tonearm, an A/D converter, a 192/24 bit DAC, analog and digital inputs plus a subwoofer "out", Bluetooth ( Qualcomm APT-X) streaming and built in amplification (2 x 70 Class D watts to woofers and 2 x 30 watts to tweeters)
and
of course multiple (6) high quality speakers (4 "long throw" aluminum diaphragm woofers and a pair of Air Motion Transformer tweeters originally invented by Dr. Oskar Heil that uses metal-etched folded polyethylene sheets to move air in process we won't go into here!). A pair of side mounted woofers handles only bass, while the front mounted pair extend into the midrange. Oh, and theres' also a Class A headphone amplifier—all in an attractive genuine Walnut hardwood framed chassis for $1999.
Comments will be posted under this review saying "for $1999 or less you could buy the X receiver, Y turntable, and Z speakers and have $ leftover for some records". Yes, but that is not what this is about, nor is it intended for people with the room and/or inclination to assemble such a system.
Andover Audio's Model-One is intended for people who want an all-in-one (heavy) box solution that does not take up a great deal of space (18"W x 13.5"Dx 8.5"H) and is essentially- "plug'n'play". To paraphrase "Star Trek", the Model One is designed to "…go boldly where no high quality audio system has gone before".
While Andover the company dates from 2012, the people are industry veterans who have worked for companies like Cambridge Soundworks, ADS, Alpine, B&W, JBL and others. True, they all were fired from these companies, but they have bounced back and…I'm just kidding and trying to produce a lively read. Actually, these are a bunch of smart people who I'd say are "thinking outside the box", but in this case they are clearly thinking "inside the box" and throwing in as much as they can and, more importantly making it work. While the Andover brand is relatively new, the company itself has been designing and supplying OEM components to brands that include Cambridge Soundworks, co-founded by the legendary Henry Kloss (the "K" in KLH, etc.).
How?
You may ask how can a turntable be placed in the same box as the loudspeakers? The resulting feedback should sink any such Pro-Ject. Andover uses a patent-pending, DSP-based turntable feedback-cancellation technology it calls Isogroove. So yes, to answer your question, the turntable's output does get digitized at high resolution because otherwise the speakers would feedback to the turntable and the thing would not work. If that's a deal breaker for you, sorry, but again, this product is designed for a specific audience that's somewhat more "casual" than the "purist" analog audience, though even those people (like me) might be surprised by the sound quality Andover has managed to achieve here.
Operating System
A multi-function single knob controls all of the Model One's functionality, the status of which appears on the LCD front panel display. While many "nested" feature-based operating systems are for the birds, this one is reasonably intuitive and after a short learning curve you'll "get" it. You can adjust everything from bass and treble to turntable speed and even LCD brightness. From the front panel you can even pause the turntable. When you use the nicely finished full-function remote control, which has a base of wood, a top plate of aluminum and pleasing to the touch rubberized buttons, the display lettering grows in size, making it easier to read. I'm not going to run through the entire set of menu options.
The back panel features two Aux inputs: one a standard RCA pair for use with a CD player, tape deck or tuner, the other a 3.5mm analog/digital combination jack that will accept either an analog source or up to a 192/24 bit digital source using a Toslink cable. There's also a digital coax or Toslink cable input that will accept SPDIF or PCM audio up to 192/24 bit and a separate USB-Mini B to USB-A cable PC in/out for computer file recording or playback at 44.1 or 48kHz/16 bit resolution. Also on the back panel is a "pre-out" RCA jack pair that can be used with an external amplifier and speakers or a powered set of speakers. Finally, there's a subwoofer "out" RCA jack. This is a full-function all-in-one box system! While Andover offers two attractive stands, an upper one for the Model One with record storage underneath ($299) and a lower one that's just for record storage ($199) as well as a separate subwoofer ($799), I chose to review just the Model One.
Set up and Use
Because this is a system designed to go "where it goes", I didn't feel it appropriate to set it up using normal "audiophile" room placement standards. Instead I chose to do the listening in my living room, which is far larger than my lower level two channel listening room and place the Model One where it had to go in the room because of furniture and foot traffic.
I put a Symposium Acoustics platform atop an ear level heavy metal speaker stand usually reserved for the center channel speaker of my home theater system and located it near the front wall where the center channel speaker normally resides. And that was it for speaker placement.
Most people buying the Model One will be doing so because of space considerations so to me, "working the room" and looking for the best place didn't strike me as useful.
At some point late in the review I hooked up my Adam Audio subwoofer used in my home theater. That required setting the subwoofer preference from the OFF default to ON, which adds a 100Hz High Pass filter to reduce bass from the Model One's internal speakers. When I completed that part of the review and returned it to the default "OFF" mode I was alarmed to hear bass still coming from the subwoofer. I feared a glitch and that the 100Hz HP filter was permanently on, but a call to Andover revealed that the output remains active whether or not the filter is in the line. So don't worry if you have the same experience.
For a digital source I used my Astel & Ultima SP-1000 portable hi-resolution player and set it to deliver a high resolution digital output from the 3.5mm jack and ran a Toslink connector into the Model One's 3.5mm jack. With that source I could stream music from Qobuz and Tidal and play high resolution digital files stored on the device.
I've heard the Model One at shows and have been wowed by the naturalness of the processing that produces a wide, deep soundstage extending well beyond the narrow box. It's a neat magic trick. At home the effect was even more pronounced without in any way watering down image solidity or timbral accuracy. I also listened in normal "stereo".
Either way, the Model One produced a super-clean overall sound, extending down into what sounded like 50Hz territory, which is deeper than you might think. More importantly, the bass was firm, solid and fast even playing records, though honestly, the digital files had more "womp" and bottom end "slam", which didn't surprise me, in part because the system used to prevent acoustical speaker to phono cartridged induced feedback must in some way attenuate bass—and if that's incorrect the designers will slap me upside the head for being incorrect and I'll publish their correction.
Though digitized, the vinyl playback was still very good and rather than me going on about it how about listening for yourself? I used a set of Sonic Presence binaural "on temples" microphones to record some vinyl playback tracks.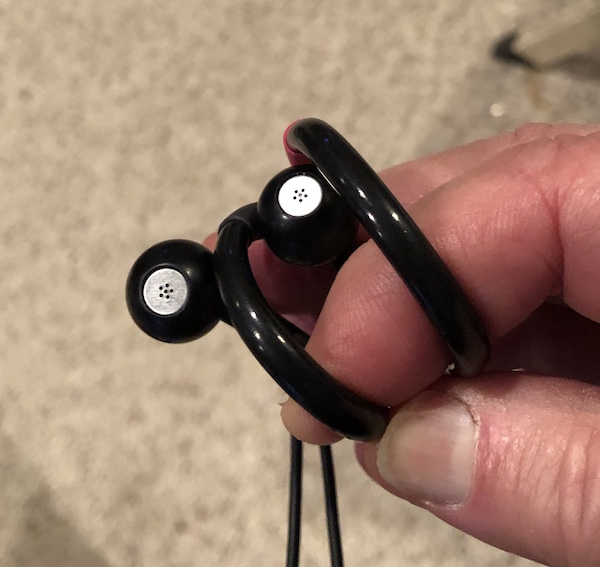 The Sonic Presence system creates a "dummy head" type binaural recording using your own head as the dummy, which in my case…..no comment.
First up is part of "I Surrender Dear" from Persuasive Percussion (Command RS800SD) one of the early stereo "demo" records released in 1959. Lots of "ping pong" stereo effects produced by swapping channels directly at the mixing board. As you'll hear, the Model-One doesn't produce 100% "left/right" intensity but there's a great deal of spaciousness evident even though the dummy head recording.
Next up, to demonstrate how even though Class D amplified, the Model One can sound sweet reproducing acoustic music is Ravel's "Piece en forme de habanera" performed by Tobias Granmo (violin) and Helena Granmo (piano) from a Marten Audio (the loudspeaker company) produced record Supreme Sessions 2 recorded live using a pair of Schoeps microphones in a very "purist" recording production. If you're interested in the limited to 500 copies LP, you'll have to visit the company's website.
And finally, "Sing Sing Sing" from Big Band Spectacular (VALDC002) a direct to disc Chasing the Dragon record featuring The Syd Lawrence Orchestra recorded at AIR Studio in London, available in the United States through Elusive Disc. This is a unique double disc set with the first record D2D and the second the same microphone feed going to ½" analog tape at 30IPS so you can hear what tape does to the microphone feed.
Remember as you listen to these files: I was sitting on my living room couch playing these records through the Model One sitting about 6 feet from it in a large, untreated room and recording them at 48/24 resolution onto my iPhone.
Conclusion
The recordings plus the review should make clear that the Model One is a unique, super-versatile all-in-one compact turntable equipped playback system that plays loud, has surprisingly wide dynamic range, produces an expansive, natural sounding soundstage from speakers placed but a few inches apart and looks good too. At $1999 it's not "cheap" but considering that the turntable alone sells for around $600, what the extra $1400 gets you, is, in my book, a lot for not all that much money.
The Model One was designed for a very specific purpose and for a well-focused and well-defined audience. I suppose use in a dorm room or office environment was the original goal, but as they say, "virus happens". I'm sure plenty of music and sound aficionados will still be able to make use of this unique, well-thought out product.
Below is the company's set-up video:
Model One Turntable Setup Video from Andover Audio on Vimeo.
<!- ------------------------------------>