The Beatles' Revolver Half-Speed-Mastered 180g 4LP/1 EP Special Edition Super Deluxe Box Set Is Coming Our Way October 28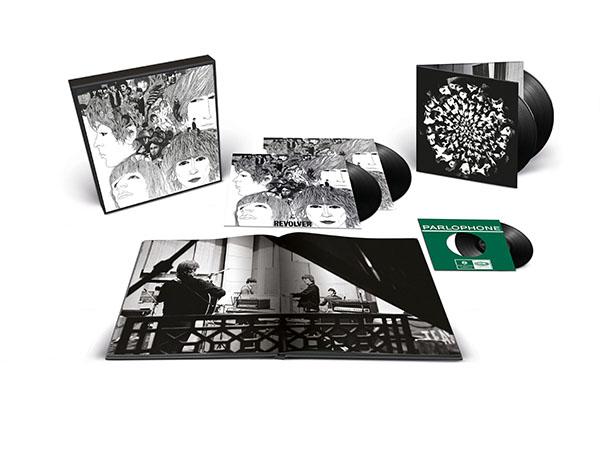 Turn off your mind, relax, and drop the needle. If you've been wondering which Beatles album would next get the mega-deluxe treatment following last year's Let It Be Super Deluxe 180g 4LP/1EP box set, wonder no more. On October 28, Apple Corps Ltd./Capitol/UMe will release August 1966's seminal Revolver in a 180g 4LP/1EP Special Edition Super Deluxe box set.
There are other related deluxe and standard configurations being released at the same time as the vinyl box is, of course, but you can read about them elsewhere. That said (that said), you can see here now the following. . .
Revolver's core 14 tracks have been newly mixed by producer Giles Martin and engineer Sam Okell in stereo, and the album's original mono mix is sourced from its 1966 mono master tape. The album's new stereo mix is sourced directly from the original four-track master tapes. De-mixing technology developed by the award-winning sound team led by Emile de la Rey at Peter Jackson's WingNut Films Productions Ltd has been deployed.
This Super Deluxe collection also features Revolver's original mono mix, 28 early takes from the recording sessions, three home demos, and a four-track EP with new stereo mixes and remastered original mono mixes for "Paperback Writer" and "Rain." (Note: Next week, I will be interviewing Giles Martin exclusively for AnalogPlanet about as many relevant Revolver analog details as possible, so keep an eye out for that post, which will arrive before the end of next week.)
The Revolver Special Edition Super Deluxe box set retails for $199.99, and you can pre-order it here. Also, you can hear the 2022 stereo mix of "Taxman" right here.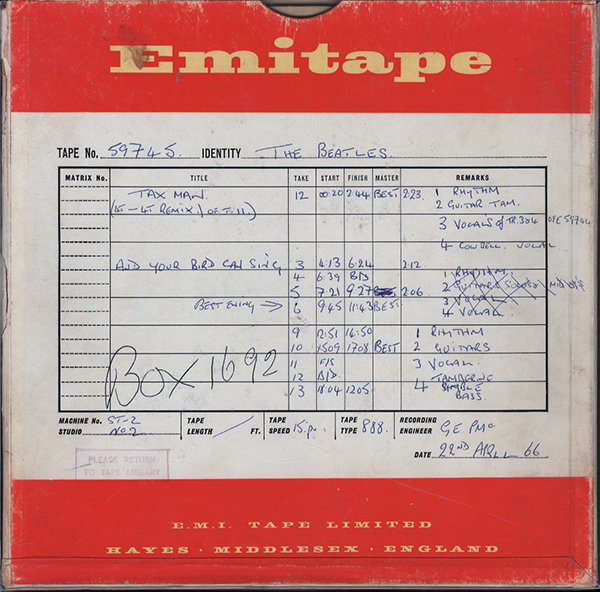 The physical specs for the 4LP/1EP edition are these. (The full sidebreak breakdowns follow at the end of this story.) The 4LPs and 7-inch EP are on half-speed-mastered 180g vinyl, and the deluxe package comes with a 100-page hardbound book, all of it housed in a 12.56 x 12.36-inch slipcase. The first Revolver box set LP comprises the new stereo mixes of the album's original 14 tracks. The next two LPs, subtitled Sessions One and Sessions Two, comprise 31 tracks in stereo and mono. The fourth LP features the original mono master of the core album's 14 tracks. Finally, the 7-inch Revolver EP contains four tracks in total, including new stereo mixes and remastered original mono mixes of "Paperback Writer" and "Rain."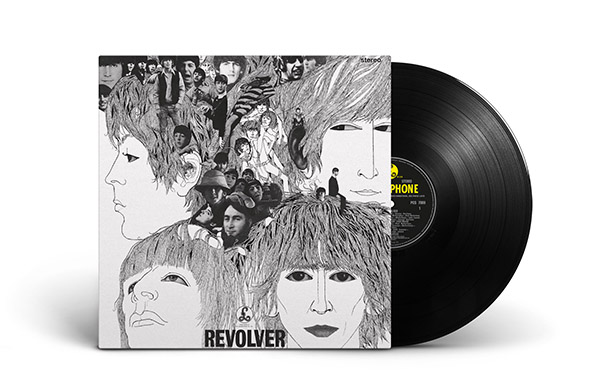 If you don't want to splurge for the full Special Edition right out of the box (so to speak), an individual 1LP Revolver release featuring the new stereo mix on half-speed-mastered 180g vinyl ($29.99) and a limited edition 180g 1LP vinyl picture disc ($35.98) featuring the new stereo mix and delineated with the album cover art will also be made available. (Why not mono too? Don't worry — I'll ask!)
The Revolver Special Edition showcases the Grammy-winning original album artwork created by The Beatles' longtime friend, German bassist and artist Klaus Voormann. The included hardbound book features a foreword from Paul McCartney; an introduction by Giles Martin; an essay by drummer/producer Questlove; and chapters and detailed track notes by Beatles historian, author, and radio producer Kevin Howlett. The book is illustrated with rare and previously unpublished photos; never before published images of handwritten lyrics, tape boxes, and recording sheets; 1966 print ads; and extracts from Voormann's graphic novel, birth of an icon: REVOLVER.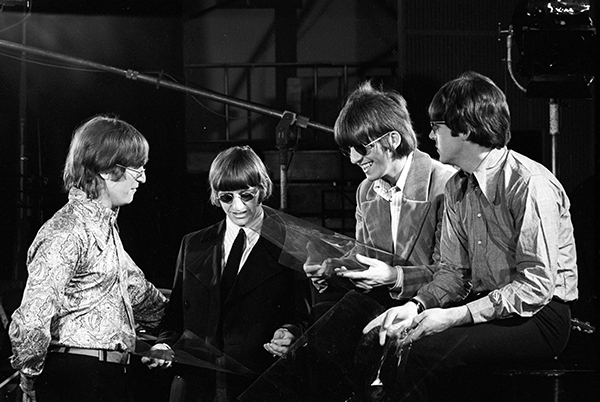 We all know quite a lot about the making of Revolver, but for some brief historical context, consider this — by 4 a.m. on June 22, 1966, The Beatles finished "She Said She Said," wrapping up the album's recording sessions. The final mono and stereo mixes for Revolver were completed that evening, and the next day, The Beatles were once again off and running on tour. That November, they reconvened at Abbey Road to begin work on Sgt. Pepper.
Finally, some chart-related stats. Released on August 5, 1966, Revolver spent seven weeks at No. 1 on the UK albums chart, and the double A-side single with "Eleanor Rigby" and "Yellow Submarine" topped the UK singles chart for four weeks in August and September. In the U.S., Capitol released an 11-track version of Revolver, which spent six weeks at No. 1 on Billboard's albums chart. "I'm Only Sleeping," "And Your Bird Can Sing," and "Doctor Robert" had been previously plucked from the sessions for Capitol's North American release of the Yesterday And Today compilation album — one of the first half-dozen Beatles albums I ever owned myself, in fact! — that June.
How excited are you about this impending Revolver vinyl box set release? Chime in with your thoughts in the Comments section below.

THE BEATLES
REVOLVER – SPECIAL EDITION SUPER DELUXE VINYL BOX SET
180g 4LP/1EP (Apple Corps Ltd./Capitol/UMe)
LP One: Revolver (new stereo mix)
Side 1
1. Taxman
2. Eleanor Rigby
3. I'm Only Sleeping
4. Love You To
5. Here, There And Everywhere
6. Yellow Submarine
7. She Said She Said
Side 2
1. Good Day Sunshine
2. And Your Bird Can Sing
3. For No One
4. Doctor Robert
5. I Want To Tell You
6. Got To Get You Into My Life
7. Tomorrow Never Knows
LP Two: Sessions One
Side 1
1. Tomorrow Never Knows (Take 1)
2. Tomorrow Never Knows (Mono mix RM 11)
3. Got To Get You Into My Life (First version) – Take 5
4. Got To Get You Into My Life (Second version) – Unnumbered mix - mono
5. Got To Get You Into My Life (Second version) – Take 8
6. Love You To (Take 1) - mono
7. Love You To (Unnumbered rehearsal) – mono
Side 2
1. Love You To (Take 7)
2. Paperback Writer (Takes 1 and 2) – Backing track – mono
3. Rain (Take 5 – Actual speed)
4. Rain (Take 5 – Slowed down for master tape)
5. Doctor Robert (Take 7)
6. And Your Bird Can Sing (First version) – Take 2
7. And Your Bird Can Sing (First version) – Take 2 (giggling)
LP Three: Sessions Two
Side 1
1. And Your Bird Can Sing (Second version) – Take 5
2. Taxman (Take 11)
3. I'm Only Sleeping (Rehearsal fragment) - mono
4. I'm Only Sleeping (Take 2) - mono
5. I'm Only Sleeping (Take 5) - mono
6. I'm Only Sleeping (Mono mix RM1)
7. Eleanor Rigby (Speech before Take 2)
8. Eleanor Rigby (Take 2)
Side 2
1. For No One (Take 10) – Backing track
2. Yellow Submarine (Songwriting work tape – Part 1) - mono
3. Yellow Submarine (Songwriting work tape – Part 2) – mono
4. Yellow Submarine (Take 4 before sound effects)
5. Yellow Submarine (Highlighted sound effects)
6. I Want To Tell You (Speech and Take 4)
7. Here, There And Everywhere (Take 6)
8. She Said She Said (John's demo) - mono
9. She Said She Said (Take 15) – Backing track rehearsal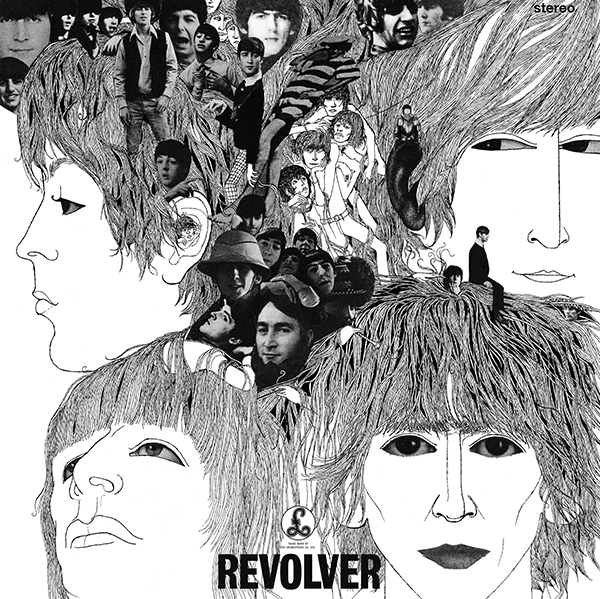 LP Four: Revolver (original mono master)
Side 1
1. Taxman
2. Eleanor Rigby
3. I'm Only Sleeping
4. Love You To
5. Here, There And Everywhere
6. Yellow Submarine
7. She Said She Said
Side 2
1. Good Day Sunshine
2. And Your Bird Can Sing
3. For No One
4. Doctor Robert
5. I Want To Tell You
6. Got To Get You Into My Life
7. Tomorrow Never Knows
Revolver EP (7-inch)
Side 1
1. Paperback Writer (New stereo mix)
2. Rain (New stereo mix)
Side 2
1. Paperback Writer (Original mono mix remastered)
2. Rain (Original mono mix remastered)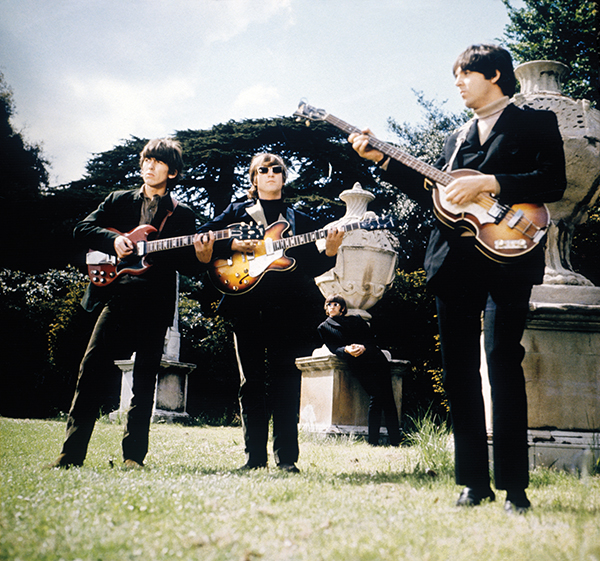 <!- ------------------------------------>