Buying The Beatles (The "White Album")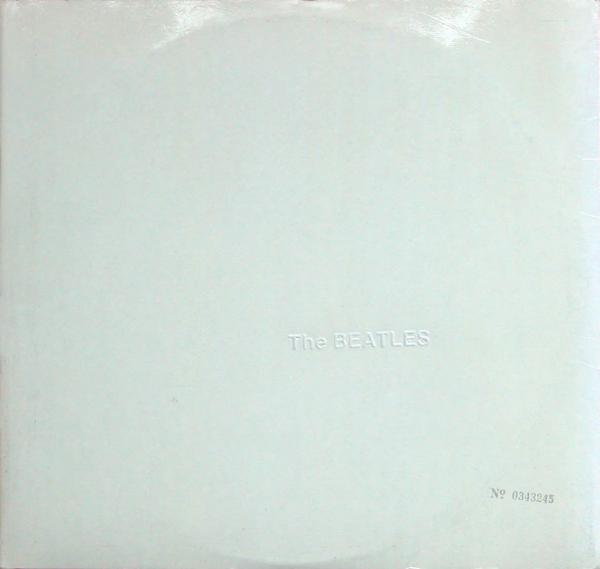 After Rubber Soul and the artistic heights of Revolver and Sgt. Pepper, The Beatles followed up by forming Apple Records in 1968 and releasing a double LP that would go on to become their biggest seller. Sporting a clean white cover featuring only their embossed name and a serial number printed in gray ink, The Beatles (a.k.a. The White Album) had a tranquil exterior that revealed little of the turmoil that lay beneath the surface.
John Lennon and Paul McCartney still shared songwriting credit, but were being pulled apart by their differing creative and philosophical interests. In fact, they were composing almost exclusively on their own. The resulting songs, along with George Harrison's, covered a wide variety of emotions - joy, disdain, empathy, boredom, hope, sadness, love, and anger, even hysteria. The White Album not only stretched the rules for making an album, it broke them.
Many of the tunes for The White Album were written in India where the group had attended a spiritual meditation retreat with the Maharishi Yogi. Recording the tracks in England was a less than blissful experience however. John was bringing Yoko into the studio every day, Ringo temporarily quit the band in frustration, and producer George Martin was unable to end the bickering or edit the band's output. The result was an album of thirty songs that bordered on the self-indulgent.
Tracking down a preferred pressing for The White Album can be challenging. Several of the songs sound somewhat brittle or compressed, perhaps because the engineers were being asked to "turn up the treble and bass" in the Trident and Abbey Road recording studios. Geoff Emerick served as balance engineer (as he had since Revolver) but abruptly left after nine songs. So Ken Scott and others took over, enlisting a brand new 8-track recording machine that EMI was reluctant to use. The result was a fascinating sequence of linked tracks that couldn't have been more different – sometimes brash, sometimes subdued, sometimes dense. Consequently, the best pressings are those that strike a balance between lightly smoothing over the upper midrange and providing additional dynamics to the mix.
The first UK LP pressings of The White Album, both mono and stereo, feature heavily laminated top loading cover sleeves with seven digit serial numbers, black paper inner sleeves, and a –1 lacquer number on all four sides. The album sold in the millions so quickly that many top loading copies ended up with –2 lacquer numbers as well. The mono release was short-lived, and the stereo top loading cover was subsequently changed to a numbered side loading second pressing. The copies that were reissued in the 1978 BC-13 stereo box and the 1982 UK mono box have unnumbered side loading covers, white inner sleeves, and later Apple labels. All of these releases included a photo collage poster and four high–quality portraits of The Beatles.

Choosing a MONO Pressing
By 1968, albums released in stereo were becoming increasingly popular, and this would be the last Beatles album to receive a dedicated mono mix (1969's Yellow Submarine mono soundtrack is a fold down). The mono release of The White Album differs from the stereo version on several songs. This makes for interesting listening for those who are intimately familiar with the US LPs, which were released in stereophonic sound only. One example is Eric Clapton's guitar solo on the mono "While My Guitar Gently Weeps", which is more modulated and goes on longer before the fade-out.
The original UK mono double LP (PMC 7067-8) with –1 lacquer numbers, now 40 years old, has a warmth and naturalness to the vocals that is very appealing. In particular, the handclaps on Paul's Beach Boys inspired "Back In The USSR" and John's mocking "Dear Prudence" vocals sound very realistic. The ambience surrounding the drum kit and tambourine is also convincingly reproduced. Unfortunately, obtaining a really clean copy of this rare top-loader can be difficult and expensive. A truly excellent condition mono original with a clean cover and all the right inners, poster and prints could cost over $400, and true near mint copies can go for double that.
A 1982 UK mono reissue, on thinner vinyl with –2 lacquer numbers, is slightly more punchy and detailed. It has greater midrange presence, but is slightly bright and less tonally convincing. The only other LP option for The White Album in mono is the 1982/1986 limited edition Japanese release (EAS-67157-5). On these pressings the vocals are warm and slightly recessed. This actually works pretty well on several tracks like Paul's raucous "Rocky Raccoon". The Japanese mono also is beautifully pressed on red wax and has fantastic bass reproduction - even if it does come off sounding a bit processed compared to UK copies. An excellent condition copy of the 1982 UK mono reissue runs about $150, and the Japanese red vinyl mono with obi goes for around $200. Since these reissues are usually in better shape than the 1968 original they are considered a good value. Makes you want to own a time machine, doesn't it?
Of important note are the recently released re-mastered CDs from The Beatles Mono Box. The White Album on mono CD is one of the best sounding albums from that collection. It is very detailed and incredibly revealing of what must be on the master tape.

Choosing a STEREO Pressing
The White Album in stereo is probably the one most are familiar with. Unfortunately, the recently re-mastered CD of this seminal album is a little too detailed and compressed for my tastes. It comes off as a very clean transfer of what it must be like listening to The Beatles in Technicolor. Just be aware that the quieter songs are mastered louder to more closely approximate the dynamics of the rockers. Purists may be a bit shocked by the changes, and the previous release may be preferred in this instance.
Compared to the re-master, the original 1968 UK PCS 7067-8 stereo LP release with –1 lacquer numbers has the ability to convey all the excitement of this album without becoming the least bit hard or edgy. The soundstage on the vinyl is richer, deeper and warmer, and there is plenty of extension to the mid bass on tracks like George's "Savoy Truffle". The areas where the original LP loses out are in bass definition, soundstage width, and inner detail. It's in these areas where the CD shines, but at the expense of realistic presence. Like the mono, the original 1968 top loading UK stereo album can be costly, although it's usually easier to find in good shape. In true excellent condition these can go for around $200, while side loading numbered copies are much cheaper.
(Editor's note: Though this album was issued on Apple, EMI pressed it so it's mother and stamper code can be found in the "lead out" groove area. When buying a used UK copy of The White Album or any EMI pressing, it's helpful to know the mother and stamper codes. At the "9 O'clock" position is a number that tells you the "mother" number used to generate the stamper. At the "3 O'clock" position is a stamper code in letters that tells you the stamper number. The code is based on the letters G R A M O P H L T D, with  "G"  being 1 "R" being 2 etc. and "D" being 0. So if the letter is "G" it's a first stamper. If it's MO, it's the 45th stamper. If it's ROP that's the 256th stamper, etc. So a very first pressing would have the -1 lacquer number, the mother number would also be 1 and the stamper letter would be G. Since each mother generates dozens if not hundreds of stampers, usually you don't see mother numbers exceeding 3 or 4 and these can sound at least very close to the first mother. More critical is the stamper number. The first few dozen stampers generated from a mother should sound nearly identical to the first one but once you get beyond that, you can expect noticable sonic degradation. Certainly when you see an EMI pressing represented as a "first pressing" simply because it has the proper label and cover art, you should ask the seller the stamper code, even if he or she has no idea what that means. If the stamper code indicates the record was pressed from a stamper with three letters, it's not worth "first pressing" prices. However, be aware that there's no code for what number pressing a record is. You can be sure the first or tenth record pressed from the tenth stamper will (all things being equal--which is yet another stretch!) will sound better than the 500th record pressed from the very first stamper! So yes, these pressing codes can be helpful but there's no guaranty that an early stamper from the first mother will sound fabulous, though the odds are in your favor!)
The 1978 UK white vinyl stereo reissue (also PCS 7067-8) has a wonderful overall tonality. The thinner tracks, like Paul's "Wild Honey Pie", are provided some welcome relief by this LPs fuller presentation, and smooth tracks like "Blackbird" and "Mother Nature's Son" sound even sweeter. The piano that's deep in the mix at the end of "Dear Prudence" is also cleanly reproduced, something not all pressings do well. Bass reproduction is deep with good control, and there is excellent transparency and instrumental separation across a wide soundstage. This pressing has unique hand etched matrix numbers, YEX709/YEX712, with no lacquer number. It's likely a one-off mastering cut on a solid-state Neumann lathe. Since this was a limited edition export, it's getting hard to find and sells for over $100. Avoid the US Capitol version of this one – it's not the same.
The short-lived original German Apple-Electrola release with SMO 2051/2052 labels is also well regarded in some corners. Listening to midrange heavy tracks like McCartney's reggae-like "Ob-La-Di, Ob-La-Da", this top loading seven-digit serial numbered album has a smooth presentation with excellent overall balance. The area where it does not match the best UK pressings is midrange detail and presence, which are lacking on tracks like Lennon's "Happiness Is A Warm Gun". It also runs around $100. Later German pressings with 1C 062, 1C 072, or 1C 092 numbers on the Apple label are usually cheaper. These reissues can either sound similar to originals or dull and grainy, so you really need to listen to find a good one.
Our next contestant, the 1985 German white vinyl direct-metal-mastered/DMM reissue (1C 172-04 173/74), is one of my favorite ways to listen to the The White Album in stereo. Compared to the 1978 UK white vinyl export, it is more dynamic and has greater clarity and definition. Listening to "Birthday", the driving bass is phenomenally deep, taut and tuneful. Ambience retrieval is exceptional, with a layered soundstage and a believable presence on even the more difficult to reproduce tracks. The subtle inner details of the guitars on "Back in the USSR" are revealed, and Ringo's double tracked drum fills are conveyed with powerful energy on "Glass Onion". The cymbals can sound a little splashy at times, and on some systems this pressing may not be as laid back as you might like. But I believe it's a mastering that fits the majority of the songs on this recording. Try listening to Lennon's "Everybody's Got Something To Hide But Me And My Monkey". This LP cuts through the confusion, rendering the dueling guitars brilliantly and the ringing hand-bell distinctly and realistically. About $100 and recommended.

Bargain Pressings
The vinyl resurgence has brought many older music fans back to their turntables and a younger generation into the wonderful world of records. Large artwork and the visceral experience of listening to vinyl is the payoff for many. If you are on a budget and want to acquire clean LPs of this Beatles title at a reasonable cost – there are some options for you. A 1978 UK stereo reissue of The White Album is similar to a 1968 UK original for a fraction of the price. Physically, the reissue is on lighter weight vinyl and has lighter colored EMI labels. Sonically it differs from the original just a bit with a slightly flatter soundstage, some wooliness to the bass, and a bit of grain to the vocals. But this reissue will satisfy all but the audiophile purist and is a best buy for the stereo analog fan on a budget - about $30 in excellent condition. Better yet, buy a complete BC 13 Beatles blue box in great shape for less than $300 and you will have all twelve UK stereo studio Beatles albums, plus the LP of Rarities.
The original US Apple release (SWBO 101) might seem like another good budget choice, but it's dynamically compressed with edgy vocals. For about $20, a later US purple label reissue sounds better and is cheaper. The Japanese pressing I have on hand (EAS-50039-40) is another option and costs about $40 with obi. It is immaculately pressed and packaged as expected. It provides tons of detail and a solid bass line, but the brightness on this Japanese mastering can become fatiguing on some systems. And while the MFSL half-speed mastered pressings for several of the Beatles titles sound very good, like A Hard Day's Night, this one (MFSL 2-072) never takes off - even with all the jet noises on "Back in the USSR" urging it to do so. When you turn up the volume to improve dynamics, the treble is too bright and the bass gets muddy and indistinct. While not one of MFSL's best efforts, a mint open copy of this double album still goes for about $75.
In summary, time has deepened my appreciation for the complexities and breadth of The White Album. With songs like "Back In The USSR", "Dear Prudence", "Glass Onion", "Rocky Raccoon", "Birthday", "Happiness Is A Warm Gun", "While My Guitar Gently Weeps", "Blackbird" and "Mother Nature's Son" you can't go wrong. This album and Rubber Soul are worthy bookends to the highly regarded Beatles landmarks of Revolver and Sgt. Pepper. If you feel the compulsion to collect another copy of this groundbreaking double LP, I hope you'll find one among those I've recommended. Happy listening!

The Beatles: A Recollection and Some Oddities
By Michael Fremer
During college I worked at Record Runner, an Ithaca, New York record store. Apple/EMI issued The Beatles a few weeks before Capitol's November 22nd release date (November 22nd remained a day seared in students' memories in 1968 you can be sure) so the store owner, Rick Mears  imported many boxes of the UK pressings and dispatched me to the New York City docks to pick them up and drive them back to Ithaca the same day in his Volvo P-18 two seater. At that time Route 17 had yet to be completed so it was a very long drive! I left early in the morning and arrived back in Ithaca as the sun was setting on a very cold Ithaca day. Word of my imminent arrival with the precious cargo had traveled throughout the Cornell campus, probably because the news had been announced on WVBR the college radio station, because as i approached the store I saw a long line the length of the block that wrapped clear around the block. As I unloaded the boxes with another store employee he told me the kids had started lining up early in the morning. Unfortunately I bought only one copy of that very early pressing that i still have and which still sounds incredible. It's got a bit of wear, but so do I! Despite ordering these imports as soon as the album had been released, the best I could manage was number 0406697
When the American issue was released, of course I bought one of those too. The sound was pretty awful by comparison, and the vinyl was noisy. Not surprising to someone who had discovered "imports" a few years earlier. What was surprising—shocking actually— was to find that Capitol had censored the poster that came with the album!
The image of Yoko Ono's head in bed with John so clearly visible in the UK poster (shown here) had been reduced to a black blob on the American poster. That was the first indication that something was up, but it could just have been the American poster's lower production quality. 
As my eyes scanned the American poster I noticed something else! The genitals and public hair John had included in the doodles of him and Yoko that appeared on the UK poster had been scrubbed on the American version! Shown here is the original UK poster. If you have an American original, compare!
Finally, I noticed one more censored photo. It's the one of John split between two shots so his real genitals don't appear since they are where the split occurs between the two photos. On the original UK version, you can see his pubic hair. On the American, some particularly inept cover up that looks like "White-Out" but can't be because I don't think it had been invented, is applied to rid the photo of pubic hair. How lame is that? As for why i was looking there and noticed it, you'll have to ask my therapist!
Finally, there are two editions of the album Mr. Wells did not mention:  EMI issued  a 30th Anniversary CD edition of The White Album that faithfully duplicates the original vinyl edition, complete with "top loading" CDs, fold-over cover construction and black inner sleeves. While it's better than the original CD issue, it's still steely-bright on some tracks, though it does have excellent resolution of inner detail. I think the bass is more natural and correct sounding compared to the more recent box set, and its less dynamically compressed as well.
The other edition is part of the USB box, which presents the entire stereo catalog on a USB stick at 44.1K/24 bit resolution, decimated from the 192k/24 bit masters. This set, aside from being the coolest packaging of all and destined to become a collector's item if it already isn't, sounds considerably sweeter and more detailed than the CD quality box set.
<!- ------------------------------------>