Dreams Are Still Born In Hollywood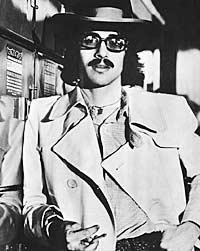 Hush Puppies are hip again among celebs. They were sofar out, it was inevitable they'd come back in. Not on my feet or yours- we'd probably just get laughed at- but seen on the right feet? Next day everyone's wearing them. Strange how that works: if everyone's wearing Doc Maartens, what's the boldest thing you could put on your feet instead? Hush Puppies, of course!
I don't know what Van Dyke parks on his feet today, but back in 1967 when he posed for the cover of his epic debut album Song Cycle (Warner Brothers WB 1727) he was wearing Hush Puppies. While many music critics raved about, even respected the album, the public at large wasn't suede by either it, or his shoes. Dreams are stillborn in Hollywood.
Parks was ahead of his time again in 1970 -more than a dozen years before MTV —when Warner Brothers had the foresight to appoint him "Audio Visual Services Director". Head of the AVI Squad? Check out the cover of Song Cycle: but for the missing plastic pocket protector, the guy was auditioning for the part!
In an interview with Parks conducted back then by L.A. Free Press' Chris Van Ness, excerpts of which are reprinted in the booklet accompanying Warners' early '70s Looney Tunes and Merrie Melodies 3 LP promo box set ( PRO 423), Parks sounded prescient: " I want to see the popular arts transformed from the commercial arts. The filmmaker is the necessary correspondent, but the system is reluctant to accept the means. I'm thinking more and more about music with pictures. And I think that it can be pop music, because mostly we will have pictures. I think the record executive will have a very difficult time proving that they are inexpendable in moving sounds to sights. I know sound is inexorably tied with sight."
I wave simultaneous translation. Let's roll the video tape, Warner Brothers! Where are those experimental videos of Captain Beefheart, Frank Zappa, Joni Mitchell, Neil Young, Randy Newman, Ry Cooder and the others? Sloughing flux density in the Warner Brothers vaults? Or was Parks' video tenure a bust? That's for another story.
Though Van Dyke Parks has released but a scant six albums in the past thirty or so years (Song Cycle, Discover America, Clang Of The Yankee Reaper, Jump, Tokyo Rose , and recent Orange Crate Art with Brian Wilson—all on Warner Brothers), his name pops up all over the place- Gump like.
Like that fictional character, Van Dyke Parks is a Southerner, born on January 3rd, 1943 in Hattiesburg, Mississippi, on a military base. No cracker he, Parks studied clarinet when he was four, and from there moved on to boarding school at the American Boychoir School in Princeton, New Jersey, where he performed under the batons of Toscanini, Thomas Beecham and Eugene Ormandy. Of course, Gump-like, in 1952, on his own front porch, Parks ran into Albert Einstein, another Princeton resident, who played violin while the youngster sang "Silent Night". I'm not making this stuff up. Why Einstein didn't teach the lad "I Had A Little Dreidel", is lost to the ages.
Parks was a child actor during this period, appearing on the old "Playhouse 90" television show as well as on Wally Cox's "Mr. Peepers" and on "The Honeymooners", among other shows. He also Gumped meetings with comedian Fred Allen (on the street), General David Sarnoff (in an elevator) and bandleader Paul Whiteman (in a men's room). The young actor also continued with his music, studying classical piano.
In 1955 the twelve year old Parks journeyed to Hollywood where he starred along with Alec Guinness and Grace Kelly in MGM's "The Swan", which coincidentally, was the first soundtrack release on MGM's new record label. Speaking of parks, Disneyland opened that year and whom should the child actor meet at lunch? Ol' Walt himself.
Moving back East, Parks studied piano at Carnegie Tech in Pittsburgh, PA., returning to Hollywood in 1962 where, along with his brother Carson, he began performing in coffee houses at the tail end of the "beat" era. In 1963 he landed a studio gig playing on the soundtrack to Disney's "The Jungle Book", thanks to a friend, songwriter Terry Gilkyson ("Call of the Wild Goose", "Memories Are Made of This").
Parks began his recording career at MGM in 1964, releasing a number of singles under his own name. He also issued some 45s on Kapp with The Greenwood County Singers before joining up with Warner Brothers in 1965 as a songwriter/producer for groups like The Mojo Men and Harper's Bizarre. After releasing Song Cycle , Parks became a staff producer at Warners, co-producing Ry Cooder's eponymous Reprise debut (RS 6402) and Randy Newman's (RS 6286), among others.
You'll see Parks' keyboard credits on many classic records including The Byrds' Fifth Dimension (Columbia CS 9349), Tim Buckley's debut on Elektra, (EKS-74004), Judy Collins' Who Knows Where the Time Goes? (EKS-74033) also on Elektra, The Beau Brummel's Triangle (Warner Brothers WS 1692) and on dozens of other albums.
Parks has arranged for U2, Bruce Springsteen, Carly Simon, Arlo Guthrie ( a way out "Valley To Pray" on the superb sounding Washington County [Reprise RS 6411] ), Leo Kottke, Peter Case (the brilliant "Small Town Spree" on Case's eponymous Geffen debut [GHS 24105] ), Little Feat and many, many others.
In the early eighties, Parks worked with Harry Nilsson on the score to the Robert Altman film "Popeye", starring Robin Williams. He was also the Musical Director for Shelly Duvall's acclaimed "Fairie Tale Theater" on HBO (produced at Lion's Gate Studios where your editor was working on "TRON". We were introduced, but it was clearly a more memorable experience for yours truly). Parks has also scored feature films, including Jack Nicholson's Goin' South in 1978, and more recently Walter Hill's Wild Bill .
And he's written three childrens' books, "Jump", "Jump Again" and "Jump Over" (Harcourt, Brace, Jovanovich) based on the Uncle Remus "Br'er Rabbit" stories by Joel Chandler Harris, which Mark Twain called "Our most precious stolen commodity", according to the bio note I received.
Finally, working with the Moog synthesizer way back when, Parks created a few sonically memorable television commercials for Datsun (now Nissan) and the Ice Capades, both of which are available for your brief listening pleasure on two of the many Warner Brothers LP promo sets issued between the late sixties and early seventies. For you completists, the Datsun music bed can be found on The 1969 Warner/Reprise Songbook(PRO 331), the Ice Capades music is on The 1969 Warner-Reprise Record Show(PRO 336).
Bad Vibrations
Van Dyke Parks' most famous and controversial collaborations were in the mid-sixties with Brian Wilson on the unreleased, mythical Smile album. Details of that chaotic episode in the history of The Beach Boys can be found in both David Leaf's biography "The Beach Boys And The California Myth", and Brian's autobiography, " Wouldn't It Be Nice".
Wilson describes Parks (whom he'd met at Terry Melcher's home [Melcher, Doris Day's son, had produced The Byrds' early albums] ) as a "....skinny kid with a unique perspective, (who) spoke in funny, poetic, often beguiling torrents. Merely asking him what he did provoked any number of answers. He was a piano player. Singer. Songwriter. The wearer of any number of hats. A functionary. The leper with the most fingers. He also had a fondness for amphetamines. After sampling some myself, I realized why Van Dyke talked so fast."
According to Wilson, after playing Parks the melody to "Heroes and Villains" (a version of which was released on Smiley Smile ) for the second time, Parks, "...after pausing (a) moment to concentrate, spit out the lyrics as if he'd been thinking about them for weeks: 'I've been in this town so long that back in the city I been taken for lost and gone and unknown....' ."
Early in 1967, according to Wilson, the duo, hopped up on speed, wrote the epic "Surf's Up", which was supposed to serve as Smile 's centerpiece. It finally appeared, totally re-recorded, on the spectacular sounding album of the same name in 1971 (Reprise/Brother RS 6453). The enigmatic song was written in reaction to Dennis' complaint that the group's candy striped stage outfits had met with derision in England. What Wilson considered as a faded fashion statement, Parks saw in global terms as a reaction to American involvement in the war in Vietnam.
Parks wanted to turn the whole thing over, thus the impossibly reactionary song title: "Surf's Up"—a reaffirmation of the candy striped stage outfits—a celebration of Hush Puppies if you will—in an age of tie dye psychedelia. Despite the title, the song was anything but a three chord surf anthem: just the opposite in fact.
"Surfs Up" was an audacious experiment: a wildly optimistic, impressionistic statement about empires falling, religious enlightenment and a restructuring of the world order. With it's dazzling elegiac melody, and densely packed lyrics filled with Parksian wordplay, the song is seen today by some as one of The Beach Boys' finest moments, and by others as a pretentious pile of shit. Count the author among the former, though it was produced without Brian Wilson's input or approval.
According to Wilson in his book, the other Beach Boys, desperate for material, and knowing Brian had reached the point where he could no longer perform, lifted his vocal from a performance on a Leonard Bernstein television special years earlier and laid it on top of the original backing track, adding vocal harmonies. Wilson protested and tried to sing a new lead vocal but couldn't.
Back to 1967: the head Beach Boy's well documented drug fueled paranoia and bizarre behavior intensified. Wilson, and others around him, needing a handy scapegoat, blamed Van Dyke Parks, even though he was one of the few in the immediate entourage who'd refused to indulge Brian's idiosyncratic, self-destructive activities. "All but a few individuals, Van Dyke and the Beach Boys among them, ever questioned me," Wilson writes in his book.
Nonetheless, Parks went through a painful period of being branded the spoiler by many. After all, it was Parks who'd replaced Tony Asher, Wilson's collaborator on the universally acclaimed Pet Sounds. With the world waiting for a follow up and with Wilson unable to deliver, Parks became a prime suspect. That, according to Wilson, he was stoking the head Beach Boy with amphetamines did not help his cause.
After a particularly awful in-studio confrontation with Mike Love over the meaning of the impressionistic lyrics to "Heroes and Villains", in which Love demanded to know the literal meaning of "Over and over the crow cries, uncover the corn field" and which Parks could not explain, Wilson reports Love as saying "He has no idea what these lyrics mean. And we're supposed to sing them? Brian, what the fuck is going on here? I mean, are you purposely trying to destroy The Beach Boys?"
According to Wilson, during the drive back to his house after the session, Parks told him "I fear we've committed hari-kari. The only chore that remains is to drag out the carcass."
The collaborative effort between Wilson and Parks dissolved shortly thereafter, when Warner Brothers offered the solo contract which led directly to Song Cycle.If you're looking for an explanation for that album's feverish creativity and intensity (not to mention the intensive press coverage garnered by the reunion album Orange Crate Art you've got one.
The Solo Albums
Song Cycle (Warner Brothers WB 1727 LP/ 25856-2 CD) dominates the Parks discography the way "Citizen Kane" overshadows Orson Welles' cinematic output. That simply cannot be denied. Welles created other outstanding films- "The Magnificent Ambersons" and "Touch Of Evil" for example. Parks' produced Discover America and the much misunderstood Tokyo Rose . But for both artists, the earliest works, so singular and overwhelming, rule. Parks claims his best works lay ahead. Time will tell.
For now, the grand scope ofSong Cycle, with its labyrinthine lyrical thread, packed with seemingly indecipherable arcane word play, it's sonic collages and complex instrumental choruses dotted with balalaikas and otherworldly electronically manipulated accents, and its windy vocal choruses, puts it near the top of the album art of the sixties. You'll either agree with that assessment or you'll find Song Cycle "pretentious and boring" as one critic is quoted in a Warner Brothers promo LP as having written. There's no in between.
The album opens with a faux primitive, hissy bluegrass recording which serves as a flashback for the real album opener, Randy Newman's "Vine Street", a music business reminiscence in a few short movements, which lurks a while wistfully while quoting Beethoven's "Ode to Joy".
From there, with the exception of a sophisticated musical deconstruction of Donovan's "Colours", it's Van Dyke Parks, laying out his life so far, tracing his Southern upbringing, his move west, his impressions of L.A., his good fortune, his ambivalence about Hollywood in particular, and show business in general- all told through a hazy impressionistic Joyce-ian barrage of words, phrases and concepts.
"Palm Desert", the first Parks selection, is enough to certify Parks' genius as a wordsmith and arranger. The seamless segue ways between some of the song's "movements" are worth hearing again and again for their compositional and arranging brilliance. Parks sings in a wispy, intimate, almost effeminate style, (often heavily processed), of a Hollywood long gone and in transition. The double meaning of the line "Dreams are still born in Hollywood" is one small example of the deft wordplay sprinkled throughout the album.
What "Chinatown" did for the development of L.A., Song Cycle does for the L.A. music scene of the mid-sixties-though in a much more diffuse way- filtered through the eyes and ears of a classically trained southern born academic. As he sings in "Laurel Canyon Boulevard", "What's up Laurel Canyon....the seat of the beat.....And what is up the canyon will even eventually come down." Which of course it did, yielding to the whole rock scene which Song Cycle, a decidedly non-rock album pointedly ignores.
A mint julep of a Southern gothic musical novella, Song Cycle contains so many memorable musical and technical achievements, a book is probably called for. There's a segue way in "Palm Desert" involving a pedal steel guitar phrase which leads to the song's chorus that is so exquisitely conceived and rendered I've played it hundreds of times and it's still not enough.
The mix of sound effects, solo instruments, large acoustic ensembles, and vocal choruses all electronically processed in elastic, psychedelic arrangements which lurch, bounce and reverberate on a large shifting soundstage, creates a rich sonic spectacular unlike any other record before or since- and that's not hyperbole. There is no precedent for Song Cycle . It is a singular work and a unique listening experience, one which never fails to excite the mind's eye with rich, mythical images of the deep south and of "the all golden" southern California.
The sound credits tell a very complex production story: "Produced by Leonard Waronker. Engineering supervised by Lee Herschberg. Stereo and monaural compositions by: Bruce Botnick. Sound effects by: Jack Glaser and El Supremo. Musical advisor and conductor: Kirby Johnson. Contractor: Donald Lanier and Tommy Tedesco." The musician credits take up a half a CD booklet page.
When I spoke with Lee Herschberg a few years ago, he told me that the recording was done mostly on 4 track which was bounced back and forth a few generations, adding tracks each time. You can hear the generational hiss build up on the CD, but it's much less obtrusive on LP, though it is audible. Herschberg remembers the mixing of the record as "a nightmare".
Clearly, the best way to hear Song Cycle is on an original gold label Warner Brothers LP. Period. Second best and very close is the Warner-Seven Arts green label pressing or Sundazed's superb new vinyl reissue (LP 1540)—see review elsewhere on this website. The white label promo mono edition intended for radio play (fat chance!) was "fold down" from the stereo mix.
Early album jackets contain a note which reads "Lyrics to the songs are available by writing Copyright Dept., Warner Bros. Records, Burbank, Calif." Later jackets give you the lyrics, as does the CD. One way or another, you cannot completely appreciate Song Cycle without the lyric sheet.
The liner notes on the original LP, which drops a heavy list of names including Botticelli and Mahler, the Beatles, Walt Kelly (Pogo), Gershwin, Ramblin' Jack Elliot, Dylan (Bob and Thomas), Thomas Pynchon and even John-John Kennedy (!) is a bit of a pretentious embarrassment- an assessment the writer, Paul Jay Robbins might agree with today. It's left off the CD.
All of the LP versions give you a warm, large, wet, airy and deep soundstage with outstanding inner detail and harmonic structure. Front to back instrumental layering is vivid, and image specificity despite the reverberant overlay, is superb. By comparison, the CD flattens the stage, accentuates the hiss without adding any useful musical detail on top and robs the production of the mystery the LP offers. It is literal to the point of artistic death. Bass, however, is tighter and deeper. But please do not let that stop you digital only folks! Any way you listen, a magical musical experience. Turn the lights out and away you go!
While Song Cycle was greeted with critical acclaim and brought both Parks and Warner Brothers accolades and admiration for their efforts, Song Cycle was a commercial flop. How it must have hurt! Warner Brothers tried to keep the album alive by advertising a "one cent sale" in the "underground press" of the time (ie: The Village Voice, Rolling Stone, the L.A. Free Press etc.). If you sent them your "worn out" copy of Song Cycle and a penny, they'd send you back two fresh copies, one for you, one for a friend. Is this offer still good?
The liner notes to the 1969 Warner-Reprise Record Show put it this way: "In the face of the unbelievable commercial failure of Song Cycle, Van has been keeping himself busy by composing music for commercials, rather like Buckminster Fuller tightening bolts in an aircraft factory!" With a few notable exceptions, that kind of wit has long since departed the major record labels' writing output. Today you're satisfied if the grammar and spelling are correct.
In 1972, five years after Song Cycle, Warner Brothers issued Parks' second effort, Discover America (WB BS 2589 LP/ 26145-2 CD/Sundazed LP1541). The photo on the back cover showed a much different looking Van Dyke: he'd traded in the nerdy look for that of a "southern gentleman"—a "riverboat gambler" as yet another Warner Brothers promo note put it (damn they were good !).
The cover art showed two Greyhound-like buses—one destined for "Hollywood", the other for "Trinidad". Trinidad? This sent a confusing message to fans anxiously awaiting Song Cycle2. Discover Americawas anything but. Instead, Parks served up a cycle of sunny calypsos written by others. Five years, no original tunes.
The record was a distinct disappointment to Song Cycle fans at the time, confusing and seemingly frivolous, with it's cruise ship steel band sound. Parks had discovered Trinidad and its unique steel band musical culture—"a great supplier to the equation of oil-and world power" is how Parks put it in the album's insert.
He'd already produced an album by the Esso Trinidad Steel Band, and here, with their help and that of seven arrangers, he presented a look at American culture through Caribbean eyes. While Jamaicans had filtered American rhythms via AM radio and created Ska and Reggae to voice their own concerns, musicians in Trinidad had created musical instruments from post imperialist garbage- discarded steel drums, and songs which mirrored and commented on our culture, not theirs. A fascinating phenomenon, perhaps deriving from the musicians' need to please American cruise ship tourists.
So here are songs about Bing Crosby, The Mills Brothers, FDR in Trinidad (Ry Cooder covered this one too, but here it's clearly Lowell George on guitar), and even a song about America's most famous cross dresser, J. Edgar Hoover, written and performed in that sunny, lilting calypso style. Most of the songs were written by calypso artists, but a few are by New Orleans' Allen Toussaint, and there's a cover of Lowell George's "Sailin' Shoes". Parks is careful to announce that copyright royalties will be paid to the writers or their estates.
Some records grow in stature with age, some are diminished. Discover Americahas clearly stood the test of time. In fact considering the current fashion for "world" music, it was way ahead of it's time. While it can't compete with Song Cycle's feverish creativity (what can?), Parks' deliberately slow, spare arrangements are every bit as ingenious, and his easy singing style really suits the material. A warm, charming, tuneful record that showcases both Parks' skills as a musical conceptualizer, and the talents of the songwriters and musicians involved.
Highlights: Toussaint's "Occapella", "John Jones" (which sounds like something which inspired The Clash's London Calling ), "FDR In Trinidad", "G-Man Hoover", and "Your Own Comes First".
Once again, Parks and his seven arrangers call on an army of musicians including Laurendo Almeida, Roy Estrada, Richie Hayward (Little Feat's drummer), Jim Gordon, Tom Scott and many others.
The recording is a bit on the dry, muted (Dolby "A") side, but overall it is natural sounding with a nice "live in the studio" feel- though it's not "audiophile" quality. Image solidity is outstanding as is front to back depth. Bass response is deep and solid. Check out the fullness of the kick drum on "Occapella".
The CD transfer is competent, and conveys the essence of what's on the LP, though it loses some air, depth, solidity and "atmosphere". But what else is new? Perhaps you've had this album lurking in your collection unplayed for years. Check it out, you'll be surprised at how enjoyable it is now that your tastes have matured (or have they?). Sundazed's 180g reissue is a complete success and rivals the original pressing.
In 1975 Parks issued what he says is his least favorite album (see the interview for why), Clang Of The Yankee Reaper ( WB BS 2878 LP/ 26185-2 CD). Fans were thrilled by the title song which reprised many Parksian Song Cycle signatures: the windy female chorus, the lush, wistful hanging moss melody and sumptuous orchestration, the deliberate pacing and sly, humorous lyrics: "The sun never set on the Empire, Prince Albert came in a can", but that song, for which Parks receives third writing credit, is the only substantial offering on the album—and the only writing credit Parks gets. Clearly he was more spectator than participant.
"City On The Hill" sounds like a re-write of "Spanish Harlem", "Pass That Stage" is yet another calypso and only moderately interesting. "Another Dream", credited to The Sandpebbles features a steel band but sounds more like a Mexican mariachi tune. The short side ends with "You're A Real Sweetheart" which sounds like something Randy Newman might have penned. Parks' solo piano work is nice (if in fact he even plays on the album).
The second side is worse: four anonymous calypsos, and then to cap off the whole sorry mess, a disco/calypso version of Pachelbel's repellent "Cannon In D"!! Yikes! This is a Van Dyke Parks walk through and little else, though the producers, Andrew Wickham and Trevor Lawrence paid the late Jesse Ed Davis, Jim Keltner, Bobby Keys, Fred Tackett, Klaus Voorman among others, to play on it. Not worth bothering with, unless you find it in the used bins cheap, then pick it up just for the title tune.
In 1984, nine years later, Parks, pictured as greying and professorial on the inner sleeve, released Jump (WB 23829-1LP/-2 CD) a "collection of songs in the best and most exuberant tradition of the American musical theater, inspired by the literature and lore of Van Dyke's Mississippi childhood", according to the promo sticker on the jacket.
Clearly music written to accompany his first book of Br'er Rabbit tales and intended as a stage production, which may or may not have been mounted, Jump suffers from Lennie Niehaus' discofied straight time arrangements which Jim Keltner plays with alarming mechanical precision. A drum machine couldn't play stricter time!
Some of Parks' melodies are charming and the lyrics co-written with Martin Fyodr Kibbee are homey and serviceable, but the perky feel is of a theme park production, sorry to say. So even if you see Jump in the used bins, don't- unless you're a completist.
Tokyo Rose Van Dyke Parks' most ambitious project since Song Cycle was released in 1989 on both LP and CD. By this time Parks admits in the promo sheet accompanying the record that his primary interest is film scoring. Indeed, Tokyo Rose was written and produced to feel like the soundtrack to an imaginary movie, to borrow a title from Jack Bruce and Pete Brown, or a Broadway musical.
Parks characterizes the album-all of his albums- as "admissions of my preoccupations at that time". Here he's preoccupied with Japan in particular and the "Pacific rim sensibility" in general. At once fascinated and put off by the Japanese frame of mind, Parks attempts to get under the skin of the Japanese and their experiences both at home and in America.
There's a song about the disgraceful concentration camps America put Japanese-Americans in during World War II ("Manzanar"), one about the decline and fall of the American worker ("White Chrysanthemum"), one about colonialism ("Yankee Go Home"), and one about reverse colonialism ("Trade War").
Tokyo Rose was written, after all, when it seemed as if the Japanese were going to buy America. "They are intent not only on buying our beef, but in buying our cattle ranches. What came out of this record, which was really a process of discovery, was a concern for the future of my own country", Parks explains in the promo interview.
Ironically, Parks was, and is better known in Japan than he is in the United States. In 1988 he played a series of concerts there, filling up as many three and four thousand seat theaters as he was able to accommodate during his visit. Upon returning home he commenced work on Tokyo Rose .
Why the success in Japan? It's partially due to his being so fundamentally American . The south seeps through his writing fingers, something which must be even more starkly evident to the Japanese. Plus, Parks relates in the promo packet interview, in 1971 while recording "Sailing Shoes" for Discover America , a shadowy group of Japanese entered the control room, presented him with a pearl, opened an attaché case full of hundred dollar bills and asked him to write a song for them.
He refused, telling them that he was in the middle of a project, but Lowell George, considering the cash said, "I think we can make music out of this" and the deal was struck. The song, "Sayonara America, Sayonara Nippon" was a hit for a Japanese group called Happy End.
Coherent premise in head, Parks wrote his newest song cycle and assembled a top notch team to see it through to completion, including producer Andrew Wickham, and recording engineer Doug Botnick. In addition to the usual string section, Parks made discrete use of synthesizers and traditional Japanese instruments to give the production the proper flavor. Background singers included Syd Straw, Bobby King and Willie Greene. Parks and jazz legend Buell Neidlinger handled bass chores.
According to the "Hi-Fi Facts" listed on the sleeve, the recording was 48 track Dolby SR analog mixed to Studer 820 1/2" two track and 30IPS. The CD master was a Sony PCM 1630/BVU-800. The LP was cut using a Neumann SX-74 cutter head by Bernie Grundman.
The results? A fanciful, breezy soundtrack to a movie that never was, filled with patented Parks composing and arranging quirks-glissandos and calypsos for example- which will delight his fans and infuriate those who can't appreciate his unique sensibilities. Too bad for them.
No, Tokyo Rose is not in the same league as Song Cycle. It is less effective as a recording because whereas Song Cycle was written for the theater of the mind as a recorded suite on an impossible soundstage, Tokyo Rose has the unmistakable feel of a stage show, though it succeeds where Jump fails.
Some will find Tokyo Rose kitschy and campy and way over the top, both lyrically and musically, too over the top for their tastes. No doubt some will be the same folks going ga-ga over Esquivel right now. Well, listening to the entire Parks catalog I've come to appreciate him as a later day Esquivel- at least as an arranger with a distinct, larger than musical life sensibility.
Yes, it runs out of steam as it goes, but there are some terrific production numbers like "Yankee Go Home" where Parks sneaks both "God Bless America" and "She's A Grand Old Flag" in amongst the oriental intervals.
Here the vinyl simply creams the CD in terms of harmonic colors, transparency, top end extension, soundstage width and depth and imaging. The recording is superb spatially, timbrally, dynamically and in every other way. The CD is a cold gray pancake by comparison, but if you're all digital it will sound good on its own.
About 8 years ago, Parks issued Orange Crate Art (WB 45427-2) with Brian Wilson handling the singing chores with aplomb—his three octave vocal prowess seemingly undiminished by time or substance abuse (see review in issue 5/6 of The Tracking Angle). Orange Crate Art is a breezy, well conceived pop record filled with pleasant, evocative tunes and typically ornate Parksian arrangements. A sorbet-like pleasure after ingesting much of today's difficult to swallow (but nourishing) "alternative" music.
Clearly, Van Dyke Parks has neither equalled nor surpassedSong Cycle, but Tokyo Rose is his most audacious and personal project since and Orange Crate Art his most focused and succinct. So perhaps that "greatest work" he claims he's yet to produce truly does lay ahead.
Perhaps it will be an end of the century impressionistic extravaganza tracing America's progress over the past 100 years (and of course his involvement in it since his records are autobiographical at their cores), incorporating all of the musical and sonic elements he's made use of over the past thirty years. The calypsos, the psychedelia, the dashes of silent movie melodrama and the rest. Perhaps not. An rhythmically elastic journey featuring seamless segueways and sound effects ala Song Cycle written for the theater of the mind, not the plaster proscenium, in Van Dyke's own unique voice would be the ticket!
<!- ------------------------------------>