CORRECTION! PLEASE READ! Exclusive! New Beatles Box Production Details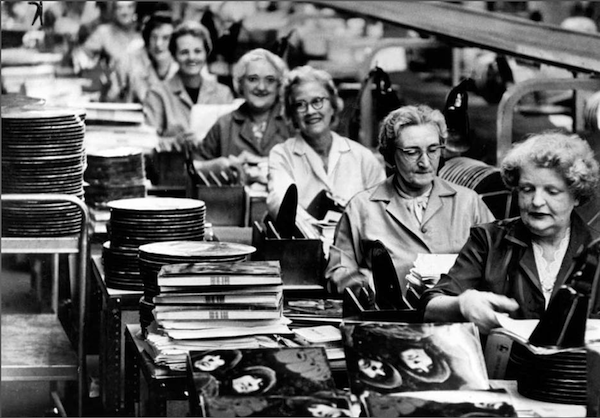 Dear Analogplanet.com reader. In an effort to get the information about this set to you from as close to the source as possible, before posting anything about the set I spoke directly with an EMI executive who has been working on it for a few years now. He told me yesterday that RTI was pressing the box set, but he was mistaken. I'm not sure what led to his confusion but I hope to find out, because I just received an email from RTI's Don MacInnis informing me that RTI is NOT pressing the set! I did my BEST to get you the straight poop from someone who should know but something went seriously wrong. I have no idea who pressed it but I hope to find out the truth as soon as possible—Michael Fremer, editor, analogplanet.com
Last night I spoke with an EMI executive about the upcoming Beatles Box Set. While he is setting up an interview for me with Abbey Road mastering engineer Sean Magee that will have to wait until Magee is "off shift," he did provide some useful information.
First and most critical: we don't know where the American box set is being pressed. Optimal, in Röbel, a plant opened in 1995 that uses Swedish Toolex presses (RTI uses American made SMT [Southern Machine and Tool]) manufactures for the rest of the world.
The Milan, Italy based company Pozzoli that has been responsible for many deluxe packaging jobs for both audio and video projects including U2's memorable "Achtung Baby Uberdeluxe Edition," produced the deluxe book, which should be stunning.
While some production details are already available on your favorite vinyl vendor's website, there's still a great deal of ambiguity that we hope to resolve when we speak with Mr. Magee.
What we do know that isn't being mentioned is that Help and Rubber Soulwas sourced from the George Martin 1987 CD resolution mixes. Truly a misguided choice in my opinion—even if George Martin is considered to be the "Fifth Beatle" and I plan to ask Magee about that, but there is some good news!
A MONO LP box is planned for the Spring and that box, like the mono CD box will contain STEREO LPs cut from the original stereo mixes!
As described on vinyl vendor websites, Mr. Magee has done some "clean up" to the digital files to make them cutter head friendly (similar to what "de-essers" do in the analog domain) and we will ask detailed questions about this work to give you a better idea of what's been done.
The most important question my contact could not answer for me is exactly what files were used for the lacquer cuts. We know they were 24 bit, which is good, but there's a chance that the files were the 24 bit, 44.1K sampled files created for the USB "dongle" version of the box set and not the original 192k/24 bit files originally created from the analog master tapes.
Exactly what was used and why are the two most important questions Mr. Magee will be asked.
Ultimately what counts is the final sound and when a box set arrives here, it will be compared to UK originals and we'll let you know what we hear!

LATEST VIDEO
<!- ------------------------------------>