Hana introduces Umami Red MC Cartridge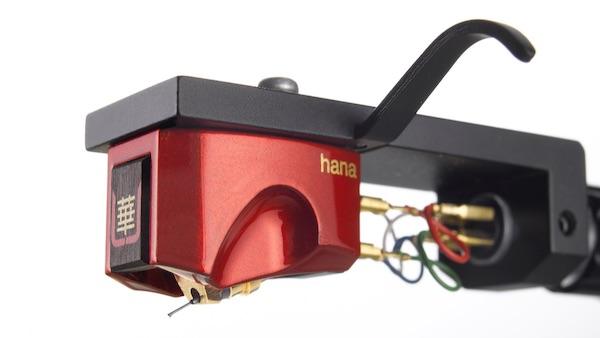 Japanese chemist Kikunae Ikeda-san officially coined the term "Umami" in 1908, defining it as a very pleasing or delicious flavor on the palette, a synergistic effect resulting in higher taste intensity.
From the Musical Surroundings press release:
"When Hana decided to create a high-end cartridge, Master cartridge designer Masao Okada-san applied the concept of Umami combining brilliant materials and classic Japanese techniques with modern audio engineering."
The HANA-Umami Red exclusive Auricle™ body design, mimics the shape of the human outer ear to rigidly support the "Open Air" MC generator. It is machined from A7075 Duralumin with a multi-layered Urushi lacquer finish originating from the Japanese Makie-artistic tradition, and incorporates an Ebony Wood inlay, tapped mounting holes, and stylus guard.
The cryogenically treated MC generator features a samarium/cobalt magnet with a Permalloy square plate armature, hand-wound with high purity 30-micron copper wire for an internal impedance of 6Ω and .4mV output. A Nude Microline stylus is bonded to a solid Boron cantilever for tracing the most delicate musical nuances from the LP.
All the major parts of the HANA-Umami Red are manufactured in house by Excel Sound with its highly trained craftsmen skillfully hand assembling each cartridge. Master designer Okada-san brings over 50 years of experience to this design, applying the Umami concept of synergy with the HANA-Umami Red.
The Umami costs $3950. Musical Surroundings offers a trade-up program for owners of other Hana cartridges and well as owners of Benz LP, LPS or Ruby.
Launch date is September 22nd.
<!- ------------------------------------>