"A Hard Day's Night" Plating Mystery Solved!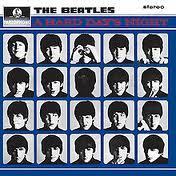 I just got off the phone with Record Technology Incorporated's owner Don MacInnis regarding the stamped lacquer used to press
A Hard Day's Night
and only that album.
MacInnis says RTI was sent five lacquers to plate during the early days of this production. He was unaware that any of the metal parts RTI produced were used in the actual production at Rainbo until he read it here on Analogplanet. He then inspected his copy of AHDN and found that yes, side one of his copy was pressed from metal parts RTI had produced! But his side two was not.
He also explained the codes: 18716 refers to the lacquer number in the order in which they are received by the factory. When it first opened many years ago, that number was 1. AHDN side 1 is lacquer number 18,716. The .1 after the number refers to side 1. Side two has 18716.2. The (3) in parenthesis means it was a three step processed record (plated lacquer [1], plated father [2], plated stamper [3].
So, he surmises that all five sets of metal parts produced at RTI ended up at Rainbo and may or may not have been used in the final production.
Perhaps some of you can find stamped not scribed numbers on some of your Beatles LPs. Let us know.
If you look carefully on the Rainbo plated LPs, you can see a tiny 'm' and a number and a tiny 's' and a number. I figure the 'm' is mother number and the 's' is stamper number.
So three questions arise: why did RTI, with its state of the art plating facility, not plate the entire set? How many of the five sets of RTI stampers ended up being put into production and most importantly does the fact that RTI plated A Hard Day's Night have anything to do with the fact that it was by far the best sounding record in the box that I've played so far? Remember: I noted the superior sound before I went looking for clues in the lead-out groove area.
And finally this: I don't think any other review site came up with this information. That is why we are Analog PLANET and the other sites are not!!!!!!!!
<!- ------------------------------------>