Jens Phono Stage Debuts at The New York Audio Show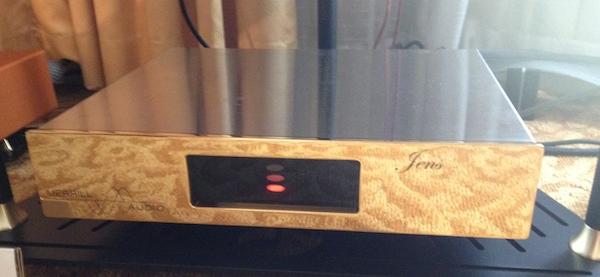 The new American designed and manufactured Jens phono stage aims for state of the art status.
Within the gorgeous reflective fascia'd chassis (that's a reflection in the photo, the front isn't carpeted!), is a dual mono design featuring fixed 70dBs of gain and loading options ranging from 25 to 5kOhms. Despite the fixed high gain distributor Merrill Audio claims the unit cannot be overloaded, even by a 4.5mV MM cartridge, though of course that is not recommended!
The Jens Phono stage incorporated manually routed circuit board traces, strategically off-board wiring paths, multi-stage power supply filtration, an external high current power supply, an EMI/RFI shielding steel chassis, Stillpoint Ultramini riser footers, pure copper-rhodium plated RCA jacks and Teflon sleeved, silver plated OFC wire.
The Jens Phono results from more than 7 years of research with focus group input and 2 years of field testing before the design was finalized and put into production. The price including a 3 year warranty and included worldwide shipping is $15,449.
I got to hear a very early iteration some years ago at the beginning of its development and thought the top end overly polite and lacking in extension and transient speed and clarity. i hope to review the final product as soon as possible, though after that comment who knows!?
<!- ------------------------------------>