NAIM Debuts $240K Statement Amplification System at New York Audio Show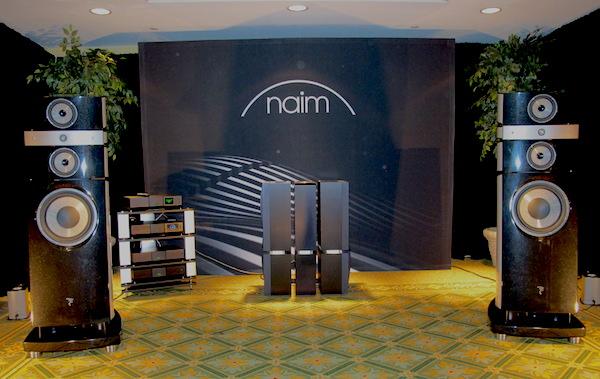 In case you aren't up on the latest audio industry mergers and acquisitions: in 2011 French loudspeaker manufacturer Focal purchased NAIM, one of Britain's most fiercely independent and iconoclastic electronics and loudspeaker manufacturers.
More recently, both Focal and NAIM were purchased by Naxicap Partners, a French investment group and the private equity group Acquasourca. Given that "high performance audio is dead", these buyouts are perplexing except that obviously high performance audio is not dead.
At the New York Audio Show Focal and now NAIM importer Audio Plus Services demoed an awesome sounding NAIM/Focal system that marked the consumer show debut of NAIM's new visually and sonically stunning Statement electronics. The two outer monoliths are monoblock amplifiers, while the center tower is the system's preamplifier. The $240,000 price tag makes it strictly for leverage buyout and other wealthy dudes. Also in the system from NAIM were the top of the line MDS streamer and HDX server.
The speakers were Focal's Utopia EMs connected to the electronics by NAIM's silver cables. Total system price is approximately $380,000.
You may laugh or gasp but my sources tell me the NAIM electronics have already sold in numbers far larger than you might imagine. One reason might be how incredibly fine this system sounded, even under difficult hotel room conditions. Audio Plus Services' John Bevier was kind enough to insert my USB stick into the system and the files immediately showed up on his hand held screen (can't remember if it was an iPad or not). I spent way too much time listening to 192K/24 bit vinyl sourced files.
These amps did the best ever job of controlling the big Focal "W" cone woofers and they system could play very loud without any sense of strain or compression. NAIM is best known for "playing the notes" and getting correct the rhythm'n'pacing and this system absolutely ROCKED but it could also breathe well and produce delicacy and a profusion of harmonic colors.
Visitors to this room got a good idea of what high performance audio is all about—whether or not they could afford it.
<!- ------------------------------------>