Two Well-Attended Turntable Set-up Seminars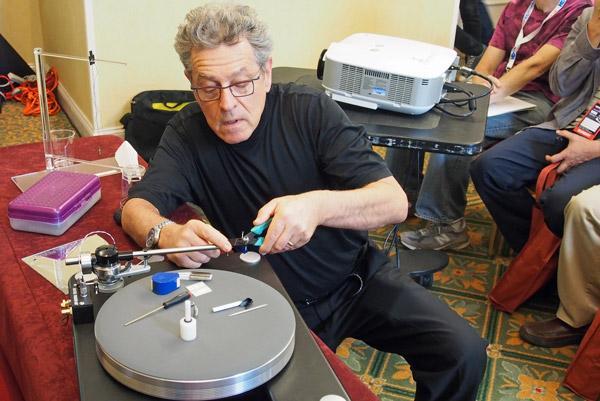 A late Sunday seminar (2:00-3:00PM) usually draws fee attendees. Most people have already gone home and those that remain are more interested in seeing rooms they missed or revisiting ones they particularly enjoyed. I'll do the set-up for one person and have done so at some shows but I was prepared for no one showing up this past Sunday afternoon with the sun shining and temperatures hovering close to 85 degrees.
I set up a VPI Scout with an Ortofon 2M Blue. I like using the VPI arm because it allows adjustability of all parameters. The videographer Stephan (Bill Hader has just about ruined that name, I'm afraid) did an excellent job getting the camera perfectly located to show zenith angle. He was using a digital SLR's video function but managed to get better images than some do with professional video cameras, perhaps because the SLR is lighter and more compact.
Attendees at both seminars paid close attention, asked great questions at the end and seemed to enjoy themselves. I hope all came away with the courage to give it a try, even if they don't invest in a digital microscope. I tell seminar attendees to start with an inexpensive ($20) Grado. The worst they can do is break it and lose $20. The best they can do is hear how good a properly set up cartridge can sound, even one costing $20.
My offer to do seminars at RMAF was rejected so the next ones in America will probably be next spring at AXPONA in Chicago.
<!- ------------------------------------>