Living Large With Osborn Grand Monument Reference Loudspeakers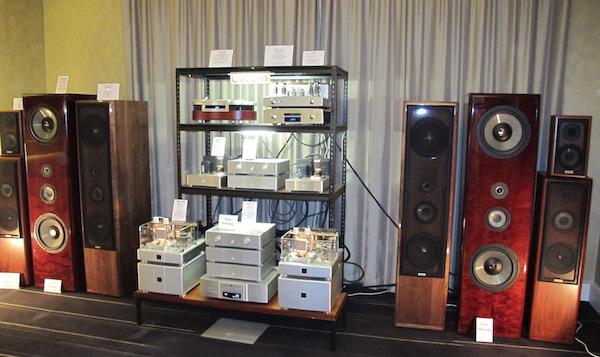 The "one man" Osborn No Compromise Loudspeaker Company displayed only a small part of its 40 model range, including the top of the line Grand Monument Reference a very large monolith of a speaker weighing in at approximately 385 pounds each.
The speaker compliment includes a pair of 12" Focal "W" cone woofers, a 5.5" Focal "W" cone midrange driver with a cast aluminum basket and an approximately 1" soft-dome SEAS tweeter. Frequency response is claimed to extend own to 15Hz.
Mr. Osborn is a self-described "one man speaker company" who says he's sold more than 3500 pairs of speakers without every advertising. "It's all word of mouth" he told me. The Grand Monuments sell for $30,100 with a direct price if you come pick them of $19,725.
Driving the speakers was a pair of AM Audio 833S four box Monoblocks from Hong Kong, clearly modeled after WAVACs from Japan. The 833 tube runs in Class A driven by a KT88 with a claimed output of 120 watts. A pair of these amps sells in Europe for $44,000 or $50,000 in an all silver wire version. The show special price was $21,250 and $24,250 respectively for regular and silver. Not sure what the post-show prices would be.
I sat through half a CD-R enjoying the system's bottom end extension and weight, surprised by the amp's ability to well-control the woofers and avoid the murky mid-bass I remember from a WAVAC review many years ago, enjoyable though was that sound. The midrange was sweet and the top well-extended though a wall of speakers placed against a hotel room wall is hardly the best way to experience and judge any loudspeaker and amplifier combination.
Still, what I heard, though "slab-like" in terms of three-dimensionality was timbrally impressive and inviting or I wouldn't have stayed in the room that long.
When I entered the room and sat down I asked Mr. Osborn if I might play a few requests. He told me that wouldn't be possible because he was expecting at any moment the "editor and chief of Stereophile". I told him I think he was expecting me and that I was a senior contributing editor not editor in chief. He said he was expecting an entrance with greater fanfare. I told him I'm not the type to blow my own horn.
<!- ------------------------------------>