Malachi's December 2019 Playlist: Christmas Music!!!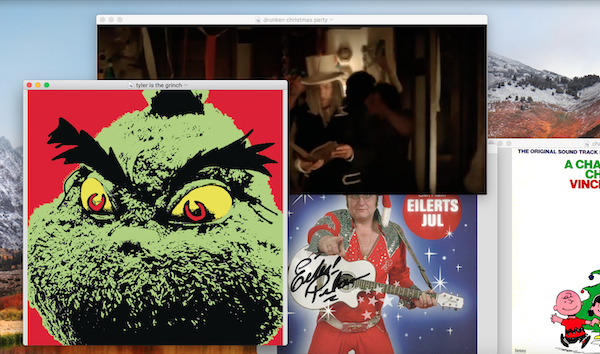 It's been a while since I've posted an AnalogPlanet playlist, mostly since I've busied myself with
many
other projects. But because it's the holiday season, it's only appropriate to bring, with a selection of my Christmas favorites, some holiday fun on here. There's a mix of the normal picks (Nat "King" Cole's "The Christmas Song" and the Vince Guaraldi Trio's
A Charlie Brown Christmas
) and some seasonal tracks from a couple of my favorite artists (Tyler's "Lights On," the White Stripes' "Candy Cane Children," and the David Bowie/Bing Crosby collab) as well as some "how did anybody let this happen?!?!?!" Christmas songs (Dylan's "Must Be Santa" and Eilert Pilarm's rendition of "Blue Christmas"). Below are Tidal, Spotify, and YouTube playlists (sorry, Apple Music users) followed by commentary on each song. (Note: David Bowie and Bing Crosby's "Peace On Earth/Little Drummer Boy" isn't on the Tidal playlist. The record label made every effort to delete the song's original version from streaming services in favor of the far inferior "modernized" London Symphony Orchestra-overdubbed version.)
Have you or a family member ever spiked your eggnog with too much whiskey? "Must Be Santa" and its accompanying video is the musical equivalent of that. Dylan and crew are wearing ridiculous outfits (forget ugly Christmas sweaters; these are tacky old-timey suits) while a drunken Christmas party singalong ensues. I'm surprised there isn't yet the "'Must Be Santa' challenge" on social media where people drink a shot after every verse, because it would be perfectly fitting.
Tyler, The Creator featuring Santigold and Ryan Beatty - "Lights On"
In the midst of recording his masterful IGOR, Tyler, The Creator took a short break to soundtrack Illumination's animated 2018 The Grinch remake. Further, he released a 10-minute EP titled Music Inspired By Illumination & Dr Seuss' The Grinch which while blatantly low-effort, is still great; even when Tyler's not trying to make something amazing, because of his pure genius it turns out very good. "Lights On," featuring Santigold and Ryan Beatty, is by far the highlight of The Grinch EP. Lyrically, it's the normal "please come home for Christmas"/"I'm coming home for Christmas" song, but musically it evolves from in its intro a fairly regular sounding modern Christmas song to one with Tyler's unique production style and excellent sense of chord patterns. Ryan Beatty and Santigold's contributions are also fantastic; the former's expressive vocal performance and the latter's perfect hook invaluably contribute to the song. (Side note: we really need a good 7" vinyl release of Music Inspired By… hopefully for the next holiday season.)
The White Stripes - "Candy Cane Children"
In between White Blood Cells and Elephant, the White Stripes released the 7" EP, "Merry Christmas from The White Stripes. Side A is the low-fidelity "Candy Cane Children," backed by Jack's reading of the Bible's Story of the Magi and Meg's rendition of "Silent Night." The former, while not the usual type of Christmas song (even though it's still loosely Christmas-themed), for White Stripes fans is a fun 2-minute seasonal listen.
Eilert Pilarm - "Blue Christmas"
Swedish Elvis impersonator Eilert Pilarm's "music" strays so far from its original intentions that rather than being considered Elvis impersonator rock n' roll, it's categorized as outsider music. Pilarm, who mimics the "fat Elvis" era, is one of the worst singers I've ever heard (and as you know, I've heard many awful ones); he somehow cannot properly hold a note, his timing is terrible (imagine how - to quickly recite his lyrics - Bob Dylan now waits until halfway through a measure, but 100 times worse), his breath control horrendous, and because of his Swedish accent, he sounds nothing like Elvis (Pilarm's "Jailhouse Rock" is sung more like "Yalehouse Rock"). His album Eilerts [sic] Jul (translation: Eilert's Christmas) is known across the internet for its terrible 90s clip art-background album cover, but the contents within are arguably worse. Eilert Pilarm's music provides quite the laugh for anybody who has even a drop of appreciation for Elvis, and Eilert's Jul would make a perfect gag gift for a diehard Elvis fan. His "Blue Christmas" will make you have a "Brown Christmas" because while listening you'll be puking!
Nat "King" Cole - "The Christmas Song"
Now we transition in the Christmas staples that we've all heard a million times, but Nat "King" Cole's "The Christmas Song" still holds up spectacularly well. It, along with my next entry, is the sound of Christmas. Cole's vocal presence backed by the sparkling orchestra just can't be beat - it truly is perfect Christmas fireplace music. Unfortunately, nothing in the digital domain does this track justice; the only way I can listen to it now is on the Analogue Productions The Wonderful Sounds Of Christmas (AAPP-94 double 200g LP/180g red and green colored vinyl set/test pressing), cut from Kevin Gray and Steve Hoffman's DSD master (remixed, using a real reverb chamber, from the original 3-track masters to lacquer and DSD) by Sterling Sound's Ryan Smith. Nat "King" Cole sounds like he's actually in the room with you, the orchestra is perfectly textured, and the backdrop dead quiet. I mention that just to apologize for the flat, boring sound of the Tidal playlist's 96/24 MQA file. (I know there are two separate, nearly identical recordings of this track. Which version is on which release, I don't know. I'm not anywhere near a Nat "King" Cole scholar, but I do know that "The Christmas Song" in the PCM versions I've heard just doesn't sound real.)
Vince Guaraldi Trio - A Charlie Brown Christmas
This is the favorite Christmas album of everyone who celebrates Christmas and has decent music taste. It's the one that I, a person with above average music taste, listen to most around the holidays. It's the album that my family spins (an old CD copy of) while opening presents on Christmas day. Guaraldi's "O Tannenbaum" feels as warm as Linus' blanket; it just gives you comfort as you enjoy a December cup of hot chocolate in rainy Portland weather.
David Bowie and Bing Crosby - "Peace On Earth/Little Drummer Boy"
The most awkward musical collaboration ever? I've heard far weirder pairings, but an art rock legend (who, in the year this was made, released two legendary albums that significantly pushed music forward and still sound fresh) and an elderly crooner on the same song is in retrospect so ridiculous an idea that it wouldn't even enter a cash-hungry record executive's mind. But then again, nothing about David Bowie in 1977 was anywhere near normal. Filmed shortly before Bing Crosby's death for his Christmas TV special, this rendition of "Little Drummer Boy" (whose second part is "Peace On Earth," a tune composed for this special by Crosby's writers) finds the unusual duo in perfect baritone harmony, recorded on equipment that sounds like 1947. The actual song is great, but extremely strange is the obviously scripted dialogue that precedes it. Bowie and Crosby talk about how their families love the Christmas season, but also a bit about the former's career and influences. Bing asks "so do you listen to any of the older guys" (meaning boring crooners of his generation) to which David replies something like "oh yeah, I listen to John Lennon, y'know, those types of guys" before Bing abruptly changes the subject. Anyway, I'm probably overanalyzing (if that's even such a thing, which it really isn't) an otherwise fantastic Christmas song.
(Malachi Lui is the hardest working young music critic in the world. Follow his "Man On The Moon: The End Of Day is overrated" rhetoric on twitter: @MalachiLui.)
<!- ------------------------------------>