Ortofon Introduces New Affordable Quintet Moving Coil Cartridge Lineup and More (Video Enhanced)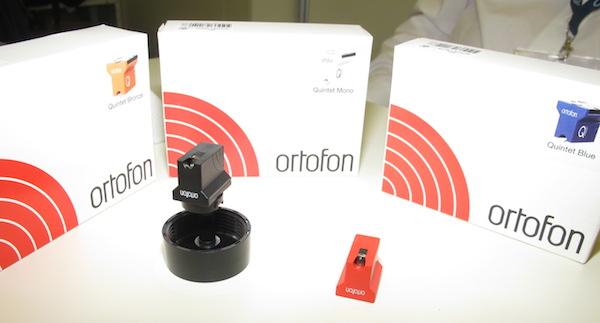 Behind closed doors Ortofon's Leif Johannsen introduced me to the new Quintet moving coil cartridge lineup as well as other new products and an off the record look at some upcoming Ortofon projects.
The Quintet MC lineup uses the same red, blue, bronze, black and white color identification system it uses in the 2M MM series. So the least expensive Quintet is the Red at 250 Euro. It features a bonded elliptical stylus and aluminum cantilever. Next up the line is the Quintet Blue, at 400 Euro, featuring a lower mass nude elliptical stylus and aluminum cantilever, followed by the Bronze featuring a more severe fine line stylus and at the top of the stereo line, the 800 Quintet Black sports a boron cantilever and Shibata stylus. The Quintet White is the line's mono edition at 600 Euro. The Red and Blue output .5mV, while the more expensive two output .3mV.
Johannsen also showed me the anniversary SPU A95. Only 500 will be made. It uses a titanium SLM (selective laser melt) bodied cartridge. Price has yet to be set but it will be "expensive."
The Chief Officer of Acoustics and Technology at Ortofon showed me some other cool upcoming products but I can't tell you about them.
<!- ------------------------------------>