Patricia Barber Plays SRO AXPONA Gig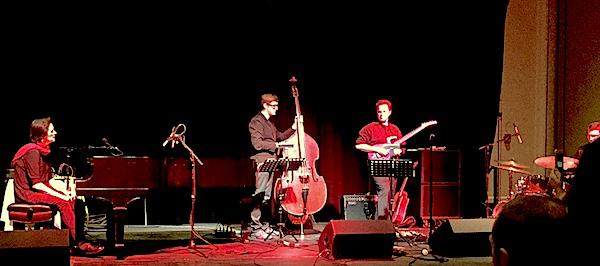 True, there were no seats so
everyone
had to stand, but Patricia Barber and her accompanying trio played to an appreciative, but foot-weary full house in the O'Hare Westin ballroom Friday evening.
Barber, whose overexposure (like that of Diana Krall and a few others) has produced an unfair backlash among some audio enthusiasts, demonstrated that she is an artist worthy of serious consideration and not a flash-in-the-audiophile-community-pan.
Accompanied by a trio of young, highly accomplished and creative musicians, Barber, barefooted as always, began the set with an inventive take on Thelonious Monk's "Rhythm-a-ning" so seriously reworked that it took a while to identify, even as its rhythmic shifts were immediately familiar.
The composer, performer and band leader still calls performing home Chicago's intimate The Green Mill nightclub, yet she still managed to draw in the ballroom crowd and produce an engrossing hour and a half of engaging music without performing any of the commercial covers that originally attracted a loyal following.
After about forty-five minutes of relatively lengthy pieces she rightly gave each accompanist a chance to shine in a duet and each one produced memorably.
Playing electric for the group numbers and sounding most influenced by John McLaughlin and Robert Fripp, guitarist John Kregor emerged from backstage for his solo turn with an acoustic guitar (might have been a Martin) and performed a richly colored Spanish-style, lush and romantic turn accompanied by Barber. It was a set highlight.
Next up was bassist Patrick Mulcahy who accompanied Barber on a slow, sensuous cover of the Motown classic "I'm Gonna Make You Love Me"originally performed by The Temptations and then by The Supremes and the Temptations. A mid-song break gave Mulcahy an opportunity to take a daring, ingenious solo that took the evening's greatest musical risk.
Finally Barber summoned drummer Jon Deitmeyer. The two clearly enjoyed the interplay on a tune I unfortunately can't recall because I was too busy enjoying to take notes.
Among the set's highlights was a deliciously nasty take on the Cole Porter tune "Get out of Town" in which the singer eventually requests a former lover to not just get out of town, but to get out of the country. Barber extracted from the tune both maximum retribution and humor.
Sometimes hi-fi show appearances by groups are soulless, inspiration-free walk-throughs for the money, but in this case Barber and the group were embarking the next morning on a short, four performance tour of France and the evening seemed to provide a good opportunity for group and individual chance-taking.
<!- ------------------------------------>