Pro-Ject's "Elemental", A $199 Crosley Killer!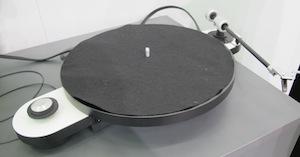 Pro-Ject founder and CEO Heinz Lichtennegger has decided to go after the cheap plastic turntable market with a high quality alternative that will sell for $199 complete with an Ortofon cartridge. The new Elemental 'table will be "plug'n'play" all the way. Even the counterweight is fixed. All the buyer has to do is remove it from the box, place the platter on the bearing, secure the belt around the platter, remove the stylus guard and plug it in. The only plastic is the stylus guard.
The secret to the new 'table's sonic success, Mr. Lichtennegger told me, is the mass placed directly below the platter bearing. The platter is of MDF, as is the plinth itself. The 'table appears to be simplicity itself, while maintaining high quality standards.
Now there's no reason to buy one of those cheap, plastic groove chewing Crosleys. Those "turntables" are currently chewing up vinyl coast to coast. Enough is enough! This should hopefully begin to put an end to it.
Lichtennegger says he's hoping to get the turntable into "alternative" retail spaces such as Target, Restoration Hardware, and other non-typical outlets that have started to carry vinyl related products.

LATEST VIDEO
<!- ------------------------------------>