"Producing "Sgt. Pepper" Was Like Producing A Peter Sellers Album"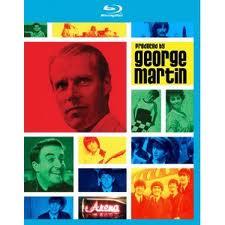 Yesterday was a waste case for listening. I powered up the stereo and what came out was so bad I couldn't review anything. I'm not kidding. I tried everything: various turntables, cartridges, digital and nothing sounded good.
There were no highs and no lows and no, I wasn't listening to Bose. I was trying to coax to life a system that costs more than my house costs when I bought it in 1999 but no luck.
So I went upstairs and watched this fascinating BBC documentary on the life and times of George Martin. There's been an anti-George Martin backlash of late from people who think he takes too much credit for The Beatles' success, but watching this makes obvious that these people are making stuff up. He certainly doesn't take such credit here. In fact he's generous to a fault.
The Blu-ray (released by Eagle Vision EV8334209) runs more than two hours and includes almost an hour of extra material, much of it extra for obvious reasons if you take the time to watch it, but still it will be of interest to some.
What you will learn from this documentary is that Martin's "character" is completely made up. He has adapted a character and very well. While his manners and speech pattern are those of the upper crust, he is, as Cilla Black (the U.K.'s answer to Dionne Warwick when it came to interpreting Bacharach and David) says with bubbly gusto "a Cockney!"
The bio doesn't hide that fact and Martin takes us on a tour of his humble upbringing. While Ray Davies talks about being a "Muswell Hillbilly", for Martin's family a move to Muswell Hill was a big step up from his lower class beginnings.
Martin recounts his time in the WW II RAF where his role was as an "observer" (sort of a director) in a rather primitive open cockpit airplane. In a talk with Paul McCartney, the Beatle remarks that Martin's role with the group was in many ways similar to the one he played in those planes.
We learn the role chance and hunches played in the unlikely rise of The Beatles.
Martin headed Parlophone, a backwater EMI label specializing in traditional jazz and comedy. Martin produced comedy albums by Peter Sellers, among others and at one point in his talk with McCartney, Sir Paul recounts that he owned and the group loved listening to those Sellers albums both for the zany and high-brow comedy and the musical interludes produced by Martin.
So in a sense, The Beatles humor, to some degree, evolved from those Martin produced LPs in a grand feedback loop that helped create the group's comedic talents and perhaps even some of the humor in their music.
Martin recalls how in 1963 Brian Epstein brought him a tape to hear and how underwhelmed he was by what he heard. But, he liked Epstein and felt bad telling him the bad news so he told him he'd give the boys an hour in the studio to hear what they could do.
We all know where that led. McCartney and Martin look through some old photos including one in Paris, 1964 where you could see just how much fun everyone was having eating at a posh restaurant the inside of which none of the Liverpudlians ever thought they'd see.
Both recall the cause of the laughter was the phallic shape of the rolls and the ensuing table play. Martin says "None of us have ever seen anything quite like that!" McCartney sets up the joke by saying "I'm sure Brian had!" but Sir George either didn't get the gay joke, or chose not to engage.
Martin recalls some of his contributions to the music. For instance, when looking for a way to start "Can't Buy Me Love," Martin suggested to McCartney that they try splicing in a section of the chorus. Thus the song begins surprisingly and ingeniously with the exclamation "Can't Buy Me Love!" rather than with "Buy you a diamond ring my friend....." He recalls how "Please Please Me" was originally a Roy Orbison style ballad.
Martin demonstrates how the angular string quartet arrangement in "Eleanor Rigby" derived from "the shower scene" in "Psycho", thus becoming a McCartney/Bernard Hermann composition and of course he goes into the backwards tape experiments beginning with the ending of "Rain."
Martin is mostly a pleasant and satisfied man as he lives through his later years, only showing bitterness a few times. He recalls not getting a Christmas bonus at the end of a year when The Beatles sold millions of records and greatly inflated EMI's bottom line. The salespeople got big bonuses. He did not. Why? The company said he was "well-paid" at around 2000 pounds for the year! Of course Martin did end up making a great deal of money soon thereafter and appears to live well, though not extravagantly so.
He also recalls when John Lennon told him the group wanted none of his production nonsense on their new album Let It Be and how they just wanted to play live and record it straight. Martin was taken aback by the resenting tone but agreed to it. "The problem was," he says, "is that they never did get it right."
He still simmers thinking about how John and George took the tapes from the vault and gave them to Phil Spector to "overproduce". He was particularly upset when Apple came to him and said his producer's credit would go to Phil Spector, even though he'd actually produced the music.
He suggested that the credits read "Produced by George Martin, overproduced by Phil Spector."
There are new interviews with McCartney, Ringo, Michael Palin, Jeff Beck, John McLaughlin and others plus classic clips and a great deal of new and interesting material.
During the lulls you realize that were it not for The Beatles, you probably would have little interest in watching this documentary. On the other hand, were it not for George Martin, it could easily be argued, there would never have been The Beatles, and if there had been, it would have been a very different The Beatles and perhaps a group not nearly as innovative or successful as they became.
One of my favorite scenes is where Martin recalls having produced a comedic send-up of "The Bridge Over the River Kwai" with Peter Sellers, Spike Milligan and Peter Cooke and Dudley Moore among others. It was set for release when director David Lean's estate threatened to sue and the project appeared to be headed for the scrap heap. Martin recalls thinking "Well, what if our project was called "The Bridge Over the River Wai"? Then there could be no lawsuit! So he hired a team to go through the master tape and cut out every "K" in "Kwai." The record was released. I've long had a copy but never knew the "back story" until watching the Blu-ray.
I'd say this is a 'must watch' for anyone heavily invested in The Beatles. You'll enjoy it a great deal and learn new things about the group and times that will surely enhance your appreciation of all of it and especially of George Martin and his contributions to the group's success and to the brilliance of their records.
P.S.: After watching the video I went back downstairs to see if the sound had improved. It hadn't. But I was determined to listen to music so I did, but I couldn't understand why it sounded so bad. Then, suddenly there was an odd noise through the speakers that sounded like feedback or oscillation. It was a quick "blip" and PRESTO! The sound returned to normal! Clearly something was going on with the A.C. coming into the house.
We've all experienced days when things just didn't sound "right" and I've paid lip service to the A.C. by saying "Everything you listen to is really just modulated A.C. so if that's not good, the sound can't be. And I definitely believe in power conditioning (but not with "T" filter type conditioners) and the value of good A.C. cords (I like Shunyata), but nothing could have helped the bad A.C. coming into my system yesterday. Perhaps it was Hurricane Sandy residual. Whatever it was, I've never heard such bad sound coming from my system nor have I ever heard such an instantaneous recovery!
<!- ------------------------------------>