A Serious Turntable Sports Wood (Bamboo Actually)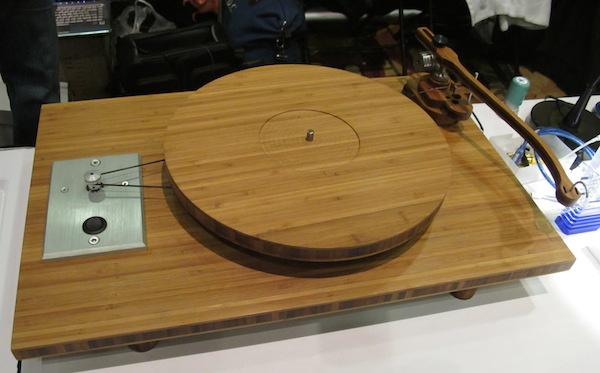 Covering all the new analog gear at RMAF was more than enough to deal with but luckily in the hotel gym I began a conversation with Mike Johnson Director of Sales America/Canada for Pendalumic headphones and I promised to check them out in the CANJAM headphone area.
The $199 headphones designed by Chunbeng Quek who designs the $500 and under headphones for Sennheiser. Mr. Quek, who has his own design firm with offices in Singapore and Norway, is a part owner of Pendalumic. These headphones sounded very good especially given the price, though I don't claim to be an expert in this field. I have custom molded Westone in-ear phones that I really like but that's another story.
The story here is that while walking around afterwards I ran into Avatar Acoustics' Darren Censullo (Avatar distributes the insanely great iFi line) at a table on which was this wood+bamboo turntable from Tri-Art Audio made in Canada. It has a serious 3 phase AC motor, a nicely machined aluminum sub-platter and wooden platter and what appears to be a decent wooden tonearm. Price is around $1500. Needs to be reviewed!
<!- ------------------------------------>