T.H.E. Show Newport Beach 2013 Wrap Up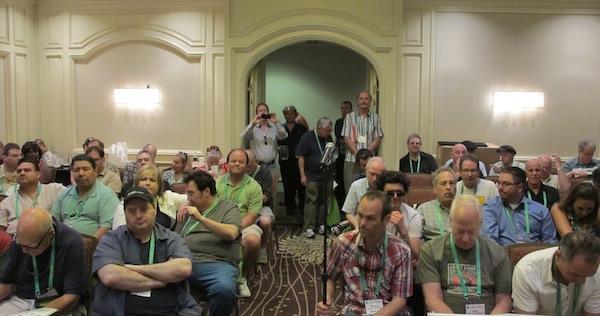 After attending the industrial strength Munich High End Show, any other audio show
anywhere
would probably be somewhat of a letdown. I attended T.H.E. Show Newport Beach 2013 with little expectation of analog news.
So yes, Newport 2013 was somewhat of a letdown in terms of overall show "buzz" not to mention the depth of products shown, but there were some new, or at least new to me, notable analog products, most of which have been covered here over the past week.
One product I inadvertently omitted was a phono preamp from Reite Audio. For some reason the photos I took of it were erased from my camera and until the brochure surfaced in my show bag I'd forgotten about it.
Reite is a new electronics line featuring a line stage, a phono preamp, and two mono block power amplifiers.
The $3900 (not including outboard power supply) PS 1 MC Phono Stage offers 60dB of gain and dipswitch adjustable loading. The outboard power supply adds $1900 to the price. It can also power the LS-1 line stage.
Now back to the wrap-up. Every show, whether audio, or comedy or musical, takes on a life of its own independent of the products shown, or the script, or the songs, or the stars. The same show can produce very different results on any given night performed before any given audience.
This year's T.H.E. Show Newport Beach may have been in the same venue as last year's and may have had both manufacturer participation and attendance equal to last year's show but it just felt somewhat flat to me.
Maybe it felt that way because I didn't attend Munich last year but did this year. But for whatever reason or reasons, the show lacked last year's "buzz" and it seemed to me that attendance was down somewhat compared to last year.
One thing is for sure: there were far more vinyl vendors last year. Amoeba and Rockaway didn't attend, but that wasn't surprising. Both told me last year that sales were tepid and that audiophiles are not really their market. Yet the vinyl vendors at the Hilton ballroom appeared satisfied with the response. But then again those vinyl vendors do cater to the audiophile market.
The halls didn't appear as crowded, nor did the lobbies so I'll be interested to see if the show organizers post attendance figures.
They again had exotic cars out front, a cigar concession and participation from wine makers but that novelty has worn off somewhat.
I did two well-attended turntable set-up seminars (thank you Weinhart Design Audio's David Weinhart for producing) and participated in a fun one organized by Record Collector magazine's Jim Kaplan but I was shut out of both "Ask the Editors" panels organized by TAS's Robert Harley. Editor John Atkinson was the only Stereophile representative on both panels, while TAS had three on one panel and two on the other. Whatever.
The show's graphics, the show guide layout and the advertising are all in need of major improvement and I'm not just writing that because in the show's Record Collector advertisement I was referred to as "Michael Farmer".
The show graphics violate every basic rule of "design 101" giving the eye nothing towards which to gravitate and the color scheme is dark, murky and lacking eye-catching contrast. I understand the decision to combine the two hotel venues into one book, with one location's information published upside down from the other's, but it did lead to a great deal of confusion from what attendees told me.
On the other hand the seminars were very well organized and covered a variety of interesting and useful topics. Maybe I'm at this point somewhat jaded and overcritical but I think the formula needs some re-jiggering and the show some refreshing.
Of course I hope the criticism is taken with the same love in which it is offered.
The photo is the view of the audience from the seminar dais.
<!- ------------------------------------>