Spoon Live At Webster Hall, NYC December 30th 2006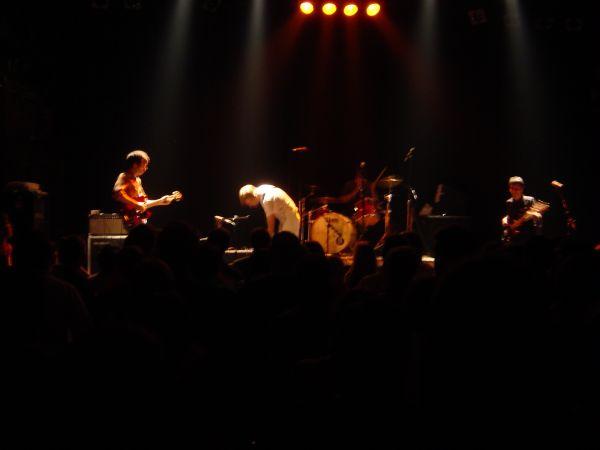 Listening to Spoon is best done as described in singer/songwriter Britt Daniel's own words: "You gotta feel it/ Don't take notes/ Just clear out your mind." Fans of Spoon's five albums and two EPs, issued over the past twelve years know very well the feelings brought to mind when listening to these songs: they range from yearning, heartbreak and frustration, to isolation and desperation, to tenderness, lust, and satisfaction from a job well done.
Spoon conveys all of these emotions, with a bit of fantastic storytelling thrown in here and there, through rock music played with such talent and passion that you might think their recorded productions are the apex of their sound. Think again and go see them live so they can throw that high point so far up there that you will need a telescope to see it.
Spoon played a 23 song set at intimate Webster Hall that to say "rocked the house" would, at best, just be a vast understatement. They opened the sold-out show with their gorgeous ballad "Vittorio E" from Kill The Moonlight. Britt Daniel's guitar, Jim Eno's drums, and Eric Harvey's piano created the sense of longing that the recorded version conveys, oozing with wrap-around sonic warmth. The loud, guitar-driven sound set the tone for the whole set.
"My Mathematical Mind," from Gimme Fiction features pounding, deep drums, repeating piano riffs, and rough-edged,throaty guitar bursts thrown in as exclamation points to the verses, which delve into the song writer's deeply considered thought processes.
"Stay Don't Go," a more experimental, sparse tune, which on Kill The Moonlight is actually just Daniel's beatbox loop and falsetto singing, was turned into a full band rocker for the live performance. The lyrics' power (they are about trying to shake off guilt through confession, basically begging for forgiveness) remained palpable, easily punching through the song's new, loud rock sound.
"Paper Tiger," another experimental and spacious song from KTM, was similarly expanded, with Jim Eno's mallets and sticks filling the hall's expanse with perfect percussive beats complimenting Daniel's obscure, but compelling lyrics (he sings of hidden messages on a dollar bill and of being someone's protection when the new war is upon them).
The group included two huge crowd pleasers from KTM, drawing sustained applause for the jumpy "Jonathon Fisk" and the slinky "The Way We Get By," both of which make great sing-alongs, aided by versions that remained true to the recorded originals.
The two absolute, chill-inducing highlights, were "Me & The Bean," from Girls Can Tell and "Small Stakes" from KTM. In "Me & The Bean," the group broke down and then built-up the tune instrument by instrument, while the piano, which begins the song on a single note, carried the melody through to the end. At this point in the set (about half way through) Britt Daniel apologized for sort of losing his voice, then ended up sounding even better and singing even stronger, though without any falsettos.
"Small Stakes," originally an open, airy, simple song got a hall-filling bass and guitar rock & roll spin that almost turned Webster Hall into a 1958 drive-in. Another highlight was "Fitted Shirt," which sounded a lot like the GCT original, only bigger and stronger. The live, fully amped version offered loud rhythm guitar over pounding drums and bass, accented by a high pitched guitar sailing perfect notes over deep, sharp rhythm, punctuated by an abrupt, perfect finish that left the audience shocked and just a little breathless.
Another high point was "The Delicate Place" from Gimme Fiction. The song starts off slowly and quietly, and the words are a bit forlorn, describing a longing for intimacy with a special someone: "Have you got the answer?/ Have I won the part?/ Is this just your way of breaking my heart?" These are some of my all-time favorite Spoon lyrics. The song builds into a crescendo of drums, bass, and guitar, that performed live, blew me away, as Daniel frantically strummed the climax.
The end quiets down to the calm 'delicate place' as Eno pounds a few leftover drumbeats over calm, reverberating guitar. On record, the song is heartfelt and sweet; live, it just screamed lust and longing. The fifth highlight, previous to the evening's finale, was from Spoon's 1997 EP Soft Effects. "I Could See The Dude" is just two minutes of simple drums and wavering guitar, and Daniel singing about fooling himself into thinking this girl digs him. He drops by her place unannounced, only to find she's not alone. More brilliant Spoon lyrics here, not to be missed: "Now the snot has caked into my pants/ It's a good bet that it will soon/ Turn to crystal form." [Of course these lines were lifted almost whole from Love's Arthur Lee, who sang, "Oh the snot has caked against my pants, it has turned into crystal" on "Live And Let Live" back in 1967!]—ed. Who else in music today expresses the utter pain of embarrassing yourself like that by using words like that? This is why I love Spoon.
To close a brilliant set of some of the best modern rock music, Spoon played what Daniel has said contains his favorite moments of his band's sound: "The Beast And Dragon Adored" from GF. Perfect as a closer, the song has gritty, rousing, guitar-full-of-feedback, over another pounding drumbeat. Daniel strummed the last chords of the night and placed his still reverberating guitar down and walked off, leaving Eno to pound the last drumbeats alone. It was a performance they can be proud of; then again, Spoon never does anything without putting their hearts and souls into it. You gotta feel it.
<!- ------------------------------------>