Table Toppers, Take 1: A Truly Terrific Three-Turntable System in Portugal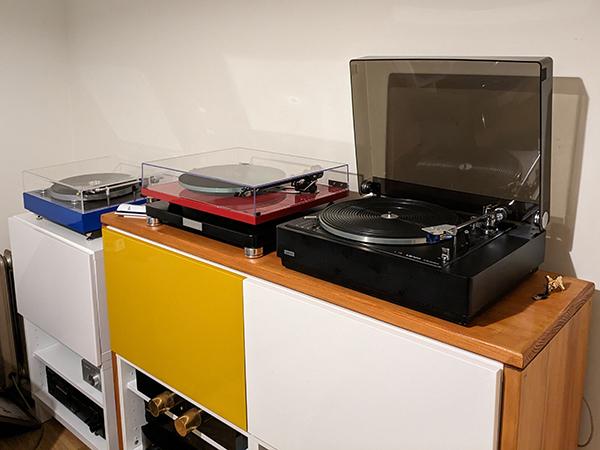 Back in September, we asked you, the AP faithful, to "show us your turntables!" for an all-new feature section titled Table Toppers — and did you ever respond in full. Since then, we've been sifting through a cavalcade of your many great submissions, and we figured what better way to kick off the month of November than with the debut installment of Table Toppers — namely, a truly terrific trio of 'tables owned by Diogo Alfaiate of Lisbon, Portugal. "In some ways, I feel like the town is also part of the story," Diogo told me via an email follow-up after I informed him his submission was to become our very first Table Toppers piece.
And with that, let's get to it! Diogo, take it away. . .
"My main system consists of 3 turntables: 1) Rega Planar 3 (2016 model) bought new in 2017 from the official Rega distributor in Lisbon; 2) a Lenco L78 bought in 2021 from its first owner near Lisbon; and 3) a Thorens TD150 MKII (heavily modified by me), bought in mint stock condition from a turntable collector from the North of Portugal. [All three of them are seen together at the top of this story.]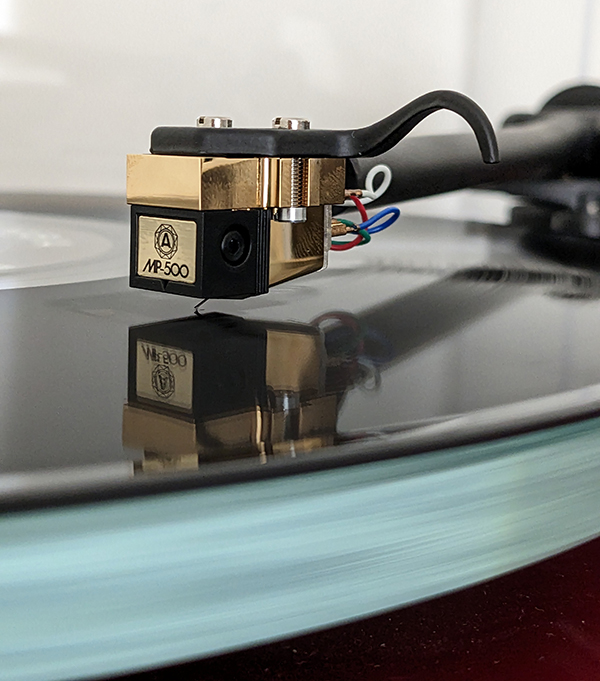 "I have around 40 cartridges, but I mostly listen to the Nagaoka MP-500 [seen above] on the P3, the Benz Micro Ace SH on the L78, and the Shure M91 and DL-103(R) on the Thorens. The rest of my system is pretty basic — a pair of ELAC FS249 floorstanders, a Densen DM-10 integrated amplifier, a Rega DAC, and quite a few phono stages, both valve and solid-state.
"Here's a summary of my journey with vinyl records and my turntables. I'm 35, so I grew up in the CD era. Fortunately for me, my father never stopped listening to records. He taught me how to use his 1980s Rega turntable and how to (carefully) handle his records — and he even let me listen to them once in a while. He mostly listened to classical music, but he had a few good rock albums left from his teenage years including records by The Beatles, Genesis, and Deep Purple, and I used to listen to those LPs. A few years later, he started taking me to audio shows.
"I was about 9 when my uncle, an avid record collector, introduced me to his local used record store by the name of Discolecção. We started going there on a monthly basis, and he would search for his collectibles while I would scavenge for 50-cent singles and €1 records. A few months later, he showed me how to mail order. He lent me a catalogue from one of his favorite stores in Germany, and I remember they looked like Yellow Pages phonebooks. I would pick a few records and he would pick his, and he would write to Germany to order them. I have no idea how the payment worked, but sure enough, one month later, the records would arrive through the mail. I believe he had an ELAC Miracord 50H but I'm not entirely sure, as he hardly ever played it.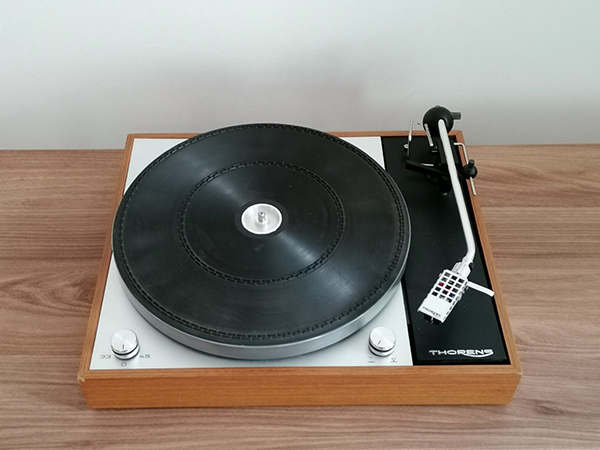 "After a few mail orders and visits to the record store, my father started fearing for his cartridge, so he took my mom's turntable out of mothballs — a CEC BD-4200. (I still have it, although I haven't used it in years.) He mounted it in my room. A few years later, he told me I could use his old Thorens TD150 MKII if I wanted to, but I never got around to mounting it, because I was happy with my CEC.
"As I got into my teenage years, I stopped shopping with my uncle, but that's also when I started receiving a small monthly allowance so I could shop for used records by myself. My collection started to grow. I'm not that old, but back in 2000, I could only discover new music by listening to the radio or if someone lent me a CD — so you can imagine how it felt to go home with 10 new records from famous artists every month, for the hefty sum of €10 (approximately $10). Every other day, I would clean a new record, and test-play it. That was fun.
"I must have been 15 or 16 when MP3 files became a thing. I started adding CD compilations made from MP3 files to my collection of CDs, singles, and LPs, but it didn't take me very long to realize that MP3 quality wasn't very good. That was also when I became aware of the loudness wars, and why usually a good LP sounded better than a CD — or at least, that's how I saw it back then. (If only things were so simple.) So, I kept buying records.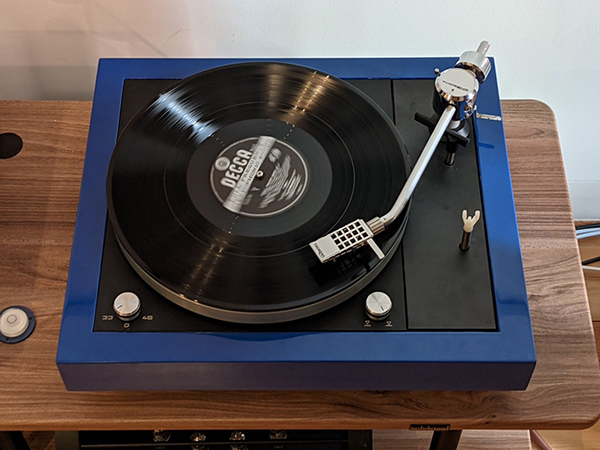 "When I left my parents' house to live alone during my college years, I took the CEC turntable with me. I bought a new Reloop direct-drive turntable, thinking it would be an upgrade, but I quickly passed it on, because the CEC was a better deck. Also, around that time, I became aware of the infamous world of different pressings, and how some records sounded better than others. That meant I slowly stopped buying Portuguese pressings, and started looking for original pressings — usually U.S., or UK — from my favorite artists. Being in my late teens, my favorite artists from the LP era were pretty standard names — The Beatles, The Doors, Janis Joplin, Pink Floyd, Joy Division — and it soon became obvious to me that I couldn't afford a large collection of original pressings, so I started buying fewer and fewer records. By then, I had a real space problem, so it was a good time to stop.
"Fast-forward to 2014. I'm now a working man, and the vinyl revival is in full swing. This means that there are more and more audiophile pressings to choose from, but it also means I'm not seen as such a weirdo anymore! It also seemed like a good time to revisit Discolecção, my used record store! The seller, Vitor, is the same — only older — and the store is the same, but the records are getting more expensive. Vitor sold it to João, who now runs the place, but sometimes Vítor still visits the shop, and stays for a chat and a beer. They are both very nice chaps. Vítor focused mostly on '60s-'70s rock, while João has oriented things a bit towards more modern material. Be as it may, Discolecção still has the best prices in Lisbon, if you ask me!
"As soon as I start looking around in the shop, I'm instantly reminded of the feeling of buying a record filled with music I've never heard before. I now listen mostly to classical music, and there are still a lot of records to discover at very low prices.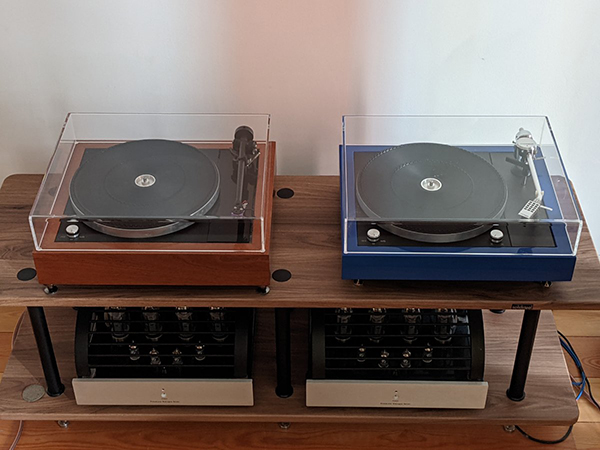 "I was thinking of buying a decent turntable, and was reminded of my father's Thorens TD150 MKII. When I asked him about it, he suddenly decided to have it restored, and he kept it for himself. Back in the '80s, it was typical to upgrade these decks with Linn parts, so his turntable is a mix-and-match of different pieces. I decided I would buy my own Thorens and make it my own project, properly modified to sound better and not merely 'upgraded' to look like a Linn. [Both the father and son's Thorens 'tables are seen together above.]
"In the meantime, I bought a Rega Planar 3 to listen to my collection. It is a no-frills, plug-and-play turntable that has served me well throughout the years. I swapped the original belt for a Reference EBLT belt that lowered wow & flutter from 0,16% to 0,06% — an impressive improvement. No wonder the EBLT now comes stock on newer models! I also replaced the stock plastic subplatter with a metal Groovetracer Reference subplatter, which made a noticeable difference in sound quality — although I'm not sure it was worth the expense vs. buying a better deck.
"I eventually found a used Thorens TD150 MKII in mint condition for quite cheap, so that became my new project. I already had a modern turntable with a medium-low mass tonearm and a modern cartridge, so I figured I'd keep the Thorens as a vintage-sounding alternative. I found a Thorens TP25 tonearm — Thorens' best and final revision of the BTD-12 and TP14 as seen on the TD124 — a good, medium-high mass, dynamically balanced tonearm. I mounted a Shure M55 in one headshell (later replaced by a M91), a Denon DL-103 [seen below] in another (later replaced by a DL-103R), made all the classic resonance-taming modifications to the deck including replacing the plinth for a more solid and modern-looking alternative, and gave it a listen. It now plays a lot better than stock — but more importantly, it sounds just right with late-'50s and early-'60s pressings. It's my go-to system for RCA Living Stereo pressings, and the like.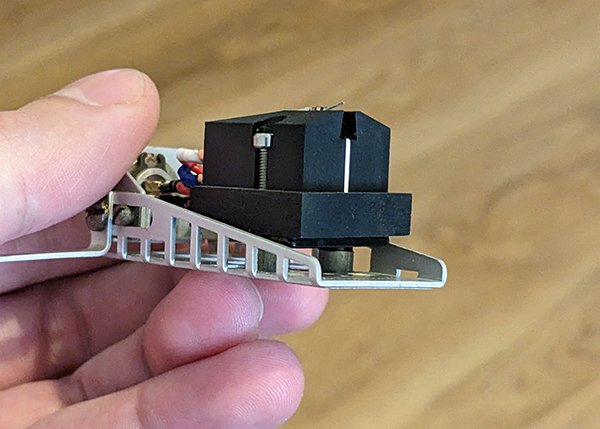 "Fast-forward a few more years, and I became curious about the idler-drive sound. Some forum users swear by it, and want nothing else. How can such a rudimentary system have any sonic advantages over the more common belt-drives and direct-drives? I saw an ugly old Lenco L78 for sale in very good shape, a one-owner machine that had never been restored. The tonearm alone makes it look a bit ridiculous. But I was curious, so I bought it, and had it restored by a professional technician — new v-blocks, grease, tuning, etc. When I got it back up and running, I played a record with the cartridge it came with, a Stanton 681EE.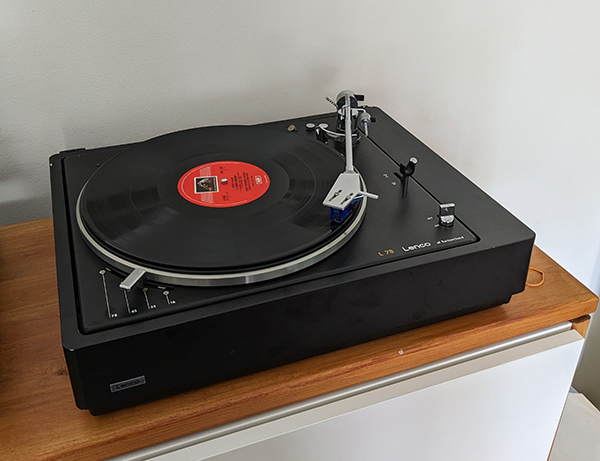 "I couldn't believe what I was hearing. The sonic difference was not subtle. So much was gained in terms of micro and macro dynamics compared to your average belt-drive, and it made every other turntable sound dull in comparison. This thing rocks! I quickly mounted my favorite cartridge on it, a Benz Micro Ace SH. I can't promise that rumble and groove noise won't be a problem with low-output MCs, but with high-output cartridges, any additional noise floor that might be present compared to other drive systems is completely irrelevant compared to the added dynamics. I am now converted to the cult. I'm a big fan of the little Lenco.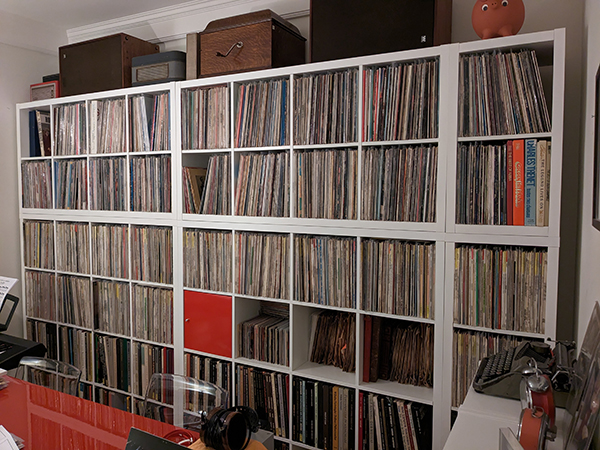 I have now close to 4,000 records, and I still feel that same feeling every time I get to play a new album I haven't heard before. I'm glad that records are back, because that means more and more people hopefully get to live that experience like I do."
Diogo concluded his submission with this nice note: "Thank you for giving me this opportunity to share my little story." Our pleasure, Diogo — thank you for sharing it with us, and we hope your system and your narrative collectively inspire other members of the AP faithful to share their own 'tables and journeys in kind for many future Table Toppers installments to come.
It's never too late to participate! To be a part of Table Toppers yourself, all you have to do is go here to find out all the necessary steps for submitting your system, and then email it all to us at this e-address: apsubmissions@avtechmediausa.com, with "Table Toppers Submission" as your subject line. Happy spinning!
<!- ------------------------------------>