Tokyo International Audio Show 2017 Day 1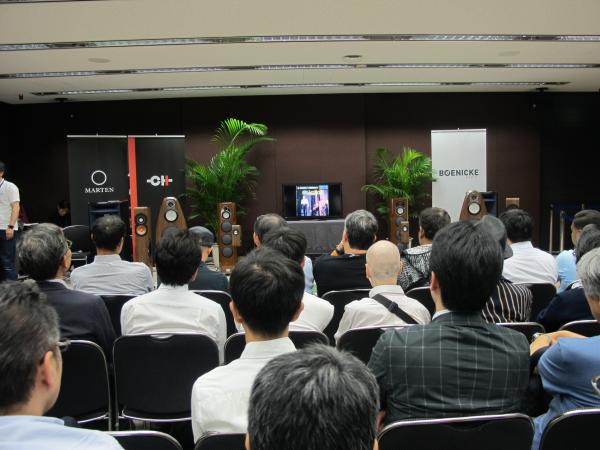 The 2017 Tokyo International Audio Show is a relatively small show, taking place in a rather large convention center. In that it somewhat like the Bangkok show we recently covered, but it is considerably larger and has greater industry participation.
Like the Bangkok show, this one seems to have attracted high quality, "qualified" attendees there to buy not kick tires. However, the attendance is considerably larger here than in Bangkok.
Covering a show like this is difficult because of language and pricing issues, so this is more of a general overview unless there are new products worth singling out, such as the new Air Force V turntable, which for approximately $15,000 offers an air bearing platter and vacuum hold down. It can also hold four arms. That's news. Why not Air Force IV? According to TechDAS's Hideo Nishikawa, in Japan, 4 is a "bad number". I asked him if on the golf course when someone hits a bad ball they yell "FIVE!"
Also new here is an attractive new Air-Tight preamp with built in moving magnet phono preamp and two inputs. ELAC showed the stand-mount version of the exciting new speaker show in floor mount edition at last spring's Los Angeles show.
So enjoy the video but don't expect much in the way of specifics. AnalogPlanet editor Michael Fremer conducted a daily hour-long record playing event that included a skilled translator. He brought new and vintage records from home.
Day one's event was well attended with most people raising a hand when I asked how many had a turntable. Audio journalist Ken Kessler also presented a program of LPs, all chosen from the Mobile Fidelity catalog.
For whatever reason of reasons the large room produced among the best sound I've ever heard at a hi-fi show. The system we used consisted of an Air Force One Premium turntable fitted with a TechDAS cartridge on a Swedish Analog Technologies tone arm. The electronics were from Constellation and the speakers were from Vivid Audio. Yes you'd expect a large, expensive system like this to sound good but that's not usually the case at a show. In this case the sound was insanely good! One of the records I played was a British Decca sampler originally produced for a 1965 U.K. hi-fi show. I guarantee you the people at that show did not hear this record as it was presented yesterday.
The system on the other side of the Stella room, which sounded equally good, included an SME 30/12 turntable, Marten Audio Coltrane IIIs (which I reviewed in Stereophile) and CH Precision electronics.
<!- ------------------------------------>