Unauthorized Eno Documentary Has Many Interesting Moments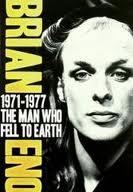 Unauthorized bio-docs are among the most difficult to pull off. You don't have the cooperation of the subject and that usually keeps those close away as well. Yet, despite some glaring defects, this two and a half hour look at Mr. Eno's incredibly productive period between 1971 and 1977 inexplicably titled "The Man Who Fell To Earth" offers many worthwhile moments.
It begins with a Eno's work with Roxy Music, showing some live footage from a German TV show that's available in its entirety on another DVD and moves on to Eno's solo career, first with his album Here Come The Warm Jets apparently a reference to a urination fetish, then to the still astonishing Taking Tiger Mountain By Strategy, then on to Another Green World and Before And After Science. The film maker rightly compares these four albums to The Beatles period between Help and Sgt. Pepper's Lonely Heart's Club Band.
More interesting is a discussion of Eno's art school days interest in the minimalist music of Steve Reich, John Cage, Terry Riley and others that threads through all of his musical output. Without the cooperation of Eno and no input and/or access to key collaborators like Bryan Ferry, Phil Manzanera and others, the producers were left to enlist rock critics, a Roxy Music expert and an Eno biographer among others.
The producer managed to get the "dean" of American rock critics Robert Christgau and more importantly bassist and Band X member Percy Jones, whose work on Another Green World remains singular. Jones explains how the record was made. Also interviewed is guitarist Chris Spedding, 801's Lloyd Watson and The Winkies' bassist Brian Turrington who played on Taking Tiger Mountain.... Turrington explains how he accidentally came to play piano on the title track.
Most fascinating, though, is the interview with Hans Joachim Roedelius who recalls Eno's time visiting them in Forst, Germany in 1976 and their later collaboration in Conny Plank's studio. Eno's long interest in minimalist music and his coining of the term "ambient music" also gets a great deal of play. The bio also covers Eno's work with David Bowie.
There's precious little of Eno himself except for a short interview taken from another source and many photos plus some footage of him messing around with a pair of Revox A-77s. You're not watching this for the music, which you're much better off listening to on record, and some of the archival footage tacked on top of the music is pointless and in some cases, like the housing project demolition footage, represents ridiculous rip-offs of Philip Glass's "Koyaanisqatsi".
But that aside, for those interested in the Eno timeline and some of the behind the scenes details along with some valuable insight and perspective on Brian Eno during this particularly creative time in the man's life, this unauthorized bio-pic will definitely hold your interest.
<!- ------------------------------------>