Vinyl Reports: Burial + Four Tet + Thom Yorke, James Ferraro, Yung Lean, & Actress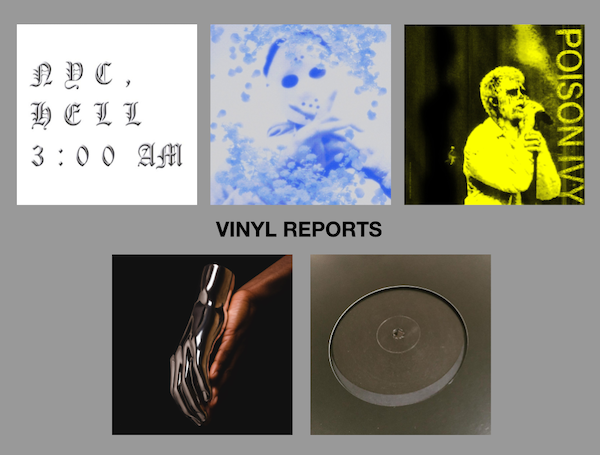 (Vinyl Reports is an AnalogPlanet feature aiming to create a definitive guide to vinyl LPs. Here, we talk about sound quality, LP packaging, music, and the overarching vinyl experience.)
Burial + Four Tet + Thom Yorke - "Her Revolution"/"His Rope"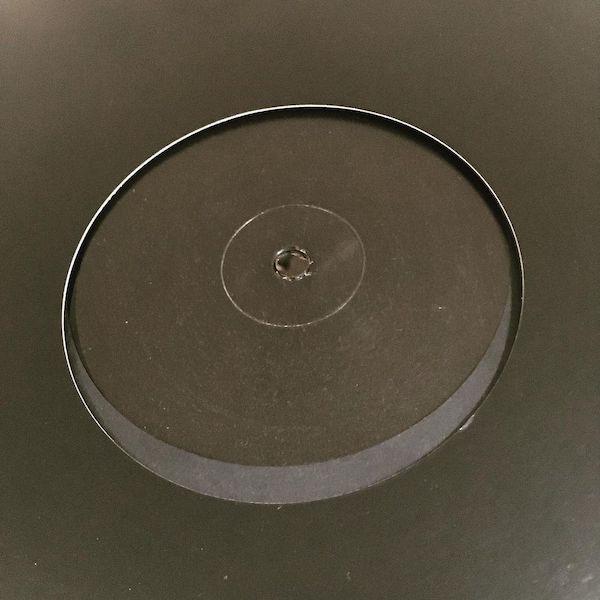 XL Recordings XL1106T 12"
Produced by: Burial, Four Tet, and Thom Yorke
Engineered by: Burial, Four Tet, and Thom Yorke
Mixed by: Burial and Four Tet
Mastered by: Matt Colton at Metropolis
Music: 8
Sound: 8
In December 2020, Burial (William Bevan), Four Tet (Kieran Hebden), and Thom Yorke surprise-released "Her Revolution"/"His Rope," a black label 12" single initially limited to a couple London stores. The three artists' second collaboration, it's a dark blend of Burial's gloomy soundscapes, Four Tet's melodic embellishments, and Thom Yorke's signature falsetto. "Her Revolution" has Bevan's sweeping, reverb-drenched atmospheres backing Yorke's layered vocals, the latter's words after many listens remaining oblique. "His Rope" sonically recalls Yorke's 2019 solo LP ANIMA, though with arguably even darker lyrics ("Here's the tiny piece of you I save/Just enough rope, just enough rope/Sex and death, total self-destruction/Turn your body over to me"). Don't approach this release expecting any of the individual artists' styles; "Her Revolution"/"His Rope" is gloomier than a Four Tet record, has abnormally conventional rhythms for Burial, and is more dense than a Thom Yorke solo production.
I found a copy at Moog's Asheville factory store (yes, they stock records too) for $12 (the record is now available worldwide, and the songs are also available digitally). Packaged in a blank black die-cut sleeve, outside of the runout etchings the record, mastered by Matt Colton at Metropolis and pressed at Optimal, holds no identification. The 45rpm mastering is transparent, the vinyl is quiet enough (though a bit of surface noise only helps a Burial soundscape), and the nondescript all-black presentation fits the record.
James Ferraro - NYC, Hell 3:00 AM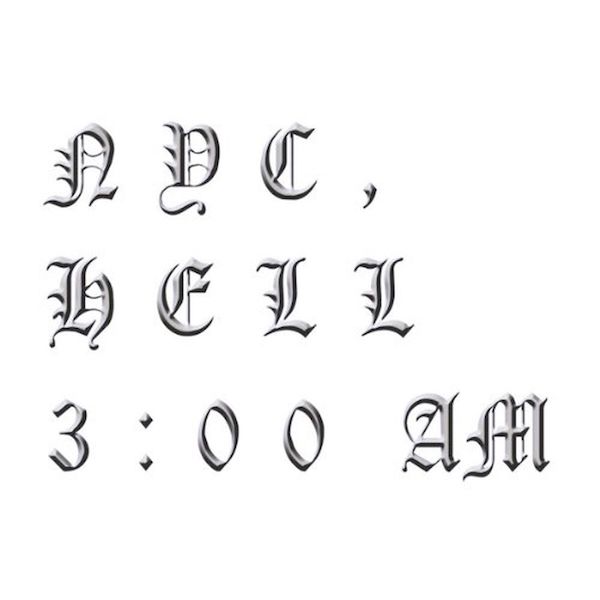 Hippos In Tanks HIT026 clear vinyl 2LP
Produced by: James Ferraro
Engineered by: Uncredited (James Ferraro?)
Mixed by: Uncredited (James Ferraro?)
Mastered by: Uncredited (digital), GZ cutting engineer (vinyl)
Music: 8
Sound: 8
By 2013, musician and contemporary artist James Ferraro seminally influenced vaporwave and hypnagogic pop, invented the "utopian virtual" genre, and under several monikers released dozens of albums. That year's NYC, Hell 3:00 AM, released on the Hippos In Tanks label, veered away from his previous commentary on consumerism in favor of distressing nocturnal soundscapes. A "surreal psychological sculpture of American decay and confusion," NYC, Hell 3:00 AM alternates between autocrooned R&B songs, bizarre text-to-speech snippets, hellish ambient pieces, and field recordings in a singular hour-long work only loosely categorized as post-industrial alternative R&B. Listening to it feels more visceral than analytical; its endless reverberant spaces deeply unsettle and induce panic. Ferraro's production features distorted electronic drums and synths that are at turns menacing, glitchy, and sweeping, often looped to anxious redundancy. His soulful yet often unintelligible autotuned vocals are eerily detached from the production ("Fake Pain," "Cheek Bones"), and a few tracks ("City Smells," "Stuck 2," "N****s") abruptly shift into entirely different ideas. Dark ambient instrumentals (including "QR JR" and "Vanity") plus random text-to-speech statements (among them "Sex tape pixelation," "Rolling debris/AT&T," "Toyota," and "Private non-commercial use/Warning/Posh, sex, and gloss/Posh, sex, botox") only add to Ferraro's disturbing odyssey, a work unlike anything else. (For more context about his inspirations and intentions here, I suggest reading this 2013 Stereogum profile.)
When Hippos In Tanks founder Barron Machat died in a 2015 car crash, the label's entire catalog went out of print. While some of those records aren't terribly expensive, NYC Hell, 3:00 AM is incredibly rare; copies, if you can even find them, range from $40-70. I shockingly stumbled upon a used copy in an Asheville record store for $40, and immediately snatched it in disbelief. The double LP clear vinyl, cut and pressed at GZ, sounds like the atmospheric but aesthetically mid-fi digital stream. The capacity jacket (featuring the alternate artwork shown above) is thick, but the tracklist insert doesn't say what songs are on which side. If you can find a copy (at the time of writing, there are no copies available on Discogs), definitely pick it up, but a focused hunt for the NYC Hell, 3:00 AM vinyl will most likely result in frustration. (There are a couple easier to find CD editions though, and it's one of Ferraro's few albums currently streaming.)
Yung Lean - Frost God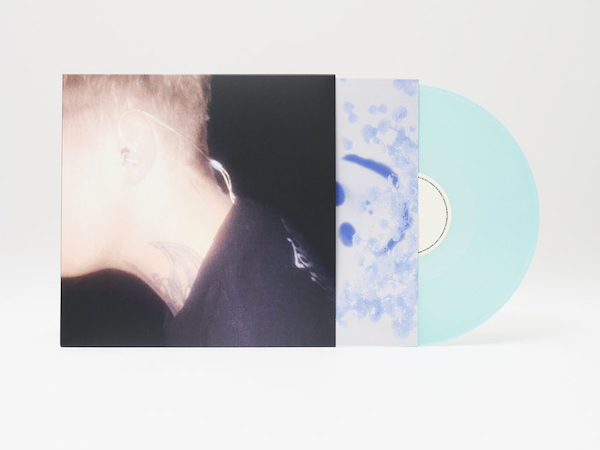 YEAR0001 YR0022 transparent blue colored vinyl 180g LP
Produced by: Various
Engineered by: Uncredited (probably the associated producers)
Mixed by: Uncredited
Mastered by: Uncredited (digital), GZ cutting engineer (vinyl)
Music: 7
Sound: 6
Following Warlord's vivid snapshot of deteriorating mental health, Swedish cloud rap legend Yung Lean's December 2016 mixtape Frost God transitions from the former LP's frightening excess to his 2017 album Stranger's emotional honesty. Most of Frost God is bombastic, braggadocious luxury rap, though its Bladee-featuring highlight "Hennessy & Sailor Moon" is beautifully dreamlike and melancholic.
YEAR0001 didn't previously release Frost God physically; only the somewhat-dubious Ormolykca did a limited, difficult-to-obtain cassette. While nice packaging and better sound would've made up for lost time, I doubt that anyone proofread the jacket or listened to the test pressings. The front and back covers duplicate the same low-res photo of Yung Lean, with the tracklist (featuring at least one typo) set in a generic sans serif font. There are no technical credits, no A&R credits, not even a design/photography credit; the jacket only lists the producers. The inner sleeve has the (much better) digital album art on both sides, which given the adequate space and lack of printed information infuriates. Despite the mixtape merely lasting 25 minutes, the 180g transparent blue vinyl LP is cut and pressed at GZ at 33rpm. The cut isn't terribly loud and the bass lacks necessary punch. Further, the jacket is a standard GZ direct-to-board foldover, which is especially susceptible to creases and seam splits. This, for $24?
Yung Lean - Poison Ivy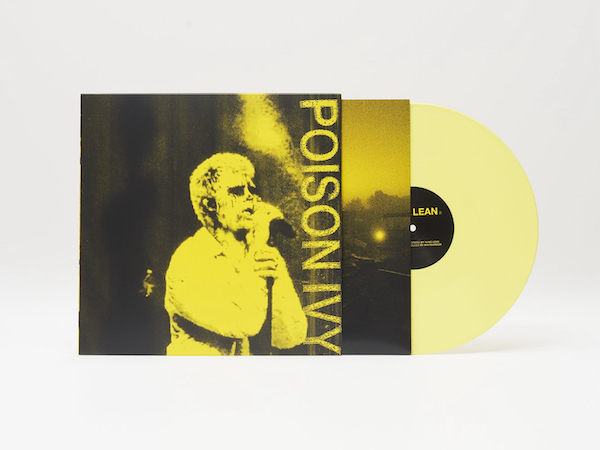 YEAR0001 YR0065 yellow vinyl 180g LP
Produced by: Whitearmor
Engineered by: Uncredited (Whitearmor?)
Mixed by: Uncredited
Mastered by: Robin Schmidt at 24-96 Mastering (digital), GZ cutting engineer (vinyl)
Music: 7
Sound: 6
Previously only on cassette, Jonatan Leandoer's 2018 Yung Lean mixtape Poison Ivy captures an awkward, wandering transition. Yung Lean's lyrics are as brilliantly hedonistic as one expects, and producer Whitearmor's instrumentals build on his then-new ambient trap style, yet Poison Ivy lacks a firm sense of direction; it points to his 2020 LP Starz' (reviewed extensively on AnalogPlanet) sophistication, but acts merely as background vibe music (however good that background vibe music is).
This Poison Ivy pressing is worse than the Frost God disc. Cut and pressed at GZ at 33rpm, the 180g yellow vinyl disc (clocking in at 23 minutes) is noisy with a similar bass rolloff and muffled peaks. While the design (printed on flimsy paper stock) is more thoughtful, there are still no credits (the mastering credit is from YEAR0001's website) and no printed catalogue number.
As vinyl sales continually rise, buyers (especially younger, less-experienced consumers) expect high-quality products. Major labels and many indie labels leveled up their quality, but YEAR0001 (a fairly well-known and passionately followed indie label, mind you) somehow finds it appropriate to charge $24 for sonically mediocre vinyl with cheap jackets and poor design (some of their other vinyl releases are phenomenally packaged, but sound as if no one QC'd test pressings). You can't order 180g vinyl and pretend your work is done; unlike vinyl weight and color, good mastering and packaging is essential. In an age where Discogs commenters complain about minute details (lack of gatefold jackets, small seam splits from shipping, missing download codes, etc), $24 bare bones single LP vinyl releases (especially for short albums/mixtapes) are unacceptable.
Actress - AZD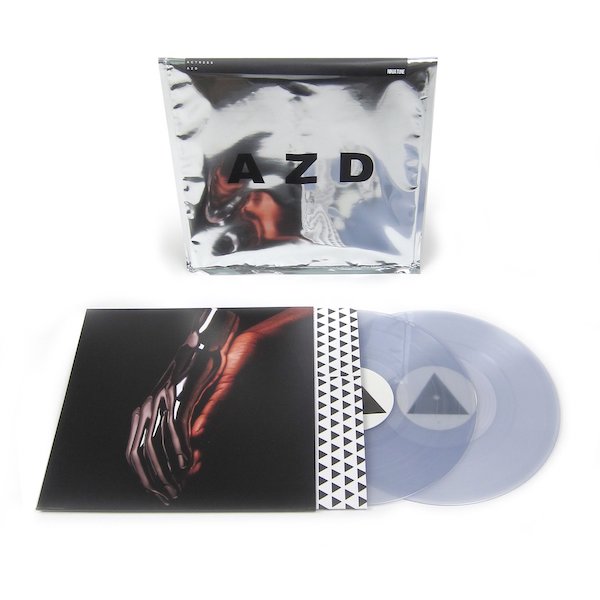 Ninja Tune ZEN 241X limited edition clear vinyl 180g 2LP
Produced by: Darren J. Cunningham
Engineered by: Uncredited (Darren J. Cunningham?)
Mixed by: Uncredited (Darren J. Cunningham?)
Mastered by: Noel Summerville
Music: 7
Sound: 8
With nearly two decades in electronic music (and an earlier football career), British producer Actress (Darren J. Cunningham), for as lauded as his work is, remains mysterious; sure, most electronic producers maintain their privacy, but despite Cunningham's occasional interviews, his albums' concepts remain incredibly vague. 2017's AZD, an album conceptualized around chrome, blends high-level avant-garde ideas with accessible microhouse and techno. While not immediately gripping, AZD reveals its layers upon multiple listens, among them the synthetic distortion blasts of "DANCING IN THE SMOKE," "BLUE WINDOW"'s bouncing melodies, the glitch freakouts of "FAURE IN CHROME, and the ambient backgrounds on "THERE'S AN ANGEL IN THE SHOWER." I blind-bought AZD at the Moog store based on its packaging; to those not as well-versed in electronic music it's not an essential listen, but for a particular detail- and texture-focused audience it fascinates.
The special edition cloudy clear vinyl, available cheaply on Discogs, is exquisitely packaged and pressed. Sealed in a screen-printed chrome foil bag, a widespine jacket houses the LPs, which themselves are in super thick printed inner sleeves. The 33rpm double LP, mastered by Noel Summerville, sounds atmospheric and well-balanced, and the MPO-pressed 180g discs are excellent.
(Malachi Lui is an AnalogPlanet contributing editor, music obsessive, art enthusiast, and avid record collector. Follow him on Twitter: @MalachiLui and Instagram: @malachi__lui)
<!- ------------------------------------>