Vinyl Reports: Don't Believe the Hype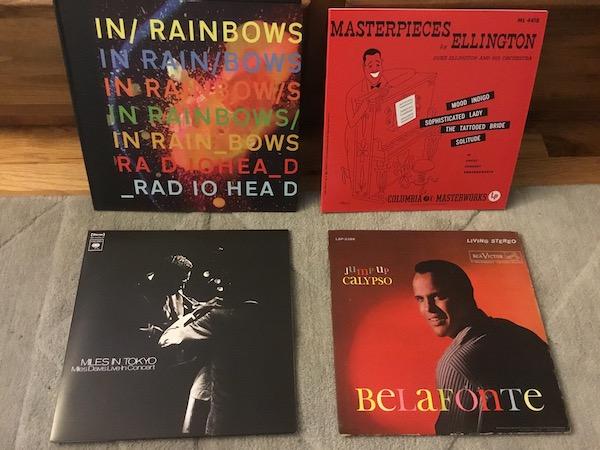 ("Hype: to promote or publicize something intensively, often exaggerating its importance or benefits." We all succumb to hype, either from others' high recommendations or our own excitement and anticipation. Once something falls short of those expectations, we rush to denounce it as "overhyped;" not necessarily bad, but underwhelming for however much we expect. Today's Vinyl Reports feature centers around such overhyped records.)
Miles Davis - Miles In Tokyo: Miles Davis Live In Concert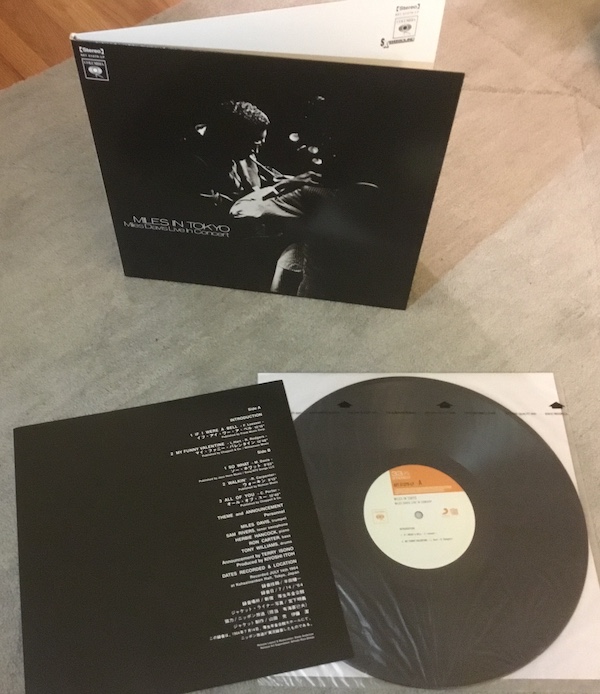 Get On Down/Sony GET-51279 LP (RSD Black Friday 2019 limited black vinyl - red vinyl now widely available)
Produced by: Kiyoshi Itoh (original recordings), Slade Anderson (reissue)
Engineered by: Unknown
Mixed by: Unknown
Mastered by: Mark Wilder (digital - unlisted), Nashville Record Productions engineer (vinyl)
Music: 8
Sound: 6
At the top of my RSD Black Friday 2019 "priorities list" was the new Miles In Tokyo reissue, advertised as the LP's first North American vinyl release. Recorded on July 14, 1964 at Tokyo's Kohseinenken Hall and originally released in 1969, this live LP documents the short-lived lineup of Miles Davis, Sam Rivers (on tenor), Herbie Hancock, Ron Carter, and Tony Williams. Davis soon after kicked Rivers out supposedly due to an understandable stylistic clash, but once I saw the lineup, I knew I had to own this record. Miles In Tokyo is a well-recorded selection - mostly of standards, plus a faster take on "So What." Though not top-tier Miles, it's fascinating to hear this transitional period, right before the Second Great Quintet.
The reissue's sound quality, however, immensely disappoints. Get On Down, a label established in 2010, specializes in licensing hip-hop and R&B titles, occasionally dipping their toes into jazz and blues. Their reissues garner many negative reviews, but I bought their Miles In Tokyo anyway. Once home from RSD Black Friday (for which I queued early outside Music Millennium), I excitedly spun the record only to hear that it's CD-sourced. Mark Wilder's 2005 CD mastering (which I'm 99.9% sure is the source) is good for a CD, but on vinyl sounds flat and blurry; the cymbals sound almost like white noise. The album's audiophile potential is sensed but Get On Down's pressing doesn't get you "there." Fortunately, the (seemingly) United pressing is good, and the jacket an acceptable attempt at customer deception (the photo scans are grainy, but there's an OBI strip, so it must be good!). Rather than pay $27.99 for this lazy reissue, learn from my error and save your money for a Japanese original.
Duke Ellington & His Orchestra - Masterpieces By Ellington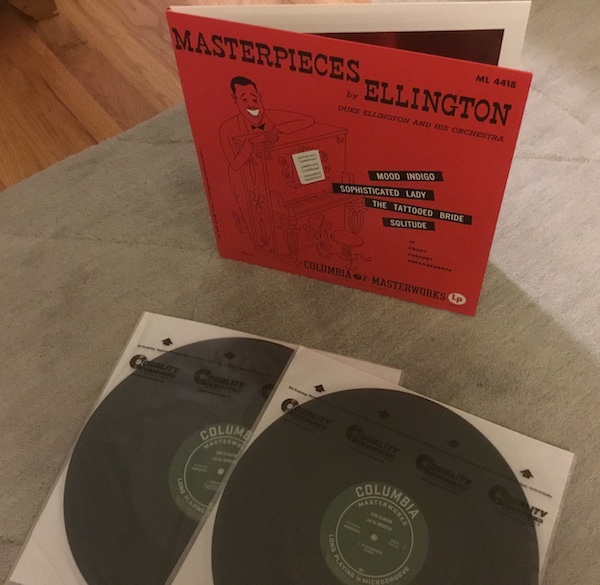 Analogue Productions/Columbia ML/APJ 4418 2x45rpm 200g LP
Produced by: N/A
Engineered by: Fred Plaut and Harold Chapman
Mixed by: Fred Plaut and Harold Chapman
Mastered by: Ryan K Smith at Sterling Sound
Music: 8
Sound: 8
Here's a second opinion on the much-lauded Analogue Productions Masterpieces By Ellington: because of its immeasurable audiophile hype (rapturous applause at worldwide listening events!), I picked it up, expecting an 11/10 sounding record. To me, it underwhelms. Recorded in 1951 on one of the first (obviously mono) Ampex 200 tape decks, the sound is shockingly great for its time, with solid imaging and lush texture. However, the instrumental density buries a few things and the bass is occasionally ill-defined. Amazing for 1951 and that time's associated sonic obstacles? Yes. But is it, as some claim, one of the best sounding recordings ever? No. Still, I can see why many love this album, and for them this pressing is highly recommended.
Radiohead - In Rainbows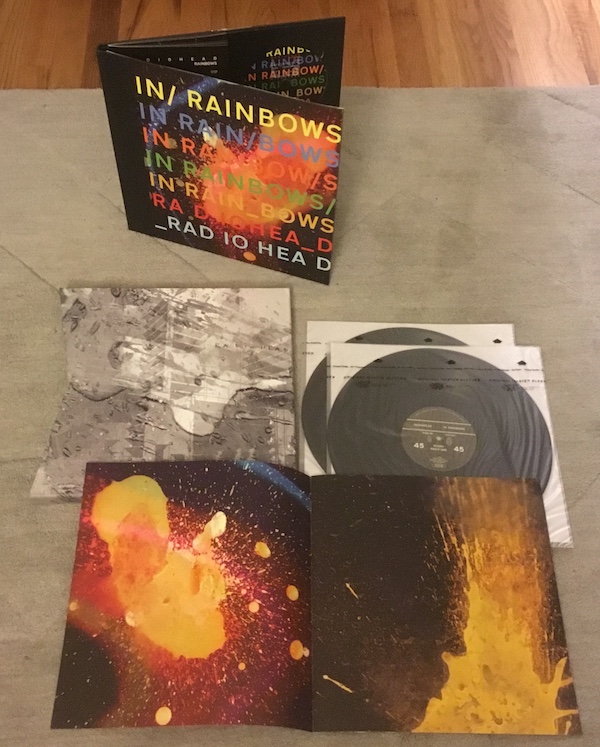 _Xurbia _Xendless Limited _X_X001 special edition discbox (2x45rpm LP, main album CD, bonus tracks CD, and art booklet)
Produced by: Nigel Godrich
Engineered by: Nigel Godrich, Richard Woodcraft, Hugo Nicolson, and Dan Grech-Marguerat
Mixed by: Nigel Godrich
Mastered by: Bob Ludwig (digital), unknown (vinyl)
Music: 10
Sound: 9
How long have you waited to buy a record? For nearly three years, I sought the special discbox edition of In Rainbows, culminating in a New Year's Eve Discogs order. What a perfect way to end a decade!
In about late 2016, I started exploring Radiohead's discography. A Moon Shaped Pool dropped a few months prior, and was all the critical rage. I borrowed an AMSP CD from my then-local NJ library. Mind fucking blown. I vividly remember "Daydreaming"'s bass testing the limits of my Panasonic home theater system's subwoofer, and basking in that album following stressful 5th grade days. In October 2016, my grandma came to visit from the Midwest and as a gift took me record shopping (really one of the only gift types that I've actually enjoyed since I started collecting). I tried to buy the A Moon Shaped Pool double LP (shoutout Scotti's Record Shop in Summit, NJ; to me that store occupies a special place), but my mom snatched it away. Turns out, my parents already got me the beautiful special edition AMSP for Christmas that year.
After I took in AMSP, I went through most other Radiohead albums. I especially loved Kid A and In Rainbows, and for the latter wanted the discbox. Housed in a greyscale slipcase, the deluxe discbox consists of the double 45rpm main album LP, its CD equivalent, an outtakes CD, and two art booklets. The AMSP special edition impressed me so much that of course I needed the In Rainbows set. The barrier? Prices at the time hovered at $150 for a near mint set, a price likely trying to capitalize on new AMSP fans and then out of my reach. My mom's friend (who also obsessively collects records) said the set wasn't worth that much, yet I started to save up anyway. After a few weeks, I decided to first let prices cool down. That took 32 months.
Around 4:25 PM each day, I get the automated Discogs wantlist emails, alerting me to new listings of my most desired LPs. I recently discontinued those to avoid Record Collector Wallet Drain Syndrome, but the email came on New Year's Eve, showing a $100 listing for a NM In Rainbows discbox from LA store Freakbeat Records. I couldn't have completed the purchase faster. It arrived 10 days later, with some seam splits on the tip-on gatefold (which inside the slipcase holds the contents); Freakbeat quickly and kindly resolved the issue. The adventure finally concluded.
Yet, was it worth it? The LPs' sound quality is its most often cited outstanding characteristic, with many discbox owners highlighting it as among the top few "demo discs" in their somewhat large collections. While the sound quality is very good, it's still not absolutely amazing. In Rainbows is a dry recording without the most dynamic mastering; while some elements stand out in certain song sections, I didn't find it to be the most engaging audiophile listening experience. Despite those issues, the double 45 sounds very good and is likely the best In Rainbows out there, considering fans now possess the chopped master tape. That leaves me wondering, though: how is Radiohead going to sell a future 20th anniversary In Rainbows deluxe box? By remixing the album! Only 7 more years of waiting!
The packaging, while nice, isn't as extravagant as it seems online. With the slipcase attached, the set measures roughly 13" square. The inner cover, an oversized tip-on gatefold, holds the LPs in each pocket with inside compartments for the brief 11" square booklet, the two CDs, and the glued-in half-size lyrics booklet. The manufacture of everything (Holland's Record Industry pressed the LPs, the CDs were made somewhere in Europe, and the UK's Clear Sound + Vision handled the packaging) is still top-notch and when taken care of will outlive many of us. All of the [Stanley] Donwood and Tchock [Thom Yorke] art (in the printed elements as well as the enhanced bonus CD) well serves the album though doesn't add anything profound. Overall, the discbox provides enough value for $100, but don't pay more than that.
Harry Belafonte - Jump Up Calypso
RCA Living Stereo 2S/1S LP
Produced by: Bob Bollard
Engineered by: Bob Simpson
Mixed by: Unknown
Mastered by: Unknown
Music: 1
Sound: 5
While rummaging through a Goodwill (during the AnalogPlanet Portland 2019 "convention"), MF and I found a 2S/1S pressing of Harry Belafonte's Jump Up Calypso. All I knew about Belafonte was that he made cheesy 50's music that audiophiles seem to love, but Michael generously bought me the $2-3 record. Later that night, we hosted a neighbor, a digital audiophile who years ago perhaps mistakenly dumped his vinyl. "Play that Belafonte record," Michael directed me. I was indifferent to it: after all, it's music from before my time that many of that time would claim I don't "get."
What I do understand, though, is the distinction between good and bad music. A couple months ago, by myself I finally tried listening to Jump Up Calypso. A professional writer's job is to put their thoughts into words, but words do little to describe how appalled I was that people actually tolerate this music, much less listen for pleasure. What record companies formulated in the 50's and pre-Beatles 60's to be as inoffensive as possible is now offensive in how inoffensive it is. It's not just the Cornballs & Cheeseballs Factory having an "everything must go" closing sale; it's the Cornballs & Cheeseballs Factory exploding into a miles-wide mess. If an artist today submitted to their record label anything close in quality to this album, the label would put them in a mental institution (which is saying a lot considering the industry's disregard for artists' wellbeing). And the audiophile appeal of Belafonte? The record didn't even sound that good - even by 1961 standards, it's drowned out in reverb, with no horn detail or bass articulation.
Is it even fair to judge such an old, dated album by today's musical and sonic standards? Considering that we now have instant access to that era's music (of which I've immersed myself in specific, less commercially successful genres), it is. And even through that time period's lens, it still sucks. The only fair way to critique music is to find what it tries to do, and what it actually does. What does Jump Up Calypso try to do? Nothing. What does it actually do? Absolutely nothing.
With Mikey's understanding, I tried to sell this LP to Music Millennium, along with a box full of my unwanted records and CDs. Understandably, they kindly rejected this one. Back to Goodwill!
(Malachi Lui is an AnalogPlanet contributing editor, record collector, music lover, and highly opinionated sneaker enthusiast. Follow him on twitter: @MalachiLui.)
<!- ------------------------------------>