Vinyl Reports: Old & New, Good & Bad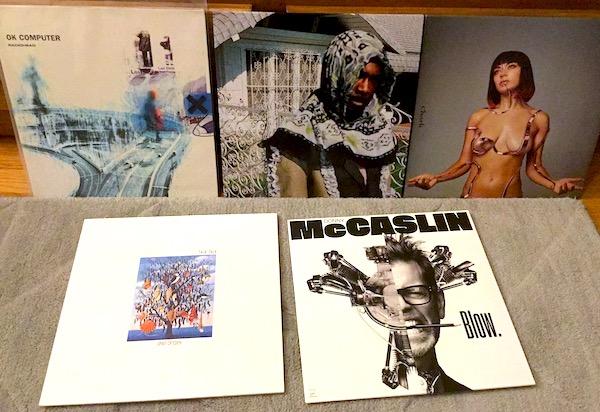 (Vinyl Reports is a new AnalogPlanet feature intended to create a definitive guide to vinyl LPs. Here, we'll provide sound quality, LP packaging, notes about the overarching vinyl experience, and sometimes music reviews. Today's vague theme is what this recurring feature is generally about: records new and old, good and bad. Let the fun begin…)
Charli XCX - Charli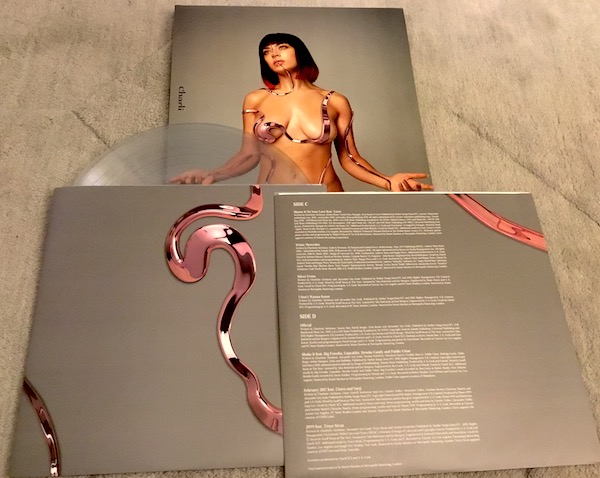 Asylum 0190295409579 double 45rpm clear vinyl LP
Produced by: A.G. Cook and Charli XCX (executive)
Engineered by: Various
Mixed by: Various
Mastered by: Stuart Hawkes (digital and vinyl)
Music: 9
Sound: 9
Since I already reviewed the music, it doesn't need any further explanation (other than that I still think it's better than half of The Who's discography combined). Shortly after that initial review, I headed to Music Millennium (where Charli did a signing in October that I skipped - instead I went to the record store that Stereolab used to frequent on tour) and bought the double 45 clear vinyl set. Is it, as the sticker proclaims, "The Best Album You Will Ever Buy?" It's certainly up there, in the sound department especially. Cut by Stuart Hawkes at Metropolis at 45rpm and pressed by Optimal on clear vinyl, it's the best $31.99 I've spent on vinyl in a long time. This LP explodes with precise imaging, unrivaled punchiness, black backgrounds, and dynamics. I wouldn't be surprised if Hawkes, who mastered the digital files as well, prepared a separate vinyl master; the double LP is without question less fatiguing and more detailed than the files. Sometime in the future, it'll end up on someone's "records to die for" type list, except now you don't have to die for this hifi demo-grade album.
JPEGMAFIA - All My Heroes Are Cornballs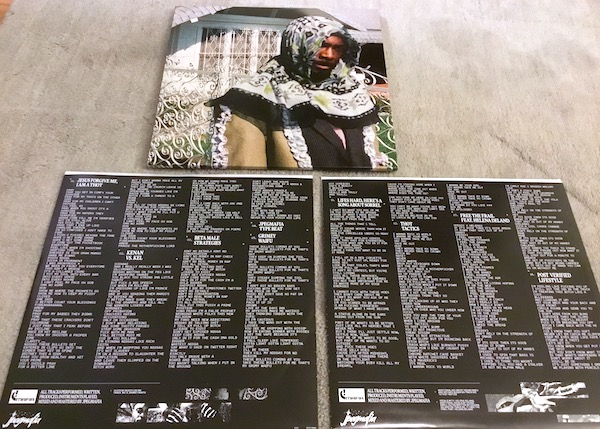 EQT/Universal 2812118685 double LP
Produced by: JPEGMAFIA
Engineered by: JPEGMAFIA
Mixed by: JPEGMAFIA
Mastered by: JPEGMAFIA (digital), unknown GZ cutting engineer (vinyl)
Music: 9
Sound: 8
I already reviewed the music: immensely "disappointing", strong 9/10, wouldn't bother listening again, JPEGMAFIA's best album, and one of the best records of the artistically amazing 2010's. The vinyl edition? For $18.99 retail, you get two high-quality Precision-pressed, GZ-cut LPs (despite Cornballs' 46-minute runtime, they likely split it over 2 discs to cut louder) with printed inner sleeves in a capacity jacket. I find that GZ cuts pressed at Toronto's Precision facility have more inner detail and a cleaner, airier top end than the Czech-pressed in-house cuts. While the sound here isn't remarkable, it's still very good, and most notably easier on the ears than the sibilant-heavy digital file. The capacity jacket is too loose, but it's better than GZ's unpleasantly tight gatefolds. But for the price, I can't complain much.
Donny McCaslin - Blow
Produced by: Steve Wall
Engineered by: Steve Wall and Lily Wen
Mixed by: Steve Wall
Mastered by: Joe Lambert (digital), unknown GZ cutting engineer (vinyl)
Motema Music MTM0287 clear vinyl LP
Music: 5
Sound: 7
I recently picked this up on a whim at Music Millennium. According to the hype sticker, McCaslin, the jazz saxophonist/flautist whose group backed David Bowie on Blackstar, made what NPR called an "exhilarating" art rock LP. Do I trust NPR's music opinions? Rarely, since our preferences mostly differ. Still, Blow seemed like it could be, at the very least, interesting. I took the $26.99 gamble and boarded the bus home.
What was I expecting? Obviously, nothing like Blackstar; that's an untouchable masterpiece that only Bowie could conceive. What I did want to hear was, well, "exhilarating art rock." Instead what's heard is Donny McCaslin being sidelined on his own album, with vocalists/lyricists Ryan Dahle and Jeff Taylor boxing McCaslin's group into a space that stifles their musical voices. And save for the Gail Ann Dorsey-sung "Eye Of The Beholder," none of the songs were memorable or interesting; it's "art rock" without artsiness. (Also note that McCaslin's typical jazz material never impressed me.) After two listens, I've decided to throw this into the sell pile (however, the record store that gets it will have a hard time selling it without that "exhilarating art rock" sticker).
The vinyl edition, cut at GZ and pressed on clear vinyl, comes with a printed inner sleeve, a small poster with artwork and lyrics, and a jacket that's way too flimsy. As with nearly all GZ cuts, it sounds almost exactly like an unremarkable digital file, albeit an acceptable one. A prime example of a reviewer unintentionally drowning their $26.99 so you don't have to.
Talk Talk - Spirit Of Eden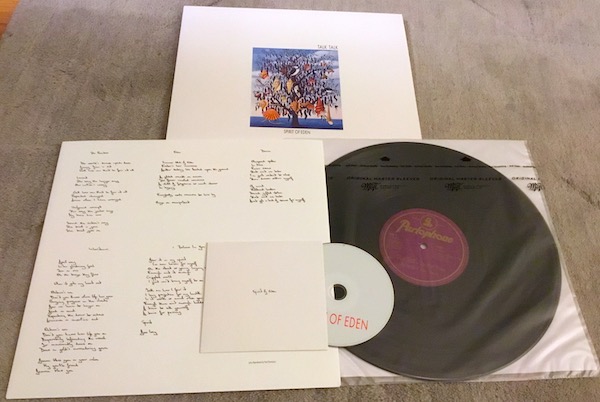 Parlophone PCSDX 105 (2012 180g vinyl reissue with audio DVD)
Produced by: Tim Friese-Greene
Engineered by: Phill Brown
Mixed by: Unknown
Mastered by: Unknown
Music: 9
Sound: 7
A friend recommended this classic, so I picked up the 2012 reissue. It's cut and pressed on 180g vinyl at Optimal, comes with an audio-only DVD with the 96/24 album, and is housed in a foldover jacket with a printed inner sleeve. For $25, the specs aren't bad. However, the sound is flat, one-dimensional, and spatially blurred. After one listen I'm in no position to comment on the music (other than that I liked it), but I doubt that flat, one-dimensional, and spatially blurred is how Spirit Of Eden is meant to sound. Once I pick up an original near mint UK pressing, this reissue is headed to the sell pile.
Radiohead - OK Computer
2008 2LP 180g repress (Parlophone/EMI 7243 8 55229 1 8)
Produced by: Nigel Godrich
Engineered by: Nigel Godrich
Mixed by: Nigel Godrich
Mastered by: Chris "King Fader" Blair
Music: 10
Sound: 10
Very rarely does an LP's sound quality change my opinion on the music itself, but here we are. I recently picked up the 2008 European Parlophone repress of OK Computer, using the original UK metal parts, and experienced a revelatory listen. My other copy is the 2017 OKNOTOK 1997-2017 super deluxe box set version (with a demos cassette, bonus LP, and several art books), digitally remastered by Bob Ludwig at 96/24, cut by Barry Grint at Alchemy Mastering, and pressed at Optimal. It sounds good… until you hear Chris Blair's original mastering. The older UK/EU pressing reveals the album's every last hidden detail, with absolutely perfect texture and timbre (most notably on Phil Selway's "The Tourist" drums), black backgrounds, and space. In comparison, the 2017 remaster is a muddy, dried up mess (although to be fair, Ludwig's goal was to be more accurate to the tape). If you have a strong distaste for the harder British top end EQ, you might enjoy Ludwig's traditionally American-sounding master but the original cut is simply better. Because of the stunning sound, I found myself more easily appreciating the musical intricacies of OK Computer; in greater clarity I also heard the imperfections, such as the glaringly obvious tape splice in "Karma Police" (right before the "for a minute there, I lost myself" part).
Doesn't this go against most of my anti-traditional audiophile rants? Actually, not really. I rail against the audiophiles who listen to music solely because it sounds good, who avoid modern masterpieces because they're "too compressed/brickwalled" (a load of bullshit), who listen to the same boring SRV record hundreds of times because they never perfectly broke in that new tube preamp. High fidelity sound reproduction, in fact, can bring newfound love and understanding for an album, unraveling subtleties often missed otherwise. This is exactly what I found on OK Computer, which has surprisingly become one of my favorite Radiohead albums. (Remember when I said ANIMA was better than OK Computer? Yeah… I now officially retract that statement.) The OKNOTOK box is still worth having for the abundant bonus content, but with a perfect quality to price ratio this 2008 EU repress is the OK Computer to own.
(Malachi Lui is an AnalogPlanet contributing editor, music lover, and highly opinionated sneaker enthusiast. Follow him on twitter: @Malachi Lui.)
<!- ------------------------------------>