Vinyl Review Explosion: David Bowie; Tyler, The Creator; The Weeknd; Lola Kirke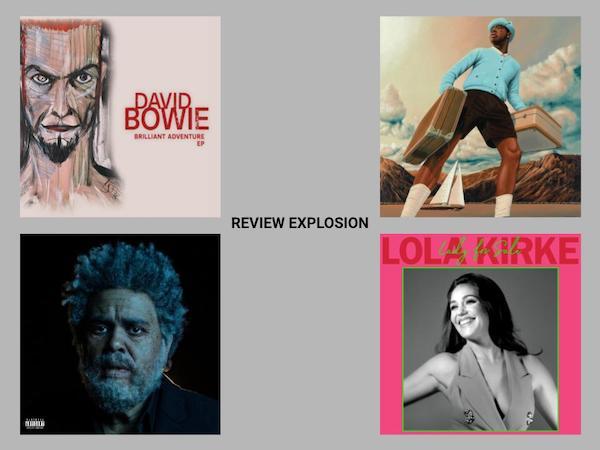 (Review Explosion, curated by contributing editor Malachi Lui, is a guide to notable recent releases and reissues. It focuses on the previous few months' new releases for which we don't have time or energy to cover more extensively.)
David Bowie - Brilliant Adventure EP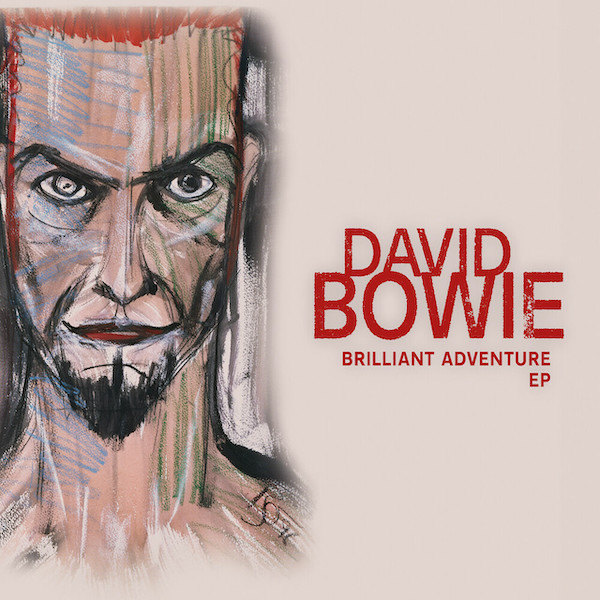 ISO Records/Parlophone 0190296670510 limited edition 12" EP (CD also available)
Produced by: David Bowie and Brian Eno (original recordings), Aisha Cohen and Nigel Reeve (reissue)
Engineered by: David Richards (studio recordings), Roy Clark and Tom Miho (live recordings)
Mixed by: David Richards and David Bowie (studio recordings), uncredited (live recordings)
Mastered by: Cicely Balston at Alchemy Mastering at AIR
Music: 7
Sound: 8
For Record Store Day 2022, Parlophone released two archival David Bowie EPs: the Toy E.P. ("You've Got It Made With All The Toys") CD or 10" featuring more Toy material that you probably don't need (especially since the main box set is already overkill), and the Brilliant Adventure EP on CD and 33rpm 12" vinyl. I picked up the latter (but not on RSD, because I knew there'd be abundant overstock and I couldn't be bothered to wake up early), which features four tracks surrounding 1995's high-concept 1:Outside. "Johnny Downloader," an early version of "I'm Afraid Of Americans" recorded with Brian Eno during the 1994 Outside sessions, features alternate lyrics and more skeletal production than the Earthling version; it's interesting, though as expected sounds a bit rough and unfinished. Following that is an "alternate single mix" of "I Have Not Been To Oxford Town," which was never actually released as a single (I assume this is an alternate mix originally meant for a proposed single release, though the liner notes don't explain). It sounds thicker and arguably more cohesive than the album mix on the original CD, though that's probably a mastering thing and the overall differences are slight. Live renditions of "A Small Plot Of Land" and Jacques Brel's "My Death," recorded with pianist Mike Garson at a fundraiser during the September 1995 Shakespeare Festival in Manhattan, are perhaps the most valuable tracks here. Bowie and Garson are both in top form—measured and dynamic as always—though there's so much spectacular Bowie material that I'm not sure these recordings are particularly essential.
The 12" vinyl of Brilliant Adventure EP, mastered by Cicely Balston at Alchemy Mastering at AIR and pressed at Optimal, sounds decent, if a bit thick and compressed. The disc is quiet, and the direct-to-board foldover jacket has a nice gloss coating on the front. Still, the printed inner sleeve doesn't provide any context about these tracks (just credits), and for the $21.99 retail price, this EP feels like a rip-off. Parlophone keeps trickling out these unreleased Bowie recordings in the smallest doses possible, which feels like a tease at best and a scam at worst; how long will it take to get The Leon Suites, or the 1974 Sigma outtakes, or any other widely bootlegged archival material? In the meantime at least, I'll continue buying and recommending the more interesting and value-minded releases, which now includes copies of this Brilliant Adventure EP filling the virtual bargain bins of Discogs (listed for around half of what I paid at my local store—go figure).
Tyler, The Creator - CALL ME IF YOU GET LOST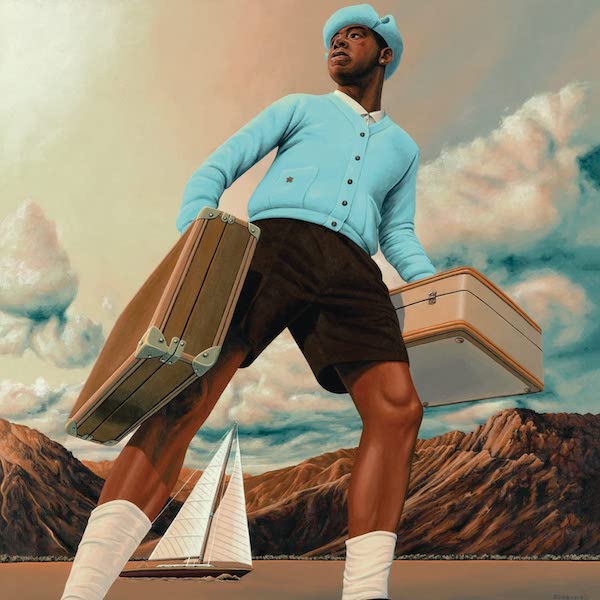 Columbia/Sony Music 19439916641 2LP (EU pressing)
Produced by: Tyler, The Creator
Engineered by: Tyler, The Creator and Vic Wainstein, et al
Mixed by: Neal H Pogue and Zachary Acosta
Mastered by: Mike Bozzi at Bernie Grundman Mastering (digital), unknown GZ cutting engineer (EU vinyl)
Music: 7
Sound: 6
While digitally released in June 2021, only now does the 2LP vinyl edition of Tyler, The Creator's latest album CALL ME IF YOU GET LOST hit shelves. I stand by my initial assessment that the music is more technically impressive than it is personally enjoyable, though I also own the European CD (it's cheaper than the US one) and find that despite the rather sterile mix, the music better reveals itself on nicer equipment. However, it's worth noting that while the CD and cassette versions close with "FISHTAIL," the LP confusingly uses the digital closer "SAFARI" (it's a bit unclear which one is more definitive).
United in Nashville pressed the US vinyl of CMIYGL, which depending on your copy is either cut by Wes Garland at Nashville Record Productions or Richard Simpson at Erika Records (the latter variant plated at RTI but still pressed at United). Not wanting to risk a likely defective United pressing, I ordered the EU edition, cut and pressed on standard weight black vinyl at GZ (a Sony Music logo on the EU pressing's back cover sticker differentiates the US and EU pressings). To make their discs playable on the shittiest turntables, GZ's cutting engineers roll off the low bass frequencies, which on a proper setup comes at the expense of spatial detail and overall soundstage solidity. This CALL ME IF YOU GET LOST EU vinyl is no exception; compared to the CD, the vinyl has an illusion of greater transparency, but it's really just graininess. It sounds fine in the background, but crank it up and you'll find the drum impact greatly diminished. While the CD has some typical CD cloudiness, everything sounds much more three-dimensional than the vinyl, which on my copy had an overly small center hole on LP1, a slight warp on LP2 (though it's still playable), and light surface noise throughout. (There's also an MPO-pressed edition, though I'm not sure who cut it and I haven't yet found a copy of it.)
The only benefit of owning the 2LP is getting the alternate cover art, which I find superior to the CD/digital/cassette cover (included here inside the direct-to-board gatefold). There's also an insert with a photo and credits that are easier to read than the CD digipak. Still, it's immensely frustrating that such a big vinyl release (the US 2LP sold 49,500 copies in its first week alone) functions mostly as a display item; releases like these keep people thinking that records are novelty items that sound no better than Spotify. (Maybe the US pressing sounds a tiny bit better, but try finding a well-pressed copy.) When done right, LPs cut from CD/digital masters can sound great, though I'm seeing more and more haphazardly assembled LP releases that sound identical to or worse than the equivalent CDs or files. Just as major labels start paying attention to aging audiophiles' demand for high-quality reissues, they leave behind the younger markets by repeatedly giving us expensive display items with lesser convenience, added surface noise, and the same sound quality we get on Apple Music. It's becoming a ripoff, and if it doesn't get better soon, vinyl sales could decline again.
The Weeknd - Dawn FM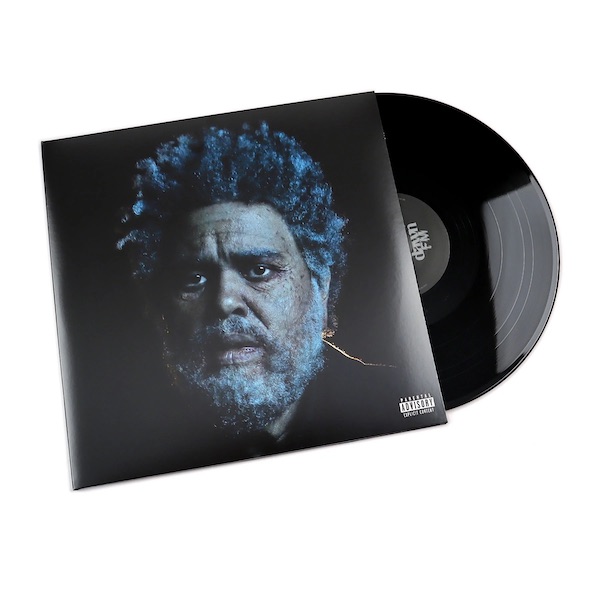 XO/Republic B0035096-01 standard edition 2LP
Produced by: The Weeknd, OPN, and Max Martin (executive producers)
Engineered by: Various
Mixed by: Serban Ghenea
Mastered by: Dave Kutch at The Mastering Palace (digital), Lex van Coeverden at The Vinyl Room (lacquers)
Music: 7
Sound: 8
In February, I reviewed the CD edition of The Weeknd's latest album Dawn FM, though wondered if the 2LP vinyl would offer enough sound quality improvement to warrant possibly disrupting the album's continuous structure. While the side breaks aren't as bad as I expected, they're not very well thought out, and whether or not the sound is worth it depends on how your vinyl and digital setups compare. Upon opening the vinyl edition, I immediately noticed that the discs, cut by Lex von Coeverden at The Vinyl Room and pressed on standard weight vinyl at MPO, sounded exactly like a digital file, but certainly better than the CD.
Compared to the CD played on my Arcam CDS50, the Dawn FM vinyl has a much better soundstage and quieter backgrounds, with more involving synths and tighter and punchier bass that makes the CD sound spatially deficient and otherwise inferior. However, that's because the album's digital master is 48kHz/24bit, and downsampling that to a 44.1kHz CD introduces timing errors that often cause CDs to sound blurry and thick (to my ears, going from a multiple of 48kHz down to 44.1kHz causes more issues than going from 24bit to 16bit). The 48kHz/24bit Apple Music stream played through the SSL 2+ sounds nearly identical to the LP; the vinyl has more hi-hat and drum sparkle on less cluttered tracks (such as "Gasoline" and "Don't Break My Heart"), but the digital master has better instrument separation on louder songs ("Take My Breath," "Less Than Zero," "How Do I Make You Love Me," etc). Overall, the vinyl provides nominal improvements in space and vocal texture, but if your DAC competes with your turntable setup, you'll barely notice a difference (and can therefore save yourself $36.99 or whatever your local shop is charging for the vinyl).
The MPO-pressed standard weight records are mostly quiet, though there's some light surface noise on the lead-in and runout grooves. For the $35–$40 retail price, the packaging is embarrassingly minimal; all you get is a direct-to-board gatefold with the same two photos as the CD insert. There are no credits, lyrics, or even a tracklist, since that's on a sticker affixed to the shrink wrap. It makes you wonder if the people designing these LP packages have ever even bought a record, as the lack of attention to these simple details is infuriating especially as prices increase. This Dawn FM pressing is yet another vinyl release that's basically a glorified display item, and will therefore remain on my shelf mostly untouched.
Lola Kirke - Lady For Sale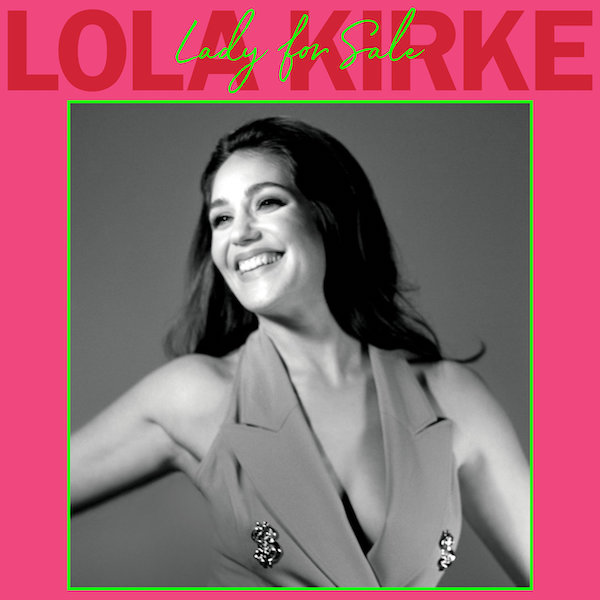 Third Man Records TMR-758 standard LP (limited edition green vinyl and CD also available)
Produced by: Austin Jenkins and Matty Alger
Engineered by: Brandon Bell
Mixed by: Brandon Bell
Mastered by: Bill Skibbe at Third Man Mastering
Music: 5
Sound: 7
On her second album Lady For Sale, actor and musician Lola Kirke channels '80s country pop, though despite some respectable effort, the final product is rather bland. Kirke's lyrics are cohesive snapshots—fulfilling the requirement for any at least half-decent country record—and there are a few solid enough hooks, though her songwriting doesn't particularly stand out. Lady For Sale's biggest hindrance, though, is its lack of focused production; it's polished but a bit scattered (throughout the album, random 80s synths pop up and don't really add anything), and the record lacks some sort of sparkle to elevate the songs past "listenable" status. Lola Kirke is clearly trying hard, and Lady For Sale occasionally hints at something better formed, though it feels stuffy and fake. Overall, I'm indifferent about this record.
The sealed vinyl promo I got sounds decent but not spectacular; the recording and mixing are adequate but not noteworthy. The record pressed at Third Man Pressing in Detroit is quiet and feels heavier than the advertised 130gm standard weight, and the direct-to-board foldover jacket and four-page insert round out this affordable vinyl package that, if you like this album, is a fair value.
(Malachi Lui is an AnalogPlanet contributing editor, music obsessive, avid record collector, and art enthusiast. Follow him on Twitter and Instagram.)
<!- ------------------------------------>