A Week In The Past---David Jones In New Orleans 1961 Page 2
These are the albums they recorded and a personal response to each: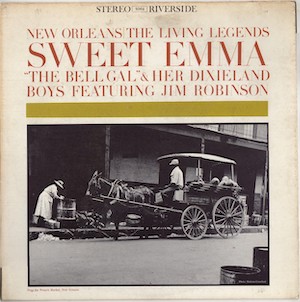 Sweet Emma "The Bell Gal" & Her Dixieland Boys Featuring Jim Robinson (Riverside 9364)…. Emma Barrett (b.1896) was a fair singer and two-fisted pianist who could lay down the solid beat a New Orleans band needed to keep the dancers moving. Jim Robinson's trombone just "grooves" over Emma's stomping piano and their playing is the highlight of the album. This was a working band and sounds like it; even making the dreaded "Saints" bearable. This is one of the better albums in the series.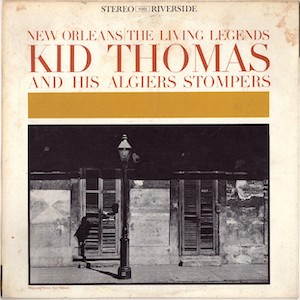 Kid Thomas And His Algiers Stompers (Riverside 9365)….. Kid Thomas Valentine (b.1895) was a trumpeter who played in an archaic style that pre-dated the pervasive influence of Louis Armstrong that began in the mid-20s. Harmonic and melodic development was not Thomas' strong suit. He played "rhythm trumpet," favoring all out, all the time power, and a scorching hot tone with jabbing rhythmic figures. This is raw, rough and tumble dance hall music, unsubtle and ramshackle, but glorious all the same. Kid Thomas Featuring Emil Barnes (Riverside 9386) was not recorded by Jones and the intonation problems on the record make it one to avoid.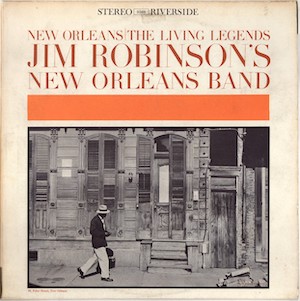 Jim Robinson's New Orleans Band (Riverside 9369) and Plays Spirituals And Blues (Riverside 9393) both feature the same band recorded on the first and the last day of the week of recording. Jim Robinson (b.1891) was the greatest New Orleans traditional jazz trombonist, possessing a robust, hot tone and incredible rhythmic drive. He was one of those rare musicians with rhythm so strong that even great musicians would start swinging harder when he was on the bandstand. The closing ensemble on the version of "Ice Cream" that leads off New Orleans Band is one of the great moments of New Orleans traditional jazz. Kick off your shoes or dance in your head as you choose. These LPs are the best in the series.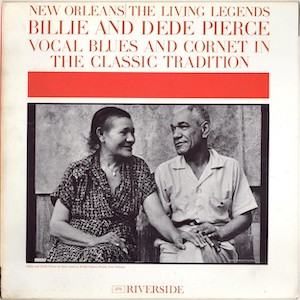 Billie And De De Pierce Vocal Blues and Cornet In The Classic Tradition (Riverside 9370) and Blues And Tonks From The Delta (Riverside 9394)….. The rather academic sounding titles of these albums are distinctly inappropriate. Billie Pierce (b.1907) was a female singer/pianist and De De (b.1904) was her cornet playing husband and they played music for corner barrooms where people wanted to drink, slow drag dance and listen to old fashioned gutbucket blues. Billie's voice, while limited in range, has an affecting, mournful, penetrating quality and her style is straightforward storytelling. The blues she sings are not really compositions, but rather improvisations on a mood that could last for five minutes or an hour while she strings together verses from a huge storehouse. De De is a fine, bluesy cornetist that provides another voice echoing and commenting on Billie's tales of heartbreak and loss. These are two superb, deeply bluesy LPs. Their "who needs the tango?" version of "St. Louis Blues" with Billie's risqué, off the cuff lyrics is both wayward and perfect. Jones used a two-mic set up for these LPs and the result is less than ideal as Billie's voice is unnaturally far from the piano. The mono versions remedy the problem without losing too much space and air.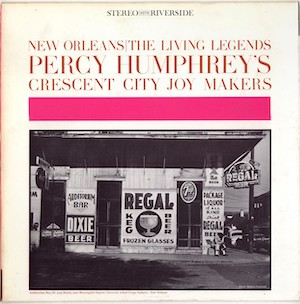 Percy Humphrey's Crescent City Joymakers (Riverside 9378)….. Humphrey (b. 1905) was a fine trumpeter and longtime main stay of New Orleans Traditional Jazz. While these musicians had never played together before, they all knew and understood the style and produce an enjoyable album, though one of the lesser ones in the series. In true New Orleans style, they play the hymn "Over In Gloryland" and the bawdy, "All the Gals Like The Way I Ride" with the same gusto and strutting rhythm.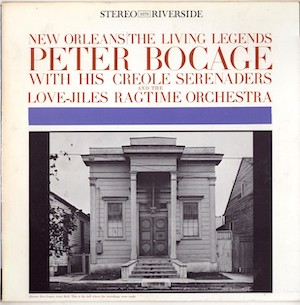 Peter Bocage With His Creole Serenaders (Riverside 9379)….. Bocage, a trumpeter, was 73 when these recordings were made. His recordings with Piron's New Orleans Orchestra in 1923 were among the first jazz recordings. He played in the Creole style, which emphasized sophistication and sweetness rather than the hot "bluesiness" of the Black musicians. In 1961, his playing hadn't changed a great deal since 1923, retaining a stiff, bouncing but not swinging rhythm that was heavily influenced by Ragtime. While having charm and historical interest, this is probably the least interesting of the "Legends" series. Side 2 of the album, Bocage with The Love-Jiles Ragtime Orchestra, was not recorded by Jones.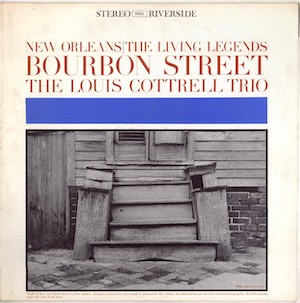 Louis Cottrell Trio Bourbon Street (Riverside 9385)….. Louis Cottrell, a clarinetist with a rich, warm sound in the hallowed New Orleans tradition, at age 50 was the youngest leader recorded by Jones and Albertson. Unlike the other, older, musicians, Cottrell was influenced by the musical developments of the swing era and had even recorded as "recently" as 1936. It's hard to imagine any of the other "Living Legends" playing the swing to Bop classic tune "Perdido." Cottrell's album beautifully straddles traditional jazz and swing as he plays in a comparatively sophisticated, yet thoroughly New Orleans style. This is another two-mic trio recording with clarinet far left and the bass and guitar/banjo on the right. Not "hole in the middle" but some might prefer the mono.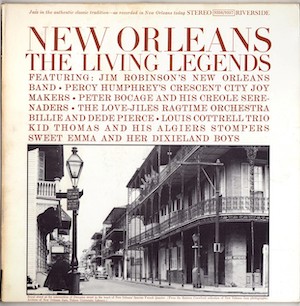 New Orleans: The Living Legends (Riverside 9356/9357)….. The last two albums in this list were actually the first released. This two-record set, composed of selections from all the sessions that were not on the individual LPs, is not a collection of rejects and leftovers but is an excellent introduction to the entire series.
Sometime in early February, in Albertson's words, "we left the old world on the delta and…this seems to be the only way to put it…returned to the world of today." In the summer of 1961, Riverside began issuing the "Living Legends" LPs in bright white sleeves and matching cover designs, complete with evocative photos of New Orleans and superb liner notes by Herb Friedwald who helped organize the sessions. They were a strikingly handsome set and Riverside did all it could to garner attention. Audio magazine favorably reviewed the two-record set in July 1961, but the jazz press, focused on Hard bop and the burgeoning Avant garde scene, paid little notice. Sales were small and mainly to the stalwart, "No crazy bop for me. Ever!" Traditional jazz fans. It may be that as few as 1000 copies of each title were pressed and there were no U.S. LP reissues until 1990 when Billie and De De Pierce's Vocal Blues was issued as Original Blues Classics 534. The entire series was issued on CDs in 1994. The air, warmth and "Jones Magic" of the LPs is missing. The music sounds rough and harsh and the recording quality merely odd.
Chris Albertson, who went on to have a long career as a producer, broadcaster and journalist, wrote the definitive biography of Bessie Smith and passed away in 2019. Bill Grauer died of a heart attack in 1963. Riverside filed for bankruptcy in 1964 and, in the ways of the record business, as a result of a bewildering series of mergers, its catalog is currently owned by Concord Music Group. Percy Humphrey, the last survivor of "The Living Legends" died in 1995. All of Albertson's "twenty-seven musicians who, in January of 1961, were able to play in the authentic style" are long gone and are unremembered except by a small few that becomes fewer with time. David Jones continued freelance recording, occasionally working for Riverside as late as 1963. His amazing sonic masterpiece, the Evans Vanguard recordings went unheralded for decades. He continued to make stunning recordings in the Jones style during the sixties and into the early seventies, most notably for Connoisseur Society and Nonesuch, of Classical, Flamenco, Indian and Ethnic musics. His recordings of Ali Akbar Khan and Manitas de Plata, sonically and musically, rank among the greatest recordings ever made. Audio engineering was probably never more than his hobby/part time job due to his refusal to record rock and reluctance to work in studios. It's likely that his last recording was in 1976 for a private press LP of Macedonian music. Reportedly, he moved to Tennessee and went to work for the Post Office—the employer of last resort for musicians, writers and artists. Such are the wages of integrity.
The music Jones and Albertson recorded in the last week of January 1961 is gone forever. Time, relentless and merciless never turns back. The music was secret speech, like the drums in Congo Square, played in times when to have a voice was dangerous. Those times are gone forever, too, and for that we can rejoice but with little self-satisfaction. Despite the depravations, injustice and everyday cruelty that was their lives, these men and women created a balm for their wounds and those of their folks; a music of the deepest sadness and most exultant joy that, now, in our time, we can never truly understand. David Jones was there and with skill and the humility that was the essence of his art and genius, he captured the secret speech of these musicians, playing their music in all its spirit and humanity in Societe des Jeunes Amis Hall in the last week of January 1961. We'll never know, but we can listen.
Copyright 2020 by Joseph W. Washek
Mr. Washek's short bio:
"I began collecting records at 11 years old, eventually amassing 30,000 LPs and 78s. In the early 2000's, I produced CDs by the seminal artists, John Tchicai and Roswell Rudd, for my own label. I have done tape digitization and restoration work for various jazz labels, most recently on the NoBusiness Sam Rivers release, Emanation.
The rest of my life, while mostly interesting to me, I doubt would be of much interest to Analog Planet readers. Off the record, I practiced law for 36 years in Boston, retired, moved to New Mexico and decided that I should write about music. I pondered what I had to offer and decided that I could write about music, records and artists that are unfashionable, overlooked or completely forgotten, that I love. There are already many talented people writing about "pantheon artists" and I don't think I have much to add.
After I'd read this wonderful piece and responded that I'd be honored to publish, Mr. Washek added this capper:
Being a devoted BCN listener in the station's golden era, I remember your program. You livened up the station which could be a bit overly serious. Your Music City ads, especially the Jerry Garcia "Sugaree" parody were very funny. Also saw you at The Paradise (76 or 77?) opening for Jonathan Richman, I think.—M.F.
<!- ------------------------------------>