Where The Hell Do I Put That Record?????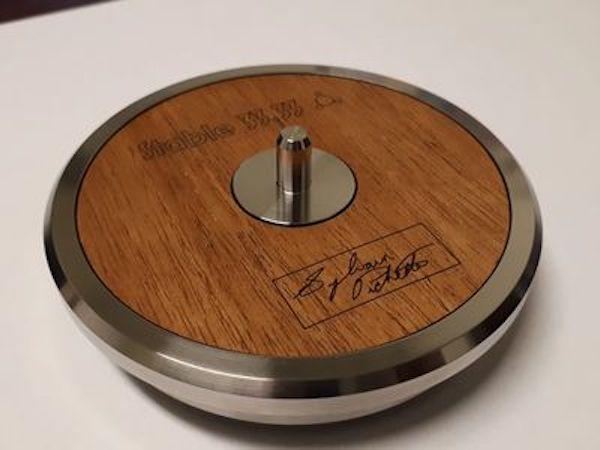 Surely you've picked up a just cleaned record and need to put it down
somewhere
other than in the original jacket, or you've mistakenly pulled one to play while the one you've just finished playing still sits on the turntable or you've made some other brain-addled move that leaves one record in your hand with no place to put it. Well here's the TRANSIT PLATTER, the "why didn't I think of it" solution from the "stable geniuses" at
stable 33.33
.
On the Canadian company's website you'll find more variations on this device than you might have thought possible. I chalk that up to the long, cold, dark winters, but whatever, once you've gotten one of these, you'll wonder how you ever lived without it!
They are available in a basic $59.95 190g Delrin version with an attractive wood veneer top or a 994g (2 pounds plus) version of stainless steel and available in four finishes for $109.95 or the most expensive version, an engraved acrylic topped stainless steel one for $199.00. All feature an easy on the furniture felt bottom and of course a spindle on top on which you place your records. The website has all the necessary information for ordering and there's a video showing you how it's made.
You may be saying "Why the hell do I need something like that?", but trust me if you don't already have the answer, a time will come when you will! (Elusive Disc has just been named American distributor).
<!- ------------------------------------>