Woodstock 50th Anniversary "Peace of Stage" and 5 Vinyl LP Back To The Garden Sweepstakes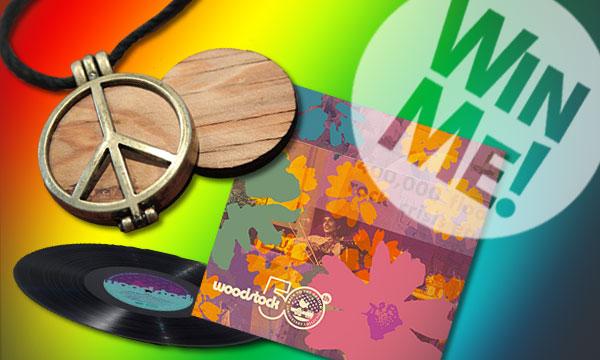 Register to win one of five actual pieces of the original 1969 Woodstock stage (Value $99.00 ea) or a
Back To The Garden - 50th Anniversary Collection
5 Vinyl LP set (Value $124.98) we are giving away.
According to Peace of Stage:
Peace Pendant: Always have a piece of Woodstock magic around your neck and close to your heart, with this Peace Pendant, that is encased with a piece of the original and authenticated stage from the 1969 Woodstock Festival.
Wood Size: 3/16" thick and 1.2 in diameter; Pendant Size: 44 x 33 x 9 millimeters
Every Pendant will include a tamper-proof hologram on the back, as well as on the Letters of Authenticity that accompanies the pendant. Bring the Woodstock magic everywhere you go with this limited edition Peace Pendant, just in time for the 50th Anniversary.
Acrylic Stage Frame: Ideal for display and connecting with the festival magic, this touchable piece of the original 1969 Woodstock stage is surrounded by rainbow colors with the concert dates and location, Peace of Stage logo, and a tamper-proof hologram certifying its authenticity.
Wood Size: 2-inches x .75-inches; Plexiglass Frame Size: 4-inches x 9-inches
The stage piece is glued on the outside of this plexiglass frame. The clear acrylic portrait frame is free standing with the special 50th Anniversary design set inside. It comes with Letters of Authenticity that also have the matching hologram. Celebrate the 50th Anniversary of this iconic festival with your Peace of music history!
According to Rhino:
5 Vinyl LP Box Set: Between August 15-18, 1969, more than 400,000 people converged on Max Yasgur's 600-acre dairy farm in upstate New York for Woodstock. Thirty-two acts performed including some of the most popular and influential musicians of the era such as Joan Baez, The Band, Crosby, Stills, Nash & Young, Creedence Clearwater Revival, Grateful Dead, Jimi Hendrix, Janis Joplin, Jefferson Airplane, Santana, Sly and the Family Stone, and The Who.
Woodstock 50 – Back To The Garden - 50th Anniversary Collection features 42 of the finest performances recorded at the legendary festival.
---
To enter the sweepstakes, all you need is an account on this website. If you don't already have one, click on the link labeled "register" at the bottom of this announcement or "LOG IN/JOIN" in the nav bar at the right. Then, enter a username and a valid e-mail address, and click on the "Create new account" button. A message will be automatically sent to the e-mail address you specified, which will include a link to activate the account.
The final step (and only step for those who already have an account) is to log in and leave a comment right here on this announcement—any comment will do, as long as it's not profane or spam. Then, when the sweepstakes closes, a lucky commenter will be chosen at random to receive the prize. So post a comment, and good luck!
For complete sweepstakes rules, click here.
[This Sweepstakes is now closed.]
<!- ------------------------------------>