AXPONA Show Report, Part 2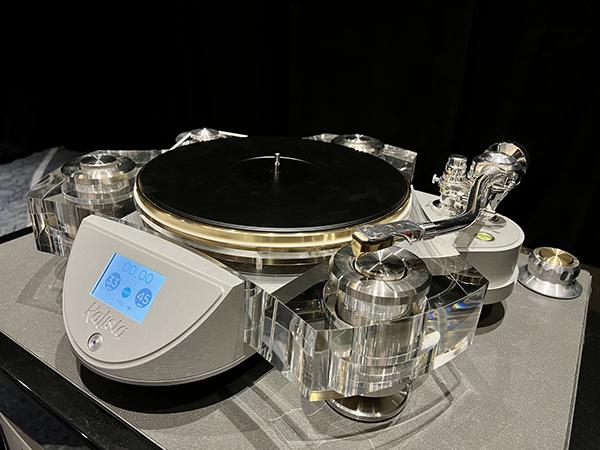 Welcome back for Part 2 of my AXPONA 2023 report! As I noted in Part 1 last week, there were 12 floors of exhibitors, 200 listening rooms, and more than 500 brands represented at the show, according to press information from AXPONA Show Director Liz Smith. Without further ado, here are even more of the show's analog-related highlights I wasn't able to get to in last week's installment. (All photos in both Parts 1 and 2 are by the author.)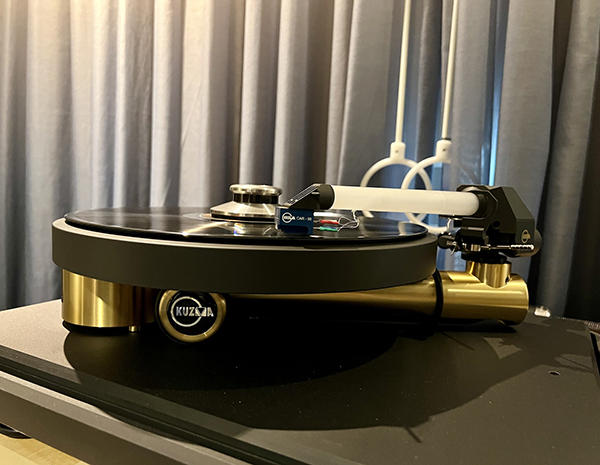 KUZMA
I listened to just a couple of tracks on a Kuzma Stabi S turntable ($5,749) setup with outboard power supply in an Elite Audio Visual suite in Room 1533. Though that turntable model (shown above) isn't exactly new — it's been in production for over 30 years — its small-footprint design is timeless in its minimalist cool.
The Stabi S turntable has a T-shaped brass cylindrical chassis for both form and function. Kuzma claims it maintains "the crucial mechanical relationship between the main bearing and tonearm mount." The Stabi S 'table sat on a heavy-duty Kuzma platform, rendering it more imperturbable — up to 110dB, as Elite AV's Scot Markwell noted.
The demo Stabi S's Safir 9 tonearm ($22,250), a new version of which came out in 2022, is said to be rigid and weighty to minimize resonances while helping with bass clarity, Markwell added. It has a four-point bearing, and its tube is made from lab-produced sapphire mono crystal that Kuzma reported has a ratio for hardness, vibration damping, and stiffness that approaches that of a diamond.
The arm is reportedly resonance-free up to 5kHz, Markwell said. A Kuzma CAR-50 cartridge ($7,995) was attached to the 9in tonearm's end. The Stabi S uses a flat belt on its solid aluminum platter with internal damping, along with an AC motor inside its own separate heavy brass enclosure. There was also an outboard AC motor controller. The system also included a Plinius Koru phono stage ($3,450), a Manley Jumbo Shrimp preamp ($3,995), a Plinius SA-201 stereo power amp ($6,545, though this model is no longer in production), and Chapman Audio T-7 floorstanding speakers ($17,995/pr).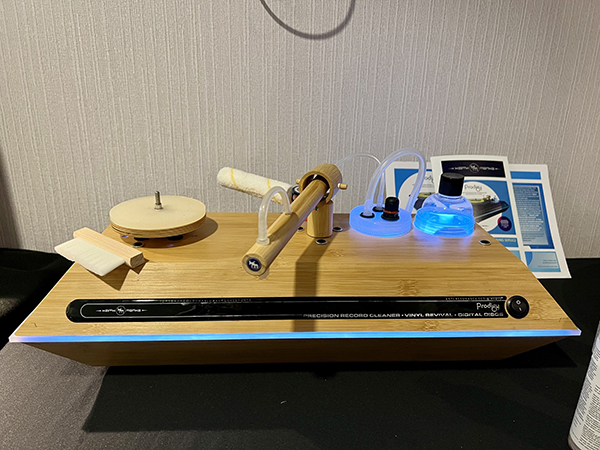 Elite's second room, which mostly displayed plenty of cables and power-related accessories, also showed a couple of analog accessories including a BBC-style Keith Monks Prodigy Plus record-cleaning machine ($1,495; shown above) whose angular form factor looks at once retro and contemporary in bamboo. Beside it sat a decidedly more modern device: a Furutech Demag Alpha record album demagnetizer ($3,000, shown below).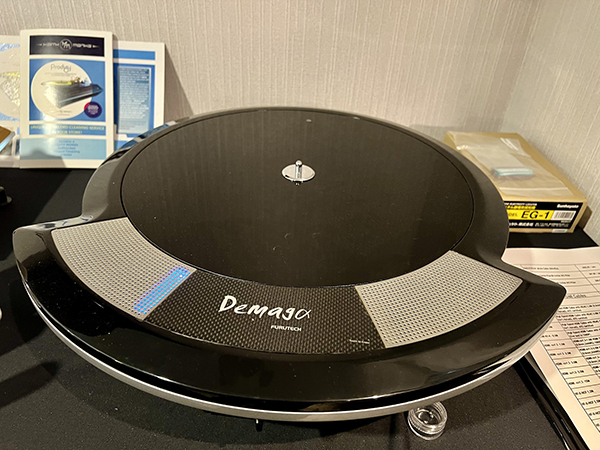 Back over in the main Elite AV suite, it became one of those rare occasions at this year's AXPONA where I broke out one of my Yo La Tengo albums—namely, their latest release, February 2023's This Stupid World, which stretches over 2LPs. This self-produced album contains a variety of this indie-rock group's stylistic forays. Here, the jangly guitar on "Fallout" and the mellower, more downbeat fare as heard on the title track — plus a brief listen to the fuzzed-up distortion-drenched wall of sound on "Sinatra Drive Breakdown" — were all reproduced well. (The Elite guys and a couple of attendees enjoyed it, but it just might have cleared some rooms elsewhere.) Having listened to it several times on my home references systems, I came away with the impression that This Stupid World sounded largely as it was intended — i.e., the "dirtiness" of it came through cleanly, and precisely.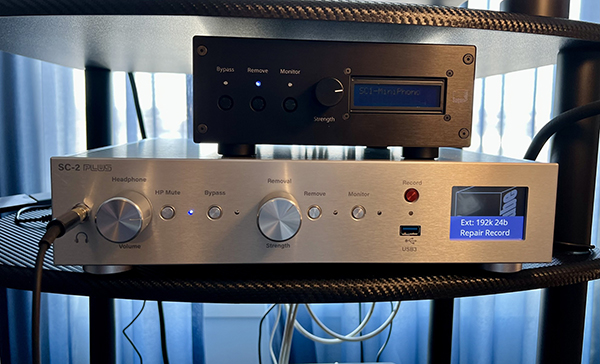 SWEETVINYL
Speaking of the relationship between analog and digital, SweetVinyl leverages advanced technologies of the latter to benefit playback of the former. I recalled hearing about the company around the time their early products launched — circa 2019, or thereabouts.
If you aren't familiar with their products, SweetVinyl is primarily known for their vinyl record tick-and-pop removal technologies and phono stages (some of which is shown above), as demo'ed at AXPONA by founder Leo Hoarty, and Dan Eakins. This involves intaking and "reviewing" an extremely brief sample — 300ms, for example — of the incoming musical signal from the turntable's pickup, just before and after the unwanted sound. The microprocessor buffers and flips the digitized 24-bit/192kHz signal around, autocorrelating to find the minute start and stop times of the click or pop. It's neither a filter nor does it remove sound — instead, it "masks" the unwanted noise by replacing it with a computed, corrected waveform that shoulda/woulda been there.
Clicks and pops average only about 20 to 30ms long, they said, noting that their technology can handle such interrupting sounds of up to 100ms long, virtually without audible gaps in the music playback.
Users can adjust the degree of correction on a dial from 1 to 10 — similar to a spice level — and 5 is usually good, Hoarty told me. He explained that it isn't a linear parameter — rather, it's a matter of how hard the sensor hunts for unexpected energy in the signal. The SweetVinyl engineers developed advanced algorithms that can differentiate even difficult instruments without shifting their tonal qualities, Hoarty said, further noting, "It can do complicated math and keep up with the music." That requires plenty of processing power. Essentially, the method works in the time domain to "cut out" (using the start and stop times of) clicks and pops, replacing them with a corrected waveform that's calculated by a complex algorithm in real time — during playback.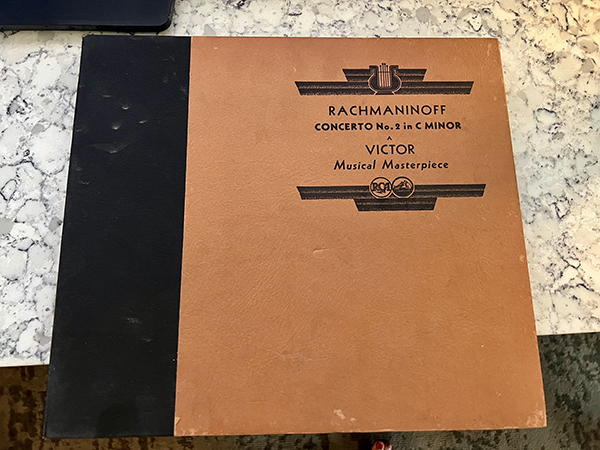 One A/B demo I heard — with vs. without their (tick-and-pop) noise-reduction tech applied — while playing back a 78rpm LP of (as it was spelled on its box cover, above) Rachmaninoff Concerto No. 2 in C minor on RCA Victor, was remarkable. Although this LP was in pretty good condition for its age, it was far from flawless, with visible surface scratches and marks and audible ticks and pops.
With the SugarCube tech on, the LP played back smoothly and sounded quite seamless, free of the ticks and pops heard without it — and I didn't notice any audible signal gaps either. But if the damage is too great — e.g., scrapes, deep scratches, or skips — it can't "remove" those. I should also note that the 78rpm LP demo's turntable setup used a Technics SL1200 with an Ortofon 2m 78 cartridge.
Of course, there's an in-depth mobile app or desktop app for the SweetVinyl devices, or control can be via a browser. Based on a brief perusal, the interface looked user-friendly and offered myriad use-case possibilities for various system component configurations, such as full analog bypass or bridging.
The demo system included a SugarCube SC-1 Mini/Phono Plus click-and-pop remover with built-in MM/MC phono stage, and an SC-2 Plus click-and-pop remover with surface noise reduction (SVNR). The "Plus" designation adds recording capabilities. I think I have the following SRPs right: it's $2,500 for the SC-2 Mini, and $3,250 gets you the Plus version. The SC-2 Plus as demo'ed is $4,000, while the SC-1 Mini/Phono is $2,250.
The components now use 24/192 AKM chipsets for analog-to-digital and digital-to-analog conversion. The setup had a second analog source, a VPI-loaned VPI Scout turntable with a 10.5in VPI tonearm fitted with an Ortofon Quintet Black cartridge — and, again, the earlier-noted Technics turntable was used for the 78rpm demo. Finally, a Rega Elicit-R integrated amp drove a pair of JansZen Passive Z1 ESL hybrid electrostatic speakers.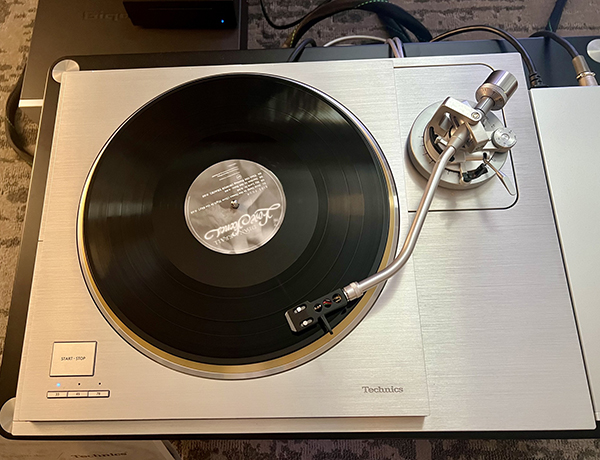 TECHNICS
Alma Music and Audio in Room 1443 (one of their two rooms; the other was 1440) featured some modern, must-hear analog (and digital) in their setups, including a Technics Reference Class SL-1000R turntable ($19,999, shown above) equipped with an Air Tight Opus 1 cartridge ($15,000).
The Technics SL-1000R turntable with outboard power supply/speed adjustment controller was connected to a Technics SU-R1000 integrated amplifier ($9,999) — a Product of the Year 2022 Finalist for our sister site Stereophile, in fact — with a sophisticated onboard phono stage. The phono section offers seven EQ curves, which are reportedly made more accurate by hybrid analog-digital circuitry, and is tricked out with slick technologies for crosstalk removal and cartridge calibration. The cartridge optimizer "figures out" the proper loading — you play the TSP (Time Stretched Pulse) signal on the included Calibration Record, and the optimizer measures the frequency characteristics picked up by the stylus and adjusts the impedance matching as needed. Up to three cartridges' settings can be stored and displayed on the front panel. All these functions are user-selectable — or user-defeatable, if you prefer old-school ways. (Meanwhile, the earlier-noted Technics speed adjustment controller is shown below.)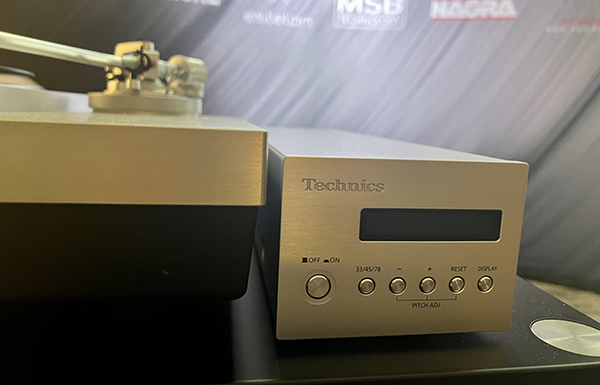 The direct drive SL-1000R, the Reference model, uses the company's "coreless" direct-drive motor originating in the SL-1200G turntable, circa 2016. The more recent SL-1000R model that was on demo contained upgrades made to that prior design, including the addition of two stainless steel weights to the bottom of the chassis to increase rigidity and minimize vibration. The double-coil motor has coils on both sides. In the update, those coils have been offset by 60° on both sides for more rigidity, and reduced vibration and self-inductance, according to information on the Technics site. In operation, this gives it sufficient torque to drive the heavy (7.9kg) aluminum die-cast platter with embedded tungsten weights and brass on the outside. A layer of rubber is attached beneath the platter to dampen vibrations. The end results of all this are reported to be super-stable rotation — to the tune of a 0.015% (or less) wow and flutter spec.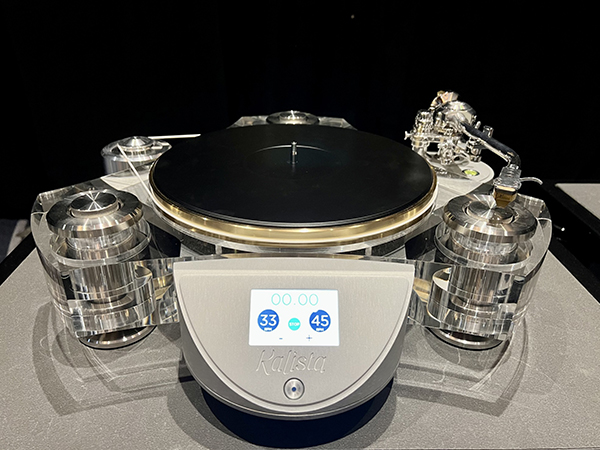 KALISTA
The Wynn Audio room displayed (and played) an eye-catching, limited-edition Kalista DreamPlay Twenty-Twenty turntable (shown above) — commemorating that French brand's 20th anniversary of their first Kalista product design initiatives. The Twenty-Twenty uses magnetic suspension, and its massive brass platter weighs 16kg (more than 35lbs).
The Twenty-Twenty's striking chassis is comprised of aluminum, acylate, and steel elements, and the 'table sits on height-adjustable, stainless-steel feet. There's also an optional Kalista Classic Tripode Stand. Word is, this turntable sold well enough to re-enter production (SRP, TBD). Finally, I'd like to note that the Kalista range is part of the Métronome Technologie family.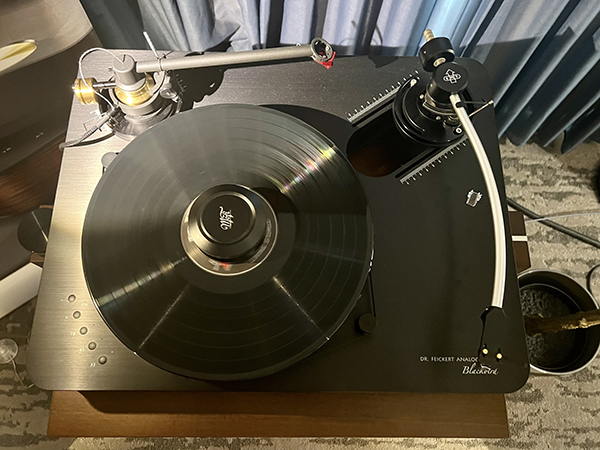 MOFI ELECTRONICS
MoFi Electronics provided a "sneak preview" of their new Studio Silver moving coil cartridge that's expected to be on the market by June for $995. It follows Spiral Groove's Allen Perkins-voiced MoFi Ultra Gold MC cartridge, but MoFi Distribution PR/ marketing consultant Lionel Goodfield told me via a follow-up email that the forthcoming Studio Silver cartridge deploys a line contact stylus, versus the Ultra Gold's nude Shibata-type stylus. The Studio Silver was shown on a Dr. Feickert Volare turntable with Origin Live Silver MkIV tonearm ($3,995, shown above), but unfortunately, I wasn't able to check out that demo due to room overcrowding both times I stopped by, but I very much look forward to having a chance to hear it soon.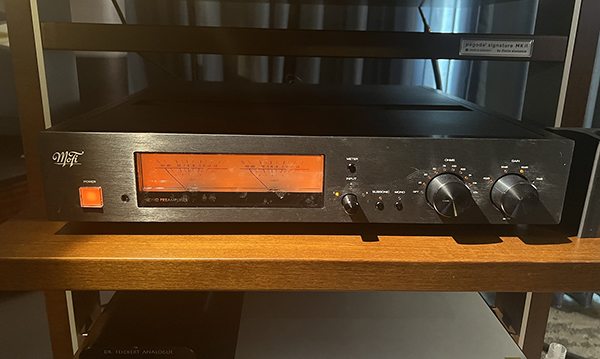 Brief sidenote: Not long after I started working on writing out a description of another MoFi Distribution room demo, I'd learned of Harry Belafonte's passing on April 25. Venerable electronics designer Peter Madnick, who designed the MoFi Electronics MasterPhono phono stage ($4,999, shown above) that's now in production, presented an enlightening "analog-versus-digital" demo that's now even more poignant.
Madnick put on "In the Evenin' Mama," from Harry Belafonte's classic 1958 LP, Belafonte Sings the Blues, first on the room's Dr. Feickert Analogue Blackbird turntable with the maker's linear power supply using an EMT tonearm fitted with, according to the room list sheet, a My Sonic Lab Ultra Eminent cartridge ($6,995), whose signal went via Cardas cables to the MoFi MasterPhono phono stage. Then he played that same track back, via a 24/192 version streamed from Qobuz, on the HiFiRose RS-250 streamer ($2,499). On this vintage cut, an early stereo recording captured in January 1958, the vinyl sounded more natural in tonal balance (especially bass) and soundstaging. Perhaps it seemed less full than the digital option — and, yes, I know it's not fair to judge all digital vs. analog from just one track — yet it felt more correct in scale on this particular cut.
On another analog note, MoFi Distribution is now distributing the Swiss analog marques Thales and X-quisite in the States.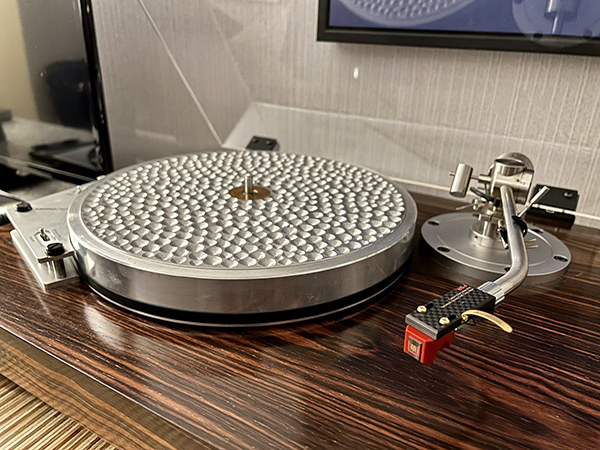 TREEHAUS AUDIOLAB
Treehaus Audiolab Principal Rich Pinto presented an extensive system inspired by traditional vintage Japanese approaches to audio — especially old-school tube-based designs — and natural materials. His Room 1418 demo setup's analog source (shown above) was a circa late-'70s/early '80s Micro Seiki BL-91 turntable with Fidelity Research FR-64S tonearm with a low-output MC Hana Umami Red cartridge mounted to a Yamamoto HS-4 headshell. It had a unique handmade aluminum platter Pinto likes to call a "moon" platter, due to its surface full of bored-out irregular, more-or-less circular "divets."
As you can see, it looks like an art piece, but bears some acoustic function to handle resonances and damping, along with the platter mat. A Treehaus Audiolab MC step-up transformer ($3,000) contains the same Urushi-coated (a type of lacquer) and Showa Period silk-packed Finemet iron cores as the maker's 300B tube amp. The SUP has three user-selectable ratios, and is outfitted with Cardas connectors.
The Treehaus Audiolab preamp ($16,000) is equipped with a Finemet TVC (transformer-based) volume control, a directly heated 4P1L for amplification with filament biasing, Coleman regulators, and a custom-made output transformer. It comes with a separate, tube-rectified power supply with 6CJ3 TV damper diodes — for faster DC rectification, according to Pinto. Built around Western Electric 300B tubes, the 300B amp's architecture was inspired by the work of designer Susumu Sakuma. It deploys an 801 driver tube interstage driving through the transformer to the 300B tube. Analog seven-point displays show filament voltages from Coleman current regulators. Another separate chassis houses the power supply's big transformers.
Pinto prefers the inherent slight imperfections in natural materials to the (relative) accuracy-as-goal coolness of more high-tech modern materials. Ditto for tubes' pleasing distortion. Sound through the open-baffle National Treasure speakers made of live-edge Box Elder wood was, well, open — and freed-up with a kind of rounded purity and ease. That said, transients didn't seem even slightly soft or slow, even with Radiohead or punchier modern indie rock. The speaker centers on a full-range field-coil driver 10in diaphragms made of rice paper, while a DC current supply for the field coil is in a separate chassis. An offset Fostex supertweeter and a 15in bass woofer extend the top and bottom frequencies.
Pinto agreed to spin a silly, satirical Gorillaz track from 2020, "The Valley of the Pagans," featuring Beck on vocals. Cymbals and synthy swirls shone through with generous top-end clarity, and bass was also pretty substantial.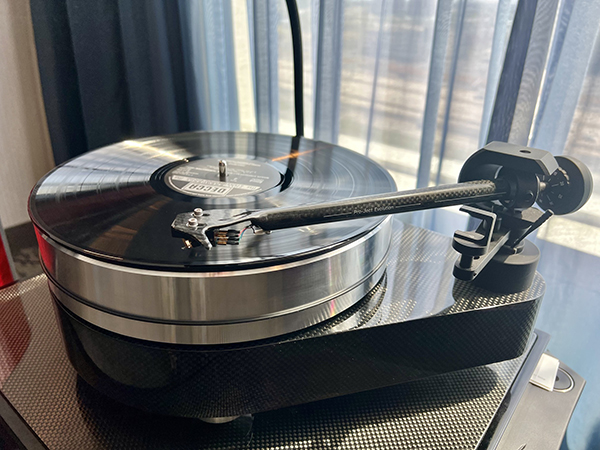 PRO-JECT & CARDAS AUDIO
I spotted at least a couple of Pro-Ject turntables at AXPONA, including a Pro-Ject RPM 10 Carbon turntable ($6,000, shown above) with magnetic suspension, with a Pro-Ject Evolution tonearm and Sumiko Starling cartridge ($1,800). Its pickup signal, still fully balanced in this analog setup, was amplified by a Pro-Ject Phono Box RS2 ($2,000) with a Pro-Ject PowerBox ($1,200), and Sonus Faber Amati speakers in the system.
The inside of the Pro-Ject RPM 10's MDF plinth contains hard-resin-coated-steel pellets. A carbon-fiber coating covers its outside surface. The turntable's inverted ceramic bearing is reported to offer rotational stability, and have very low rumble. An electronic speed controller helps deliver stable speeds for 33 1/3rpm and 45rpm playback. An external DC power supply drives an outboard AC motor for the belt drive. A 1.23m DIN-RCA phono cable is included, and optional DIN-XLR costs extra.
Through this Pro-Ject system, playback of James Brown's vintage 1973 song "The Payback" filled the room with smooth, rich horns, shouty swaggering, and clearly defined funky bass lines. Then came Zubin Mehta conducting the Vienna Philharmonic Orchestra performing Mahler's "Resurrection" Symphony No. 2 in C Minor on Decca. The setup proved equally capable of conveying this classical music classic's required refinement, air, and detail.
A number of AXPONA attendees got a kick out of Cardas Audio's retro room, done up in '70s décor — lava lamp, Bob Barker hosting on The Price Is Right playback, shag rug, and, of course, some classic-style hi-fi gear making a comeback in reproduction: JBL L100 speakers complete with orange foam grilles, an NAD C 3050LE limited edition Stereophonic Amplifier with phono stage inside, and a Pro-Ject Classic Evo turntable (shown below). When I stopped by, a fine reissue of The Clash's December 1979 classic London Calling was spinning — just perfect!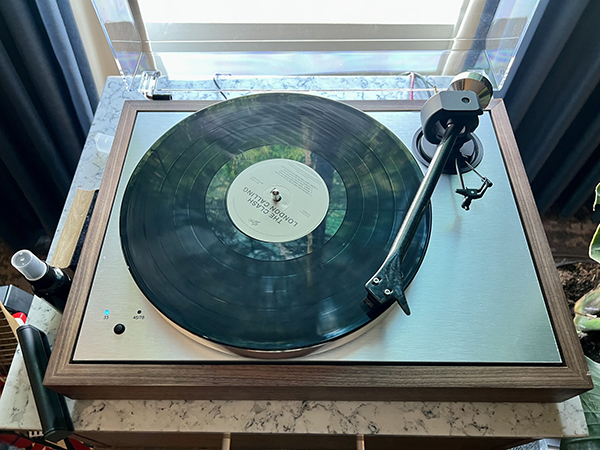 And that's a wrap on AXPONA 2023! I'd like to extend many thanks to JD Events' Liz Miller and Mark Freed, along with Natalie Campbell, Sophia Lapat, and the rest of the AXPONA team for all their efforts putting on a great big show that was a ton of fun. Let's all do it again next year!
Author bio: Julie Mullins, a lifelong music lover and audiophile by osmosis who grew up listening to her father's hi-fi gear, is also a contributing editor and reviewer on our sister site, Stereophile, for whom she also writes the monthly Re-Tales column. A former fulltime staffer at Cincinnati's long-running alt-weekly CityBeat, she hosts a weekly radio show on WAIF called On the Pulse.
You can read Part 1 of Julie's AXPONA 2023 report here.
And if you'd like to see even more of our AXPONA coverage, check out Ken Micallef's turntable-centric video report here.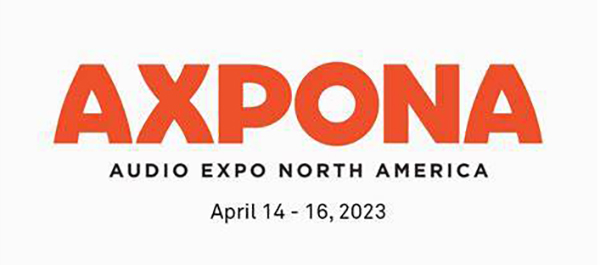 <!- ------------------------------------>