AXPONA Show Report, Part 1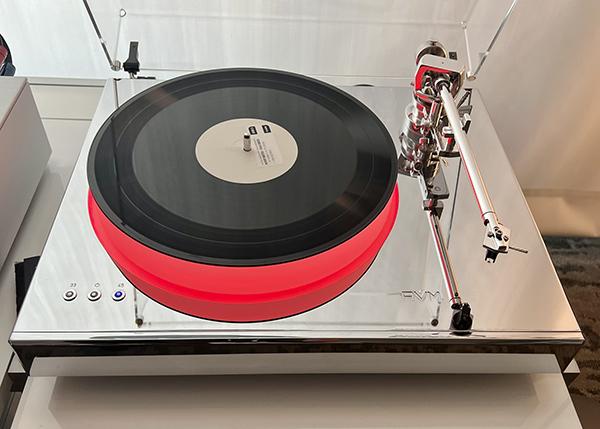 In case you haven't heard by now — or if you've been on another planet besides this analog-centric one — AXPONA, which is presented by JD Events, has become the biggest hi-fi show in North America. Held April 14-16, 2023 at the Renaissance Hotel and Convention Center in Schaumburg, Illinois (i.e., in the Chicagoland area). AXPONA is, in fact, a trade show that's very much consumer-focused. This year, the show drew 9,115 attendees — audiophiles and music lovers from near and far — making it AXPONA's biggest show yet.
All told, there were 12 floors of exhibitors, 200 listening rooms, and more than 500 brands represented at the show, according to press information from AXPONA Show Director Liz Smith.
I was tasked by AP editor Mike Mettler to do as complete a show report as I could given the time I had available to me onsite, so herewith is Part 1 of my analog-related AXPONA highlights report, which includes some very important new turntable introductions. (All photos here in Parts 1 are by the author.)
SOTA
In Room 360, domestic turntable manufacturer SOTA debuted their new Quasar turntable in walnut finish alongside their brand-new, adorably named SOTA Pyxi phono stage, the company's first (as seen above). The diminutive Pyxi was designed in collaboration with Wyn Palmer and Bill of Phoenix Engineering. Priced at a non-budget-busting SRP of $300, the little Pyxi amplified output signals for both demo turntable setups described below. SOTA's Ken Wolff shared additional details by noting that most of SOTA's products are sold in various (and complex) packages to allow for user customization based on customers' budgets and desires.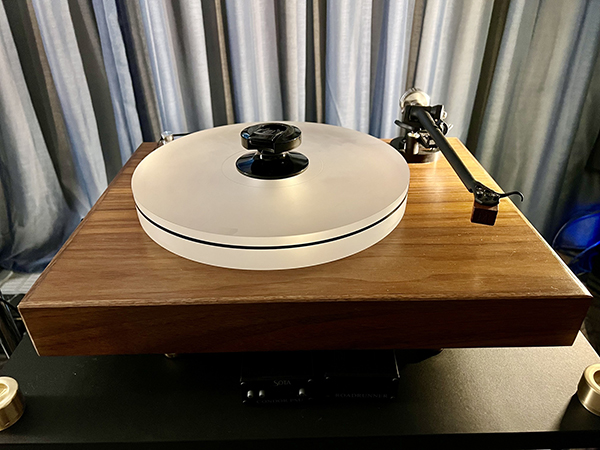 The Quasar (which we previewed here) — referred to casually as "The Quay," which is pronounced "kway" (and not be confused with the English term "quay," which is pronounced more like "ki") — was shown with an included new Condor digital power supply with crystal-controlled motor-speed precision. The Quasar was also demo'ed with a Roadrunner tachometer for speed monitoring and regulation ($525), a Rega RB880 tonearm, and Grado Reference Master V3 moving-iron cartridge outputting 4.8mV — with a $6,345 MSRP for all of those items inclusive. That said, you can get the Quasar for less, Wolff said — $3,100 will get you the 'table with the more basic Rega RP-3 tonearm and cartridge options.
The belt-driven Quasar with acrylic platter is the new top model in the entry Urban series of unsuspended 'tables, and it comes with the speed controller. It uses a Sapphire thrust plate in its bearing system, and its bearings are nitride-infused titanium and stainless steel with hand-polished brass bushings, Wolff said.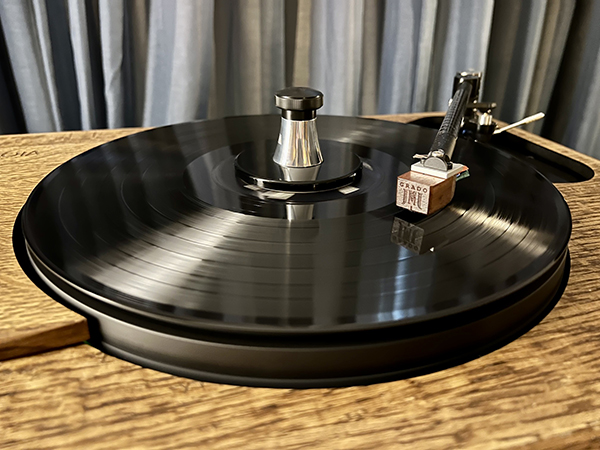 SOTA's other active demo turntable was from the mid-tier Heritage series — a Nova non-vacuum model outfitted with a Thrax Audio Schröder CB tonearm (designed by Frank Schröder) and a Grado Aeon 3 cartridge, as seen directly above. The updated Nova series now contains a new suspension system that no longer uses lead in the subchassis, as the new suspension is now a magnetic levitation (mag-lev) design. The chassis is phenolic resin with stainless-steel weight-balancing. The platter is machined aluminum, with an acrylic mat.
SOTA's new Eclipse three-phase AC synchronous motors have a digitally controlled power supply called the Condor. You can set the speed, and its Condor will maintain stability and pitch control, according to SOTA. The Roadrunner showed precise RPM LED-displayed out to thousandths: to 33.3333, in fact — though that last digit only shifted slightly up or down a couple of times during the lively Andrew Bird track I played on the Quasar. It never shifted as far as I noticed on the Nova turntable setup, where the sound was even-handed and very musical — lithe and punchy, with considerably more low-end compared with the Quasar setup.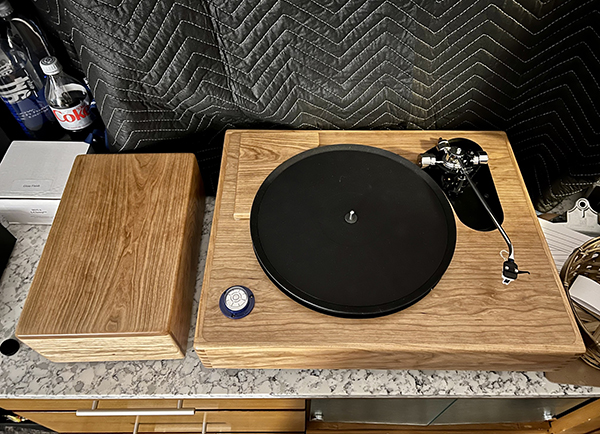 The SOTA turntables (Series 7, though the company is shifting away from that numeric naming style) recently received upgrades to power supplies and vacuum (where applicable). Also shown on passive display was the newly updated Statement Series SOTA Cosmos Full Eclipse vacuum turntable (as seen directly above) with a Moerch DP-8 tonearm and ZYX Ultimate 4D cartridge.
Incidentally, the SOTA room's demo systems used a pair of KEF Reference 1 Meta speakers powered by Gryphon's Diabolo 120 integrated amp, and a pair of REL S510 subwoofers.
Later this year, SOTA will release an Acrux phono stage with two inputs and a lower noise floor than the earlier-noted Pyxi. The Acrux is expected to have an SRP of around $2,500. Also, a new flagship $65,000 SOTA Diamond is slated for launch within the next year.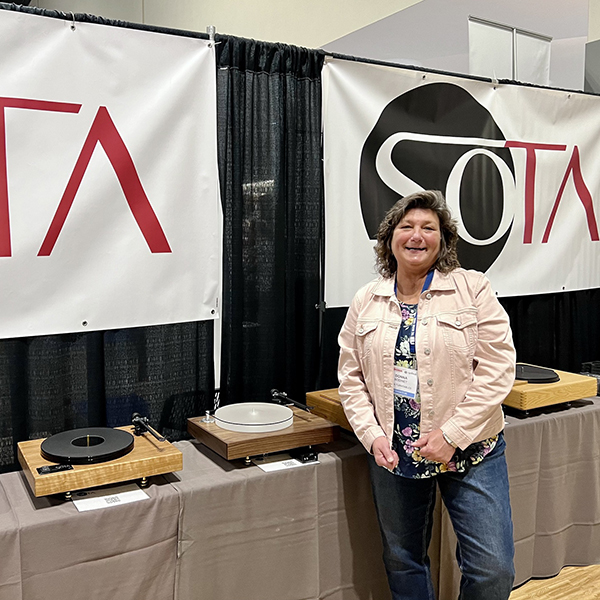 Downstairs in the Expo Hall, SOTA had a more extensive lineup on static display including a few partially assembled turntables, showing construction and materials. Based in Delavan, Wisconsin, the company makes everything in house, "from the screws to the finished product," as Director of Sales Donna Bodinet (shown above) told me directly. All the woods used are from fallen trees, and are kiln-dried. The company's current owner, Christian Griego, is a trombone player who has designed trumpets and trombones and mouthpieces for those instruments, Bodinet added.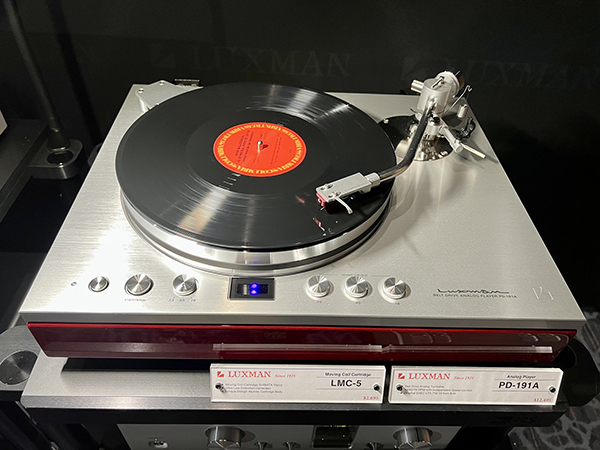 LUXMAN
As usual, plenty of international analog manufacturers turned up at the show. Luxman, one of Japan's oldest heritage hi-fi companies, introduced their new PD-191A turntable (or "analog player," as Luxman calls it) at AXPONA after a September 2022 introduction in Japan.
The new flagship Luxman PD-191A turntable (which we previewed here), supersedes the PD-171A, and it sports an all-new tonearm, drive system, rubber record mat, and PWM/PID rotation speed controller. Luxman worked with Japanese analog audio company SAEC to create the new, 10in (256mm) LTA-710 tonearm that has a vertical, knife-edge bearing reported to deliver "excellent initial sensitivity." Leading-edge transients seemed to fare well on piano and percussion strikes on at least one particular LP demo (as further noted below).
Of course, anti-skating is adjustable, and the arm allows for up to 22mm of height adjustment to work with various cartridges. The turntable's arm comes with a Luxman headshell, demo'ed here with Luxman's LMC-5 moving coil (MC) cartridge. For analog lovers who want to use different tonearms, optional accessory bases to accommodate other manufacturers' 9in and 10in tonearms are available, while an external, second tonearm base for 12in tonearms is forthcoming.
The PD-191A's new drive system uses a sine wave/PWM (pulse width modulation) power supply feeding current to a DC brushless motor, according to the press info. A PID (Proportional Integral Differential) control maintains speed consistency — the turntable handles 33 1/3, 45, and 78rpm playback — while a clock with a MEMS (micro-electro-mechanical system) oscillator handles speed corrections.
An 11.4lb (5.2kg) platter is said to act as a flywheel to stabilize mechanical rotation. The belt is now made of a new EPDM material. The Luxman PD-191A turntable has an SRP of $12,495, and shipping is due to begin in June.
As a bonus to the PD-191A turntable launch, Luxman also hosted Nick Getz, Stan Getz's son, who spoke in a series of casual presentations in the Prosperity Room about some personal memories surrounding the recording and (eventual) release of the legendary Stan Getz/João Gilberto March 1964 Getz/Gilberto album collaboration that has long since became an enduring classic. Getz/Gilberto also won Grammy Awards in 1965, including Best Jazz Album and Best Album of the Year, amid tough competition — whilst crossing genres, no less.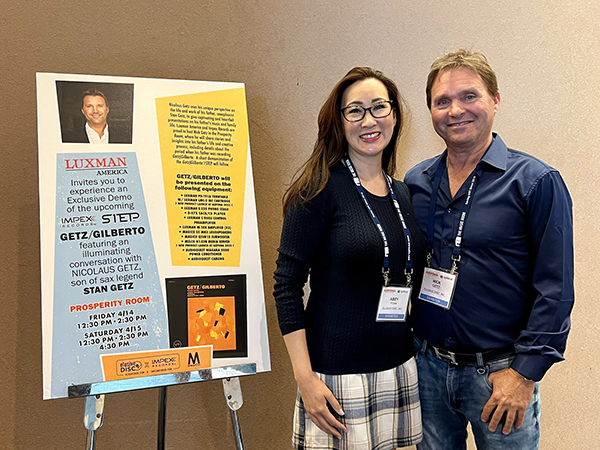 In a series of casual presentations, Getz introduced — along with Impex Records founder Abey Fonn, seen together above — the playback of a 1Step pressing of a forthcoming Impex reissue of Getz/Gilberto, as remastered by Bernie Grundman. The LP will be pressed at RTI, and it's currently expected to be released in December. Fonn also mentioned the inclusion of bonus tracks — a mono version of "The Girl From Ipanema," and a live rendition of "Corcovado (Quiet Nights of Quiet Stars)." Nick Getz's 88-year-old mother Monica Getz wrote some remembrance liner notes. Meanwhile, Getz's own personal recollections were heartfelt, and very warmly received by the attendees.
Other components in the playback system for Getz/Gilberto and other LPs included a Luxman E-250 phono stage, a Luxman C-900U control preamp, and a pair of Luxman M-10X monoblock amps connected to a pair of Magico S5 MKII loudspeakers. A Magic QSub15 subwoofer was also in the setup. AudioQuest supplied cabling, and a Niagara 5000 power conditioner was also deployed.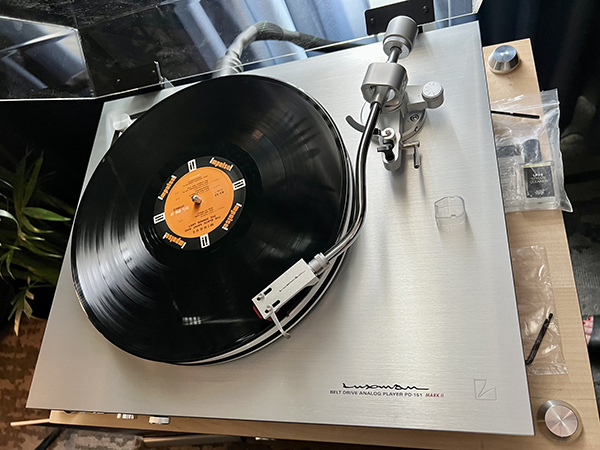 Incidentally, I had the chance to listen briefly to a different Luxman turntable in Glenn Poor's Audio and Video room — namely, the PD-151 Mark II (as seen above), identified as a "belt-driven analog player." A Luxman L-507Z integrated amp with phono stage provided power to Harbeth C7ED-3 XD speakers.
Those classic BBC-associated Harbeth speakers might not be made for every kind of music, but they reproduced the rich lilting and technical prowess of Rhiannon Giddens' versatile voice quite nicely on "Calling Me Home," a track from her and her musical partner Francesco Turrisi's They're Calling Me Home April 2021 LP on Nonesuch that I happened to have brought along for demo'ing purposes. The track's spare percussion and the "touch-me" textures of Giddens' viola was also pleasingly conveyed.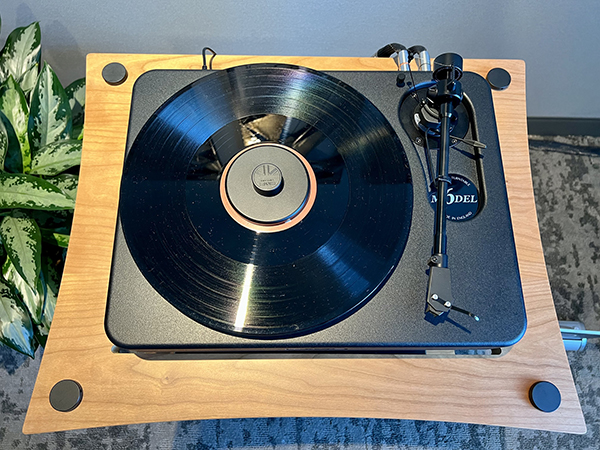 SME
England's SME Model 60 turntable ($71,900) finally made its North American show debut in distributor Bluebird Music's room, Suite 434, which also featured two secondary systems — one of which included an SME Model 6 turntable ($7,995; seen above, and fitted with a Dynavector 20X2-H cartridge) that uses proprietary materials the company developed, including a computer plumer resin plinth to minimize vibration and a platter made of the highest-grade acrylic available, as Bluebird's Jay Rein told me, plus polymer resin feet that are curved on the bottom to self-level the 'table and dampen resonances.
The feet are mechanically decoupled from the main chassis with a three-point isolation system inside. The upper chassis is detached from the lower chassis by a "suspended suspensions system," weighted, engineered, and designed by the late SME founder ARA, a.k.a. Alastair Robertson-Aikman.
CEO Stuart McNeilis said he was tasked with a "make the best better" objective. The SME turntables in this range were already vertically suspended, he noted, but the updates on the Model 60 also allowed controlled movement in the horizontal plane — forward and backward, left and right — reportedly made a big difference in dynamics.
The main bearing and platter remain the same as found in the Model 30, but the Model 60 deploys a new central dampening system — a hydraulic silicon bath for dampening vibrations of the bearing housing. Said "bath" might sound relaxing, but that energy gets absorbed by the bath. "It mops up any of the minuscule energy that's being generated from the rotating mass of the platter," explained McNeilis.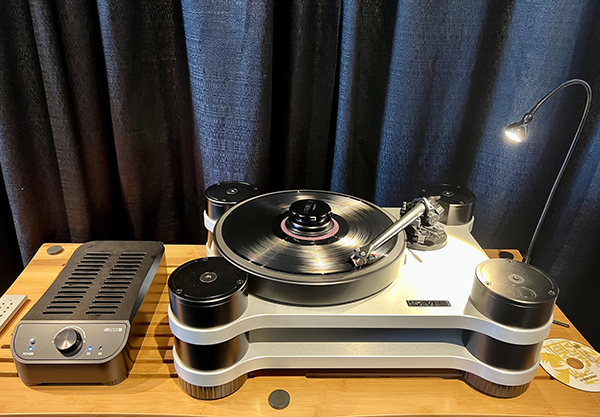 The SME Series 5 tonearm on the Model 60 (as seen above) also received updates, earning it a Series 5a designation. The polymer-treated magnesium arm's housing remains unchanged, but the 5a arm evolved from a conical shape to a "tri-lobe" construction: As the tube's center gets bored out, the walls are made thinner than before, which decreases weight and lowers its effective mass.
The drive system for the Model 60 (seen above) now uses an AC motor and updated electronics. The power supply's transformer has been separated and isolated from the outboard speed control unit. McNeilis also commented that the Model 60's measurements (wow and flutter, etc.) were among the best Paul Miller, our parent company's across-the-Pond major domo, had ever seen.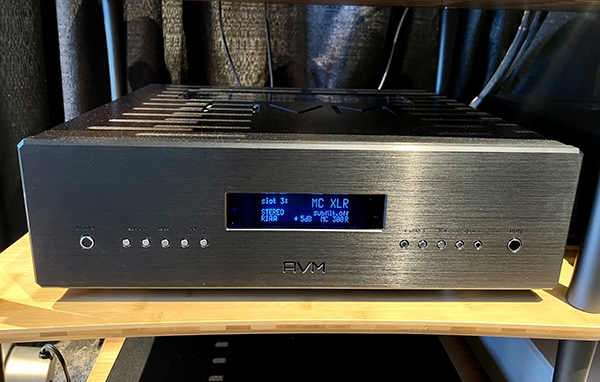 The Model 60's low-output MC Dynavector DRT XV1-S pickup's signal went into the new AVM PH 8.3 phono stage (as seen above), and it exuded tube goodness in the preamp stage, thanks to a pair of ECC83 tubes. AVM also supplied other amplification — a PA .3 preamp ahead of MA 8.3 monoblocks — and an AVM MP 6.3 media player. (A Weiss DAC501 was another digital source on hand.) Speakers were from another German manufacturer, the Canton Reference 3K ($13,995/pair).
Bluebird's Jay Rein rocked the aforementioned Model 60 'table with some classic old school jams such as The Knack's "My Sharona," the lead hit single from their June 1979 debut LP, Get the Knack. Full and substantial yet highly resolved, the sound of "My Sharona" filled the room. The system captured the track's propulsive energy while maintaining a sense of control. Bass extension left a good impression. It was big fun overall, with the right amount of heft.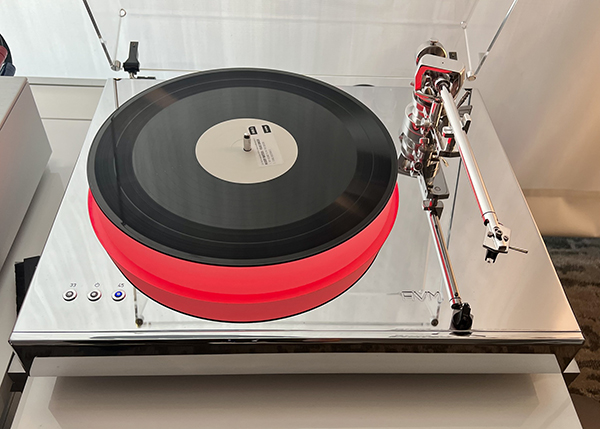 AVM
Speaking of German manufacturer AVM (a.k.a. Audio Video Manufaktur), that company also had their own room (406), wherein owner and general manager Udo Besser and the AVM team showed the company's sleek and shiny Rotation R 5.3 MK2 turntable (as seen above). The belt-driven turntable comes with its own 10in gimbal-mounted tonearm and an Ortofon Cadenza AVM3 cartridge, a special edition customized for AVM with a different treble roll-off, Besser said. The R 5.3 MK2's dense, 60mm HDF-composite plinth is stiffened and strengthened by aluminum framing. The 'table ships with a dust cover that's said to be resonance-free, and its damper feet are height-adjustable for leveling. Its motor is servo-controlled for 33 1/3 and 45rpm speed options.
The demo unit's special edition Cellini chrome finish gleamed prettily. (Thankfully, there was a pair of white gloves on hand — a must for keeping inevitable fingerprints at bay.) Not your style? The German-made turntable also comes in black or white. Either way, color is still an option: An LED beneath the clear — well, translucent — acrylic platter glows (and dims) in a variety of user-selectable RGB colors: red, purple, lime green, light or dark blue, etc. A new-to-North-America AVM CS5.3 all-in-one integrated amp supplied amplification, and served as a digital source for the system.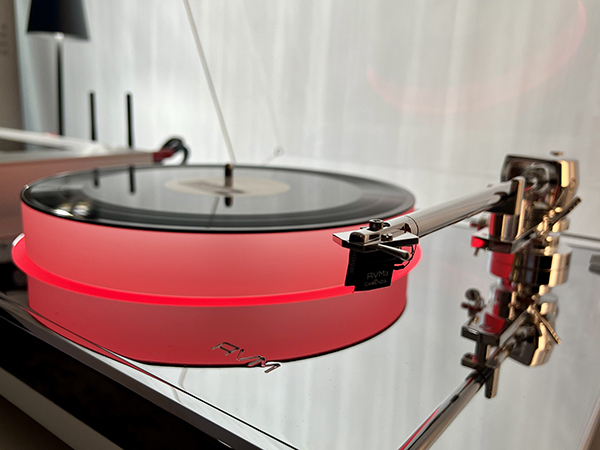 There must be some isolation magic at work, because plenty was packed into that single chassis — a tube preamp stage deploying an ECC83 tube pair, an MC/MM phono stage with user-adjustable gain and cartridge impedance options, a disc player, a Roon Ready network streaming player with HMDI input, and more.
The company also showed their more basic 30th anniversary R 30.3 turntable on passive display. It's available in silver, black, or Cellini chrome, and its HDF composition plinth is finished in lacquer and an aluminum front-panel reinforcement. AVM's R 30.3 turntable too can glow and dim — but only in blue.
AVM also debuted their first-ever loudspeakers — a pair of new Audition stand-mounted speakers that were apartment-friendly in scale and, as the cliché goes, sounded bigger than their dimensions suggested. Estimated SRP is $3,500, with the stands sold separately. Apart from a quick listen to some streamed Beatles tracks, I wasn't able to stay long enough to determine how they behaved.
And that's all for Part 1! Stay tuned for Part 2 of my AXPONA report, which will be posting here soon.
Author bio: Julie Mullins, a lifelong music lover and audiophile by osmosis who grew up listening to her father's hi-fi gear, is also a contributing editor and reviewer on our sister site, Stereophile, for whom she also writes the monthly Re-Tales column. A former fulltime staffer at Cincinnati's long-running alt-weekly CityBeat, she hosts a weekly radio show on WAIF called On the Pulse.
You can read Part 2 of Julie's AXPONA 2023 report here.
And if you'd like to see even more of our AXPONA coverage, check out Ken Micallef's turntable-centric video report here.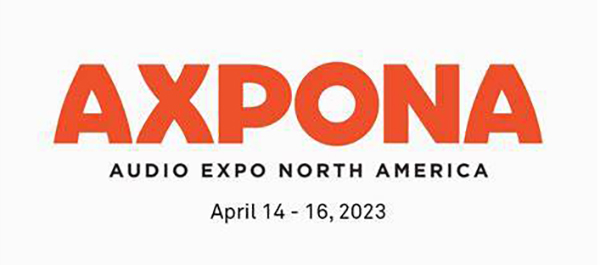 <!- ------------------------------------>