The Beatles Get Back To Mono and AAA Vinyl Page 2
The Mono Album Mastering Process
Producer Steve Berkowitz has a reliable, proven effective reissue and/or remix methodology: he begins by gathering and listening to original "1A" (in the case of Columbia reissues) pressings. Then after the tapes are digitized at 96/24 he compares the records and the files, adjusting EQ as necessary before again using the tapes to make a final digital master or to cut lacquers for an AAA release.
The mono Beatles tapes were in very good shape but still the goal was to play them as few times as possible so once they were retrieved from the special vault in which they are stored—in a separate secret location from the rest of EMI's tape holdings and kept under security resembling the nuclear code the President of the United States would use to order a strike—each tape was played back on the mono headstock equipped Studer A80 deck in mastering engineer Sean Magee's room (which itself is under electronic lock and video monitoring security) and recorded to digital at 96/24 resolution.
With these files on hand, Berkowitz and Magee set about comparing the digitized tapes to first pressings using an Ortofon 2M Black on a less than distinguished turntable through a Stanton MM phono preamp. Not "high end" but reliably flat in response. The B&W 802s were driven by Classe monoblocks. But before listening they set the EQ as close as possible to original recording and mastering engineer Norman Smith's notes found in each tape box.
Of course a great deal has changed in the intervening decades. The tapes have aged, some for more than fifty years, the playback electronics are different as is the vastly improved quality and timbral characteristics of the monitor speakers.
Over time—quite a long time actually—Berkowitz and Magee listened to the records and to the "flat" 96/24 transfers and EQ'd, making only subtle but critical changes to the original settings, though they knew the resulting LPs would sound somewhat different than the originals, which were cut using a tube chain with a somewhat brighter, perhaps airier top end and softer far less well-defined bass. The originals may have been cut taking into account the relatively primitive playback gear owned by typical Beatles fans. Today there are no such limitations
This is a photo of Berkowitz's EQ notes for Help! and Beatles For Sale: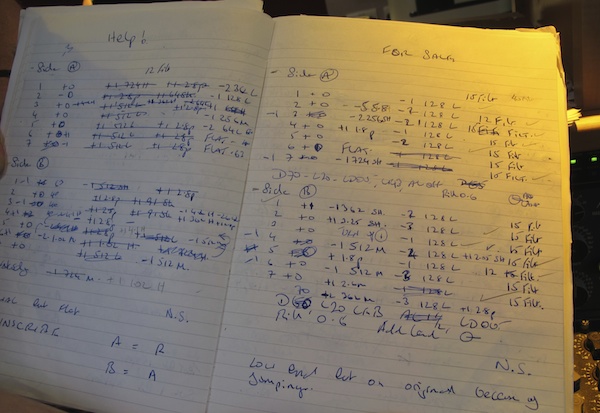 Because there is some controversy over the apparent "15kHz filt" at the end of each track of Beatles For Sale (and only for that album) and because we don't know if those are the original EQ notes or Berkowitz's, I have emailed him for clarification. I also now post here another photo of his EQ notes for two other albums where there are no such "15k filt" notes just to point out how ridiculous and inflammatory some posters can be.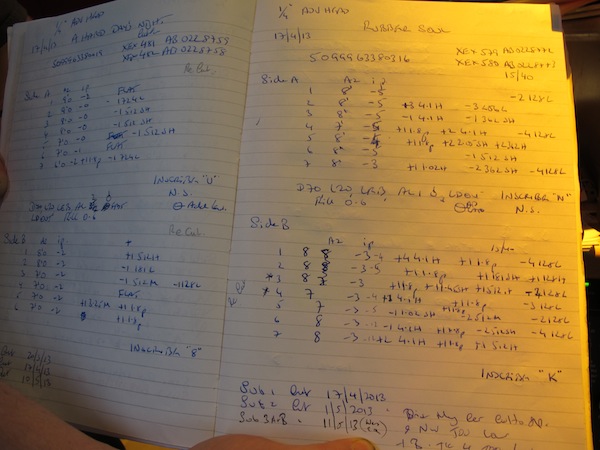 This ongoing process took the good part of a year, with Berkowitz flying back and forth between New York and London. Finally it was time to cut lacquers, have them plated and pressed at Optimal and audition test pressings.
My visit was timed for near the end of the process, which worked out well for me since I was going to be in Munich anyway and I'd get to hear a double LP cut!
But First, A Visit to Studio Two
Walking into Abbey Road was a thrill, you can be sure. I was about to be ushered upstairs to where the mastering suites are located when I was told that the band that had booked Studio Two was going to be late so I could go in. So there it was, just as we've all seen in the photos. I started to walk in and got as far as being able to turn around and see those now iconic steps leading up to the control room. I took a deep breath and the musty air filled my lungs (the room is built over a swamp).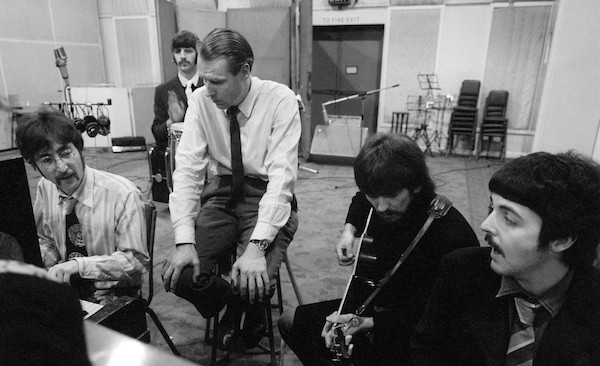 (The Beatles & George Martin—Jan 1967© Apple Corps Ltd.)
As I breathed in, fifty plus years of Beatles history as soundtrack to my life followed accompanied by "A Day In the Life"'s ending crescendo. It became too much! Here was my opportunity to walk around the room and see and feel it from every angle as "The Boys" did. I could have stood where they stood in various places throughout the room. We've all seen the pictures, but I couldn't move! It was like a bad dream. I was overcome. And then when I figured I could move, I didn't want to. I didn't want to visit the mundane reality that it was just a room. It was better to leave much of it to the imagination. After all, I'd gotten inside when originally I was not going to be able to, so that was good enough. I stepped partially inside, looked around and then exited wobbly.
No pictures were allowed in Studio Two at that time so the best I can do is show you a view of the roof from Magee's mastering suite: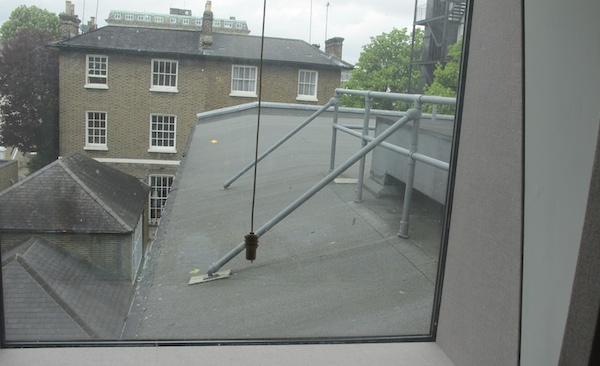 Before going upstairs we went downstairs to visit Lester, the keeper of the microphones. I wasn't allowed to record sound but Lester was every bit the character he appears to be in the photo. He showed me John's favorite microphone.
After a quick tour of Sean's mastering room we left for lunch with George Martin's son Giles who did such a great job remixing tracks for the Cirque de Soleil "Love" show still playing in Las Vegas at The Mirage. No Beatles fan should miss it. Giles told me he mixed to analog tape, which of course was a more difficult route, but yielded better sound.
Then it was back to Sean's room for the main event: The Beatles playback and four lacquer cuts. With all of the hard work listening out of the way, the tapes were put up on the A80 one side at a time, the EQ controls were set according to Berkowitz's extensive notes and the lacquers were cut.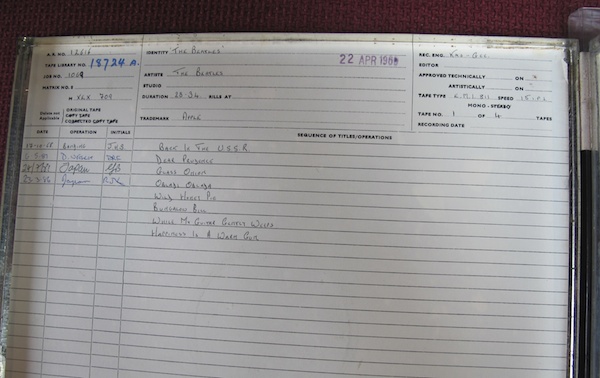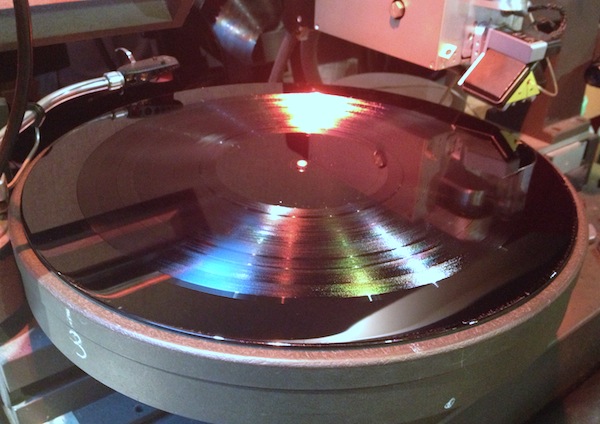 So how did the master tapes sound? Playback levels were not as high as I like for listening pleasure and of my system sounds better (sorry, but true). However, there's nothing like listening to a master tape especially an iconic Beatles album master tape!
A few months later Berkowitz and mastering engineer Greg Calbi visited with a few sides of a The Beatles test pressing that we compared to an original UK Apple "top loader". So how did it sound? That will have to wait for a full review of the box set because I have no idea if that test pressing "made the grade" but judging by what I heard that evening "A splendid time is guaranteed for all!".
<!- ------------------------------------>