Buying Used Records? A Cautionary Tale!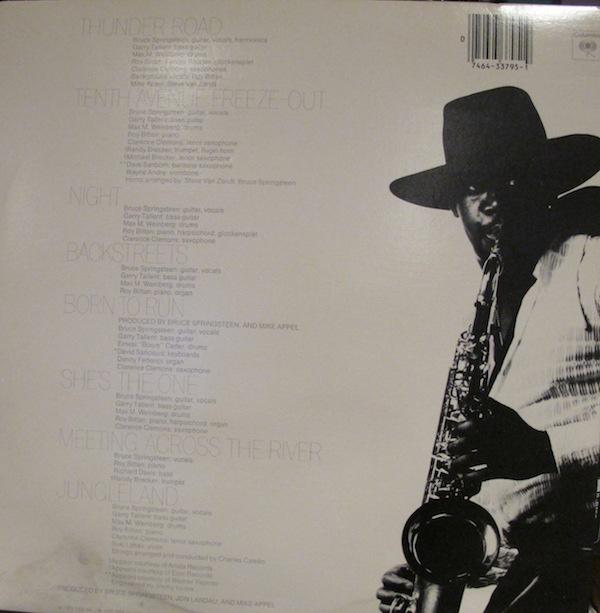 After reading analogplanet's Bruce Springsteen box set coverage a well-known audio designer excitedly came up to me at last December's L.A. and Orange County Audiophile Society Gala.
"That review prompted me to look for a mint original copy of Born to Run and I was lucky enough to find two sealed copies" he told me, "so I'm going to send you one of them."
"Well, that is very thoughtful of you," I responded. "I'll let you know when it's been sent" he told me.
A few weeks later I got an email from him saying it has been sent FEDEX (overnight no less) and that I should enjoy it!
Next day the record arrived packaged as if it contained a Fabergé egg! I carefully unboxed it and there was the "sealed original pressing". When I turned it over I saw the bar code on the back. The record was released in 1975 at least five years before bar codes began appearing on records. Uh-oh. This clearly was not an original.
Curious about what it was, I "unsealed" it and what I found was appalling. First of all it wasn't a "sealed" copy at all! It was a "re-sealed" copy. Anyone can get a hold of a shrink wrap machine, re-seal a record and declare it a "sealed copy". What's more, anyone can call a copy an "original" that is not, but if you know what you are looking for you can spot the mis-identified record. In this case, the bar code was a dead giveaway.
But the story gets worse. A yellow water line along the bottom of the jacket made obvious that this record, or at least the jacket had been exposed to water. The line was so obvious that it's difficult to believe the seller didn't know he was fobbing off a not mint sealed copy as a mint sealed copy. The record itself was obviously not an original mastered by Greg Calbi at Sterling Sound, but rather a much later pressing mastered who knows where by who knows whom. It wasn't in terrible condition but it wasn't unplayed either.
But the story gets much worse: a sticker on the back of the shrink wrap identified the store that sold it as an audio store in California and that's all I'm going to say about the store's identity. The gentleman gifting the record to me had covered over the price with a shiny stick-on star that I would not have removed had the record been the claimed "sealed original" but under these circumstances I was going to have a look!
He'd paid $80 dollars for it. $80 dollars!!!!.
So I called the store and identified myself and asked "Did you sell two copies of Born to Run to (name omitted to protect the innocent)? "Let me look..... why yes, he's in our customer database."
So I said "Well he sent me one of those "sealed originals" for which you charged him $80 and it was neither an original pressing nor a sealed record. It was a used late pressing with a water damaged cover that had been re-sealed. I would give you the benefit of the doubt here, and assume you have an outside vendor selling records in your store with you getting a cut because I find it difficult to believe that (another name omitted to protect the possibly innocent store owner) would knowingly sell this bogus piece of crap as a 'sealed original'".
I then told him that someone had better go through the store stock and weed out the fakes because I was soon sending over some knowledgable record buyers to have a look around. The guy on the other end of the phone seemed genuinely disturbed but it was difficult to assess whether it was out of genuine surprise or because his pants had just been pulled down below his knees.
I followed that up with an email to the generous but naive individual who'd gotten hosed. His response? The amount of money wasn't a lot for him and he didn't want to create an "incident" because he liked the store and the store's owner.
That's him but not me. I didn't sent my "agents" over to look, but next time I'm in that area I will cruise by and do some record checking. My message to you is know what you are buying and from whom you are buying!

SPONSORED VIDEO
<!- ------------------------------------>