Platter World in Garfield, NJ Closing End of December, 2014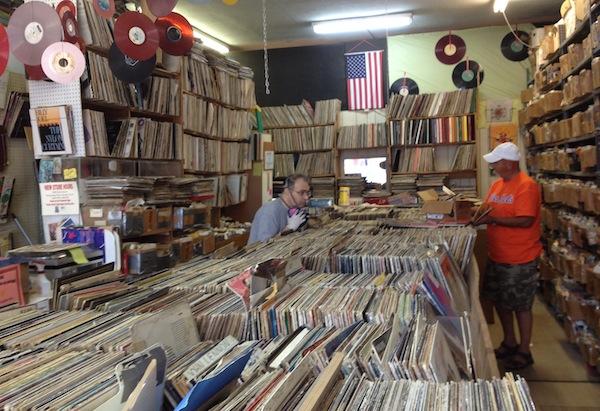 I first visited this store in 1986 when LPs were "going away". Now they are back but Platter World is closing. The owner passed away, his daughter is running it and liquidating. All single LPs are $3.00. Most of what I saw was the usual usual and not in particularly great condition but there are always gems to be had in such an enormous stash of records and if you're looking to try some new music $3.00 will get it for you in whatever condition.
I found a very clean stereo copy of The Best of Nina Simone on Philips, a mint stereo rainbow label original Nat King Cole The Christmas Song, Santo and Johnny's Hawaii in stereo that has a box on the back jacket saying "ATTENTION DEALERS-This album is highly recommended for demonstrating all High Fidelity and Stereophonic Phonographs"—and whoever wrote that was correct—an unplayed copy of Gerry Rafferty's City to City mastered at Artisan, a 1AC "360 Sound" unplayed in the shrink-wrap Simon and Garfunkel's Parsely, Sage.... and most interestingly, an obscure record called Urban (folk) RENEWAL Blue Dog Cellar Project No. 1 culled from a live 1962 show at a Baltimore, MD. area club that features two songs from a banjo playing Biff Rose, probably his first recorded gig. I had helped producer Pat Thomas reissue a Biff Rose CD about almost decade ago by transferring from vinyl some material that didn't exist on tape. The other performers were Jim Hoswell, Bob Sessions, and George Stevens, who owned the club. Stevens sings four tunes on the record. He ended up dying in the same plane crash that killed Jim Croce and he's referred to in every online reference I could find as "comedian George Stevens".
The point of all of this is that visiting used record stores, even ones like this that's packed with mostly standard '70s fare that forces you to look through a lot of records to find a few gems is a fun way to spend an afternoon and you never know what you might find.
The same is true of the owner and the guys working there who are still making their way through thousands of buried records in the back of the store. They'd just unearthed a mint green/blue original Atlantic stereo pressing of The Young Rascals' Groovin' album. There were a lot of Rascals records there. Not surprising since Eddie and David Brigati grew up in Garfield, NJ. There were a lot of Four Seasons records too for obvious reasons though they were not from Garfield. The store had but one Led Zeppelin record left but there were surely more in the back. I told them to be on the lookout for Led Zep II and that "RL" in the lead out groove area!

SPONSORED VIDEO
<!- ------------------------------------>