Tips on Some Good VICs!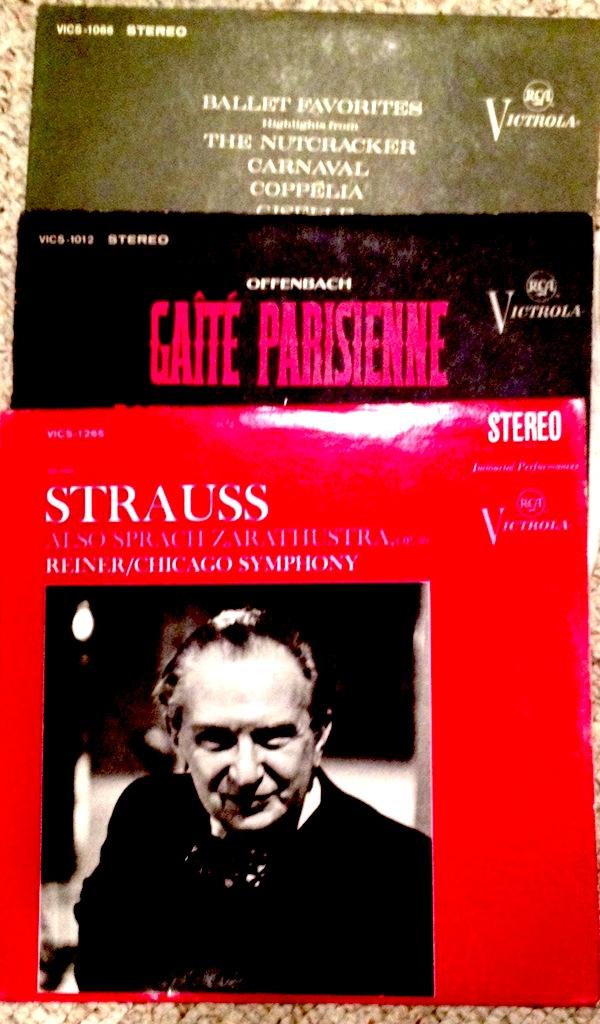 You say you don't want to spend hundreds on an original LSC-1806 "Living Stereo" or LSC-1817 or $1500 on the Soria box set LDS-6065? That's understandable. By the numbers: LSC-1806 is the 1954 stereo spectacular "Also Sprach Zarathustra" with Fritz Reiner conducting the Chicago Symphony. Of course RCA couldn't issue it on vinyl in 1954, though it did issue it in stereo on reel to reel tape well before the vinyl, which didn't get released until 1960.
The tape issue, ECS-1 was RCA's first reel to reel tape release and it came in two versions: one for stacked heads and one for what was called "displaced" or "staggered" heads. In the early days of stereo tape some machines had two separate playback heads one next to the other so one channel had to be delayed relative to the other.The "stacked" heads with which most of us are familiar came later.
These early "New Orthophonic" High Fidelity tapes cost $14.95 in the mid-1950's, which today would be around $130!
The 1954 "Also Sprach Zarathustra" is considered to be a more dramatic performance and recording than one RCA produced with Reiner and the CSO some years later (LSC-2609). The 1954 recording was experimental but RCA's engineers nailed it, producing enormous space and luscious string tone. The record is rare because the reissue window was extremely narrow: it came out in 1960 and was soon out of print.
LSC-1817 is "Gaité Parisienne with Fiedler and the Boston Pops. LIke LSC-1806, the recording is a sonic spectacular that came and went rather quickly and like LSC-1806 it is far superior in every way to a later recording by RCA with Fiedler and the Boston Pops.
LDS-6065 is a Soria box of an original UK Decca recording engineered by the legendary Kenneth Wilkinson at the equally legendary Kingsway Hall. It is a sonic spectacular, though ballet aficionados say there are better performances than the ones in the box set with Ernest Ansermet conducting the Royal Opera House Orchestra, Convent Garden.
Originals of all of these are pricey and hard to find but you might have an easier time finding the three Victrola editions in the photo. These were budget label reissues that while sounding not as good as the originals come reasonably close. Certainly close enough for you to decide if buying the originals is worth your while. VICS-1265 is the Reiner. Make sure it's the plum colored, not pink label. VICS-1012 is the "Gaité Parisienne" and VICS-1066 contains highlights from the box and is probably the one that most degrades the stunning sound of the original, but without hearing what came first, this one sounds very good too.
Classic Records in the 1990s reissued both "Gaite Parisienne" and "Also Sprach Zarathustra" but neither came close to the original's stunning transparency, three dimensionality and melt in your ears string tone. Classic's reissue of LDS-6065, particularly the single sided 45rpm multi-record box set is a stunning sounding reissue, though since I've never held or heard an original I don't know how it compares.

SPONSORED VIDEO
<!- ------------------------------------>