The Records You Didn't Know You Needed---#6: Tubby Hayes The Fontana Albums (1961-1969) Eleven LP Box Set Part 2
Here are the albums included in the box set and my personal reaction to each: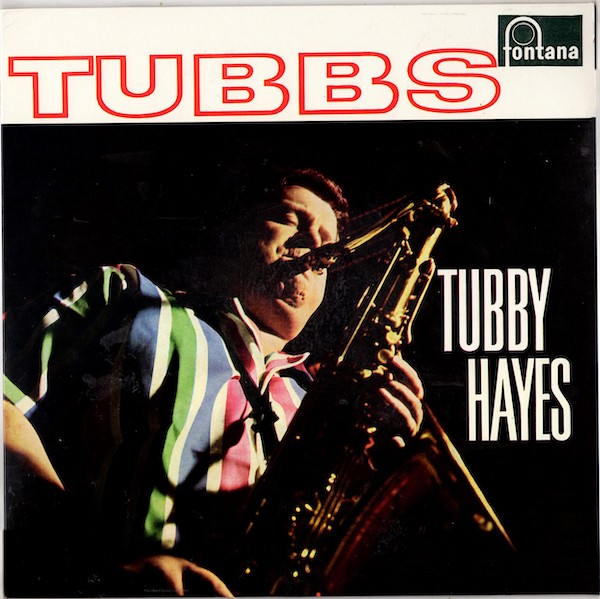 Tubbs (Called Introducing Tubbs--- Epic U.S.)
Recorded and released 1961. Tubbs begins with a Hayes tune "The Late One" and he does what he does best—hard swinging at a way up tempo, tearing up the chord changes and displaying amazing saxophone technique. The rhythm section is solid and swinging, not as aggressive, interactive, and deep in the groove as you would have heard in New York when Philly Joe Jones or Blakey or Roach or any of the other top guys was sitting at the drums, but still far better than all the carping about "non swinging British drummers" would make you expect. "Wonderful! Wonderful!", the Johnny Mathis ballad hit seems an unlikely tune choice and Hayes plays it up tempo with a staggering Coltrane "Giant Steps" like fluency. The album has four quartet tunes and five big band tunes. Hayes was an accomplished arranger, with ambitions, later fulfilled, to front a big band and Fontana was willing to provide the budget to hire one. The arrangements are in the style of The Woody Herman band of the early to mid-60s—straightforward and hard swinging with bop soloing. "Cherokee" is an exciting "flagwaver" performance--just Hayes' burning tenor with interjections from the big band. Hayes' vibraphone playing is featured on two tunes and it's the other side of the coin of his tenor playing—relaxed, pretty, melodic and lightly swinging. Tubbs is a strong album, featuring lots of Hayes' superb tenor playing which mates hard swinging in the Johnny Griffin manner with the harmonic ideas of the Coltrane "sheets of sound" and Giant Steps eras.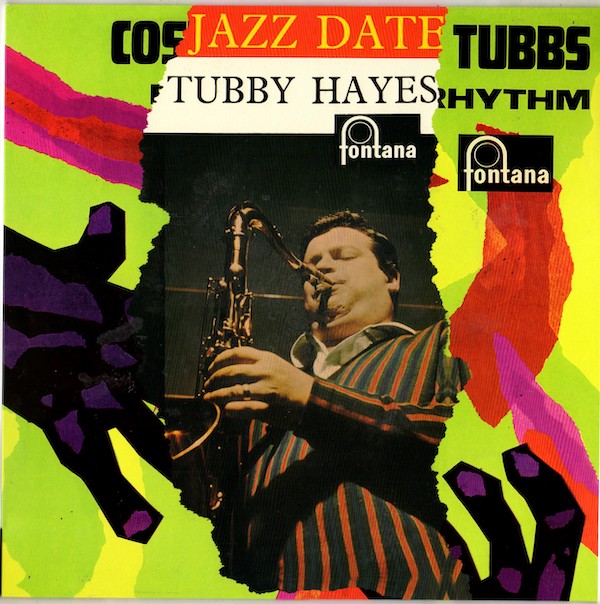 Palladium Jazz Date (recorded and released 1961).
Three days after he finished recording Tubbs, Hayes made this live recording with the same quartet. The Parker tune, "Ah-Leu-Cha" shows Hayes mixing in some Sonny Rollins rhythmic ideas with hard swinging Coltrane "chords on chords" playing. It's notable here and on most of the early Tubby recordings, that when his solo ends, the energy level drops noticeably. "Young and Foolish" is a vibes feature and is pretty but forgettable. "All Members," a Jimmy Heath tune, first recorded only a year before, shows that Hayes was keeping a close eye on the U.S. jazz scene. The band sounds more relaxed on this tune and Hayes is unusually bluesy with some funky phrases. Obviously, he had heard some Horace Silver records. This was only half an album when issued, the other half being a Cleo Laine set that the box does not include.
Equation In Rhythm (recorded 1961 released 1962). This album featured two Hayes composed big band pieces that total about twelve minutes and the rest is percussion pieces by bongo player Jack Costanzo, which are omitted from the box set. "Southern Suite Part 1" is a standout track with a catchy melody that is reminiscent of "So What" and Benny Golson's "Killer Joe." The band swings hard, driven by some very nice playing by an uncredited bassist and great drumming by Phil Seaman, teacher and idol of Ginger Baker and member of the talent laden, but disappointing Air Force. Tubby plays a beautifully, swinging melodic solo, but the real star is Jimmy Deuchar, whose trumpet solo is a model of poised, relaxed melodic development. Southern Suite Part 2 is an up-tempo, charging all-out tune that hints at "A Night In Tunisia." It's really a feature for a long, amazing Tubby solo with interjections from the band. His playing here has the hard swing and improvisational daring of Sonny Rollins. These tracks are paired on an LP in the boxset with the Palladium Jazz Date.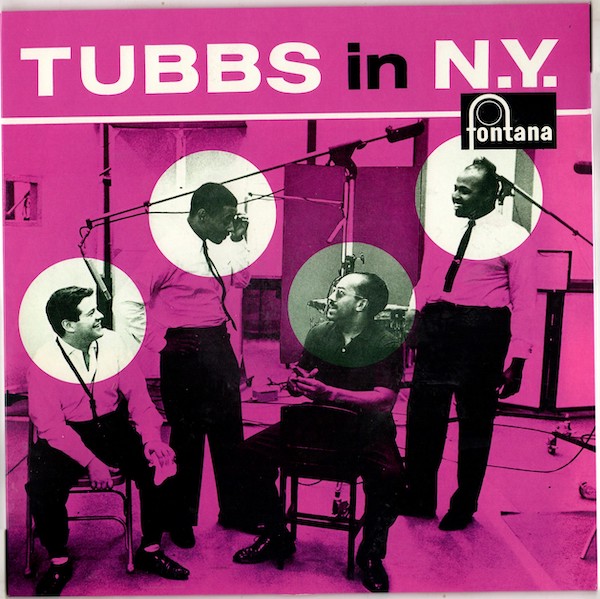 Tubbs In N.Y. (Tubby The Tenor—Epic U.S) (recorded 1961 released 1962).
In Britain, Hayes was regarded as the champion of homegrown jazz, "The Brit who could play with the Yanks." and earned respect for British jazz. In the 1950s and early 60S, U.K. Modern Jazz fans and musicians had what must be described as an inferiority complex. Comparison to U.S. musicians was inevitable and frequent, and the British musicians were always found lacking. In the music magazines of the time, the prevailing attitude was that U.K. musicians were mediocre, non-swinging imitations of the U.S. originals. The highest praise for a British jazz musician was that they "sounded like an American." Not that they sounded better or even as good, but only that they had contrived a passable imitation.
The root cause of the inferiority complex was that there was no opportunity for Hayes or other U.K. musicians to prove themselves or to learn by playing with Americans, because the U.S. and the U.K. musicians unions had been at war since the mid-1930s, banning and onerously restricting each other's members from playing in their jurisdictions. The only way in the U.K. to keep up with the jazz developments in the U.S. was by listening to records, which were hard to obtain and a poor substitute for live performance and on the job experience.
This was to change because of the Hayes Fontana contract and a union peace treaty. After extensive negotiations in 1961, the musician unions agreed on a one for one "trade" program. Hayes was chosen by the U.K union to play in the U.S. and be "traded" for Zoot Sims who played for a month in London and probably not coincidentally, recorded for Fontana two live LPs at Ronnie Scott's. Hayes wrote about the trip, "I feel I have a huge responsibility going with me for the whole cause of jazz music in this country."
Recorded in New York, this was Tubby's moment to step onto the U.S. jazz scene's big stage and impress the fans and critics. One can't help but feel that the record company and producer let him down. The rhythm section--Horace Parlan (piano), George Duvivier (bass), and Dave Bailey (drums) were all excellent musicians but had stylistic inconsistencies that kept the rhythm from gelling and attaining that indefinable, "swinging together but separately" groove that lifts a band. Three weeks later, across the river in Englewood Cliffs, Sonny Clark, Butch Warren, and Billy Higgins recorded A Fickle Sonance with Jackie McLean. If only! Clark Terry was a very talented and versatile trumpeter but not really a bop player or an appropriate front-line partner for Hayes. When he solos it seems like we're listening to a different record—a swing to bop date from the mid-50s. Donald Byrd, who was Hayes' first choice, but couldn't get an O.K. from Blue Note, would have made the record more stylistically consistent. Tubby plays very well, bringing his trademark hardest of hard bop intensity, but the other musicians are incapable or uninterested in matching it. On "Airegin", a Sonny Rollins tune that Hayes probably intended as a tribute to one of his influences, he plays a tremendous solo, swinging hard, burning through the tricky chord changes without much help from the rhythm section and then is followed by long solos on vibes by Eddie Costa and Parlan that are anticlimactic and have the feel of "another session, another check for scale." It's a good and enjoyable album but not one that showed Tubby at his best and not one that would help make him a star in the U.S.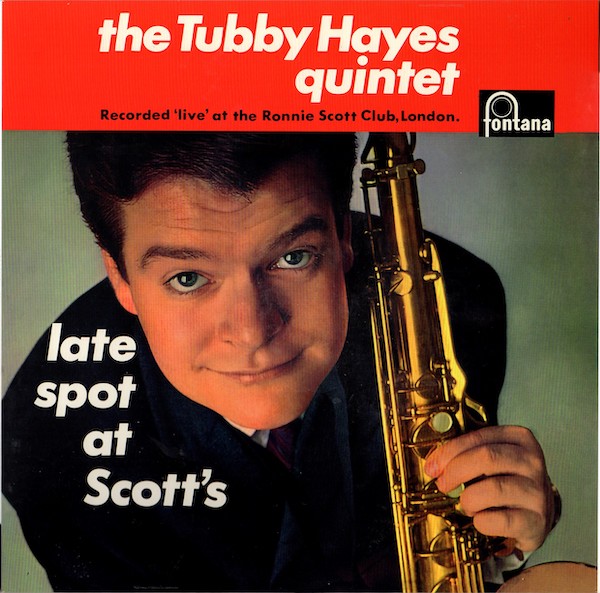 Late Spot At Scott's and Down In The Village (recorded 1962 released 1963)
These two live albums recorded on successive nights at Ronnie Scott's jazz club in London are highlights of Hayes' career and show him at the peak of his hard bop powers, a peak few could match.
The band was his working quintet with the talented trumpeter Jimmy Deuchar and only two years a pro but already displaying an original style, Gordon Beck on piano. The rhythm section powered by the excellent but now little remembered Allan Ganley on drums, knew what Hayes wanted from them—intensity and hard swing at blistering tempos—and provided it. "Johnny One Note" is played at an extremely fast tempo but the rhythm section is still swinging, not easy to do, while Hayes plays a jaw dropping solo that's both technically proficient and melodic. The tunes are a wonderful mixture of Hayes originals and standards (plus one Deuchar bop) creatively arranged.
Hayes's quintet arrangement of Gershwin's "My Man's Gone Now" turns what is almost always done as a slow ballad, into a soul jazz styled groover, taken at a bit faster than mid-tempo, with typically stunning Hayes playing and a beautiful melodic solo by Deuchar. "Down In The Village", a Hayes tune that's a close relative of "So What?" but with an added bridge was reportedly in the early 2000s a London dance club favorite. Unusually, it features Hayes playing vibes on an up-tempo tune and features a bluesy and funky a la Milt Jackson solo followed by another excellent atypically Milesian Deuchar solo that draws from someone in the band a "yeah" (Tubby?). Gordon Beck's piano solo, which manages to combine the sounds of Horace Silver, Wynton Kelly, and Bill Evans into a beautifully swinging original statement is the track's highlight. The albums, structured like club sets, include Tubby's introductions and set break comments, both of which add to the atmosphere.
Though the Jazz Messengers and the Horace Silver Quintet are the quintet's obvious templates, Hayes' group had its own British take on Hard Bop and Soul Jazz, making irrelevant any such comparisons. These are superb records that any fan of early 60s hard bop should appreciate and admire.

SPONSORED VIDEO
<!- ------------------------------------>